9 wacky races across America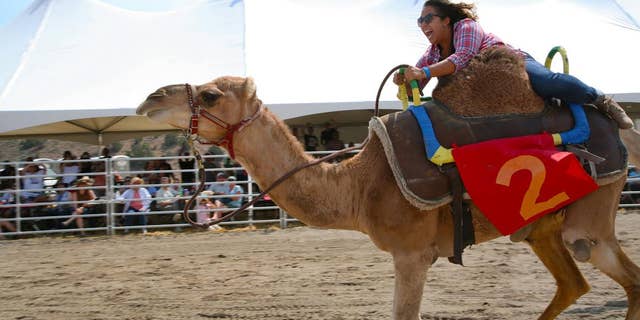 The Kentucky Derby may be just around the corner but if your idea of a wacky race involves more than just a cool hat, you've got to check these wild events.
These races involve everything from shovels and beds to outhouses and coffins -- all in the name of good, fast fun.

1. Great Bathtub Boat Races, Cocktails and Cannons Festival - Ely, Nevada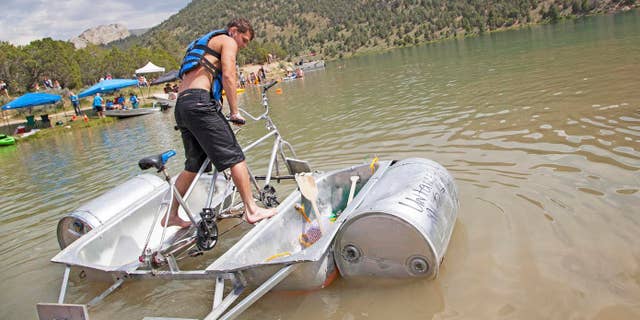 Taking a bath just got a lot more interesting. This buoyant race held each June invites participants to turn bathtubs into boats and see who will be the first to make it across Nevada's Cave Lake in their contraption. At the Great Bathtub Boat Races, part of the annual Cocktails and Cannons Festival, bathtub boats come in all shapes and sizes, some surrounded by inner tubes, some with pedals and others floating on barrels. The event winds down with an evening beach BBQ and fireworks.
2. Ski Joring Races - Sun Valley, Idaho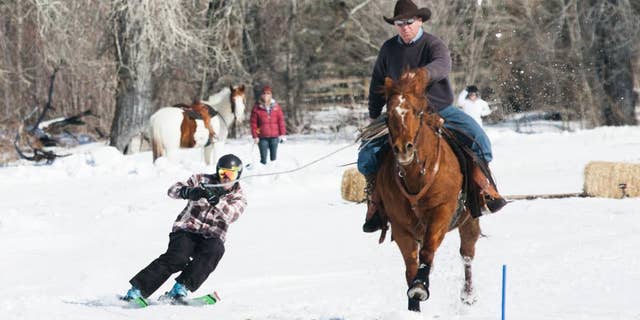 Think water skiing meets snow for this annual race in Sun Valley Idaho. Start with a skier, who is attached to a horse with rider via the saddle. The trio then have to navigate a series of jumps and obstacles in what is called ski joring. Sun Valley, known for its exceptional skiing, hosts an annual test of skill in this crazy sport each February.
3. Coffin Races, Frozen Dead Guy Days - Nederland, Colorado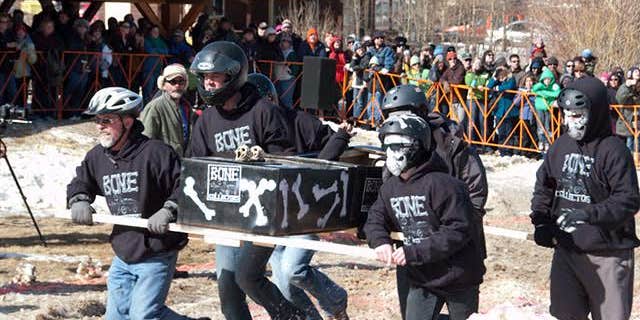 It's only appropriate to host a race in coffins at the quirky Frozen Dead Guys Days held in March in the Rocky Mountain town of Nederland, Colo. The festival pays tribute to the frozen body of a man held at a local cryogenic facility. The goal of the race: to drag, roll, slide or carry a coffin, made of any material, through an obstacle course of mud, snow, climbs and narrow passages. Six "pallbearers" carry a rider of at least 75 pounds through the course to reach the finish line. Of course, there is also a Parade of Hearses at this crazy Colorado event.
4. Bed Races, Summer Moon Festival - Wapakoneta, Ohio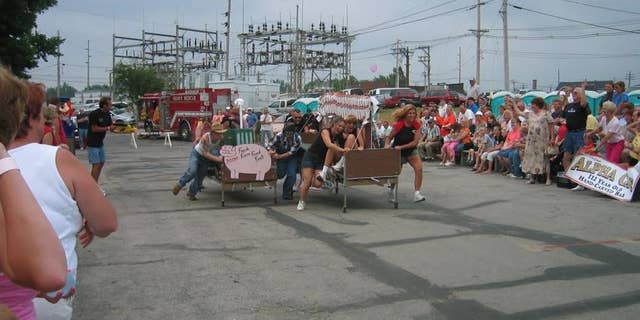 This space-themed summer festival celebrates Wapakoneta native Neil Armstrong, the first man to walk on the moon. Among the key events, which include rocket building, a Moon Pie-eating contest and a moon rock hunt, are the traditional bed races. Teams race hospital beds holding one person through a course, while completing various tasks -- and every contestant is sprayed with water by spectators along the route. What this has to do with space, we're not sure. But it's always one of the festival's most popular events.
5. Kinetic Sculpture Race - Baltimore, Maryland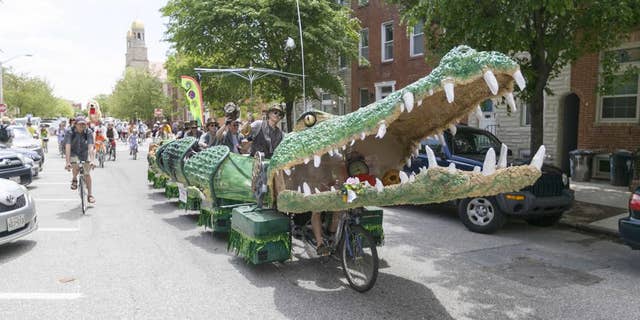 Imagine a Picasso-like sculpture being pushed across the finish line and you've got a rough idea of the Kinetic Sculpture Race in Baltimore. This May event hosted by the American Visionary Art Museum invites the public to create an amphibious, human-powered work of art to race. The real kicker? The Baltimore Kinetic Sculpture Race goes on for eight hours across 14 miles on the shore of Baltimore Harbor. It's mostly on land, but a portion falls into the Chesapeake Bay, so creations must float, as well. Sculptures have included animals, space shuttles and even flying burritos.
6. International Camel and Ostrich Races - Virginia City, Nevada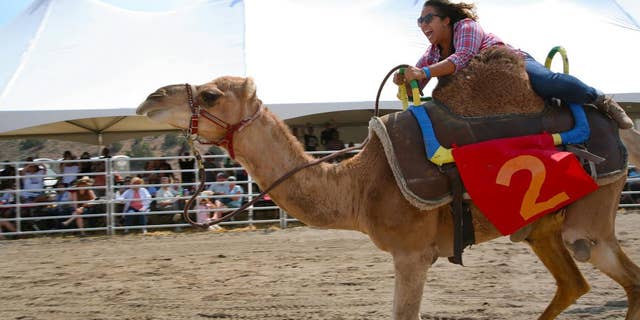 How fast can a camel, ostrich, emu or a zebra run? Find out at the International Camel and Ostrich Races in this historic Nevada mining town where camels were once used in the gold mines. Originally started as a joke more than 50 years ago, the races are still in full swing as the animals take to the track for three days, some with riders-- others getting pulled along. Kids can also go for a more leisurely ride on the camels at the event, which includes a camel parade through town.
7. World Championship Shovel Races - Angel Fire, New Mexico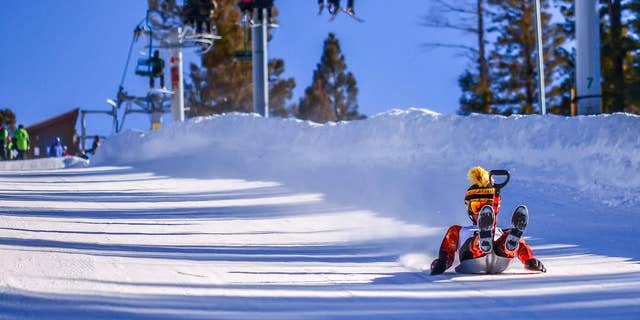 Hate shoveling snow? This annual contest held in February at the Angel Fire Resort located in the southern Rockies of New Mexico might just change your mind. Contestants in the World Championship Shovel Races sit on the scoop of a snow shovel with the handle pointed downhill, lifting their hands and feet to slide down the mountain at speeds topping 70 miles per hour. The racer with the fastest time after two tries is crowned the champion. The event got started in the 1970s when lift operators would ride their shovels down the mountain at the end of their shifts. Kids as young as six are welcome to enter the races.
8. Anything But a Boat That Floats Contest - Lake Naomi, Pennsylvania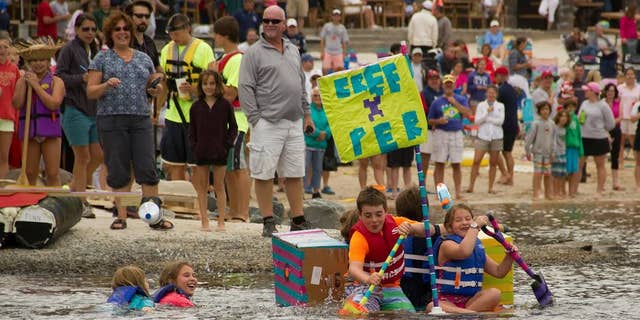 Come Labor Day weekend at the Mountaintop Lodge at Lake Naomi in the Pocono Mountains, guests of the bed and breakfast are invited to join in the fun of the Anything but a Boat that Floats contest. Participants must craft a creation made of any materials -- so long as they float -- and hit the lake. It's a family-friendly event with participants making "floats" from water bottles, boards, crates and boxes. Participants must paddle, pull or swim their way to the finish line to claim victory. There are also prizes for most unique, best floating and more.
9. Great Outhouse Races, Jackson County, North Carolina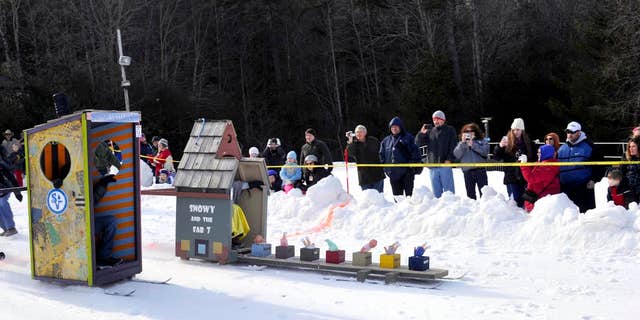 As a send-off to ski season each February, Sapphire Valley Resort in North Carolina hosts a one-of-a-kind contest, putting "outhouses" on skis and sending them down the slopes. As part of the Great Outhouse Races, contestants make and decorate their own outhouses, have a seat in them and race down the slopes on skis. Outhouses come in every style from Notre Dame-themed to the Biltmore House to the cowd-pleasing "Party Pooper." Proceeds from the event support local charities.