9 vacation rentals for trying out tiny house living
Tiny houses have captured our imagination. Thanks to a constant stream of new TV shows about living small, Americans are talking about downsizing their living spaces.
But dreaming is one thing and doing is another, and that's why vacation rental companies like Airbnb and HomeAway are seeing a boom in tiny house rentals.
"Our customers say that renting a tiny home is a cool way to try out small-space living," says Jon Gray, chief revenue officer at HomeAway. "The beautiful thing about renting vacation homes is that travelers get to try new experiences, and right now it is certai­­nly hot to stay in a tiny home."
From guest houses built out of sheds … to dollhouses with a view of the sea … to a tiny geodesic dome dwarfed by redwoods, these nine properties offer a taste of tiny-house living without ­­­­­­the obligation.
1. Asheville, N.C.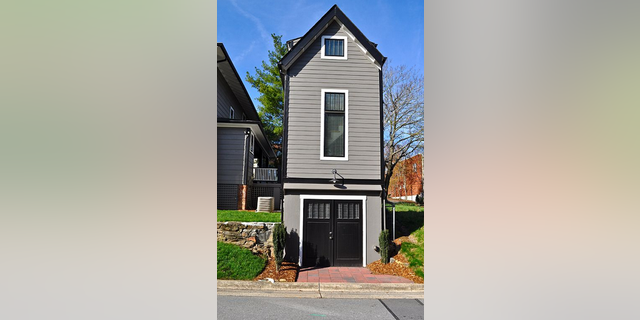 Locals in the food mecca of Ashville call this gem the Bird House, and one look tells you why.
It may be skinny, but it's tall – with three levels (connected by steep stairs) that include an eat-in kitchen, a cozy seating area and a third-floor bedroom.
"The tiny house is more like a tiny mansion," one reviewer wrote.
2. New Orleans, La.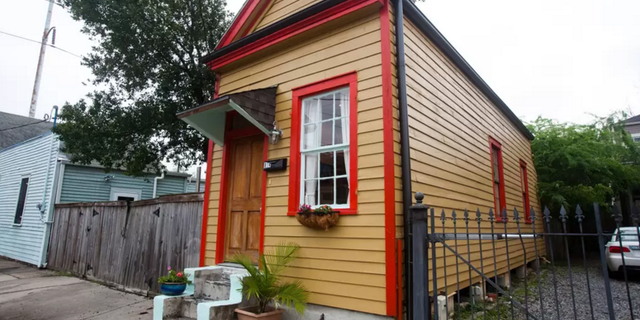 This charming shotgun cottage just a couple of blocks from Magazine Street features a Jacuzzi, a rain shower and a private backyard.
Its owner, Lillian Lioeanjie, created the space "to have a smaller footprint in the world and afford me the opportunity in my retirement to travel and explore other places to live."
And while he's away, he makes it available "to others who would be interested in experiencing living small."
3. Charlottesville, Va.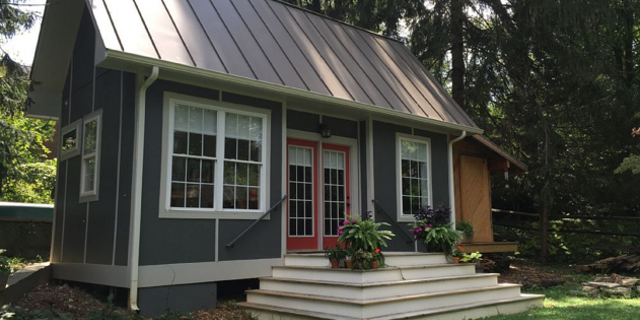 This used to be a backyard storage shed, but now it's a 400-square-foot cottage just a few minutes from downtown Charlottesville. Tall ceilings make the space feel much larger, and the contemporary design rivals some local hotels.
It's a perfect stopover on the way to the Outer Banks or for parents who don't want to spend a fortune on hotels when visiting their kids at the University of Virginia.
4. Olympia, Wash.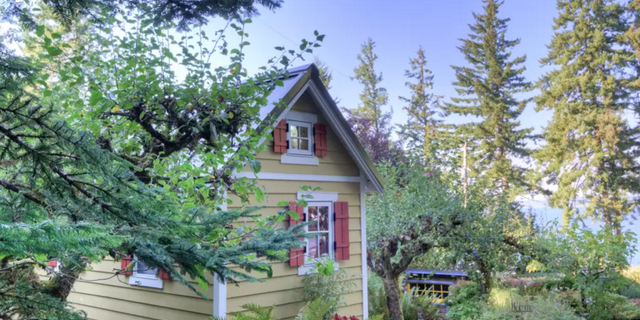 Brittany Yunker spent five months building her tiny yellow dollhouse, which offers a view of the Olympic Mountains and is just a quick walk down a bluff to the beach.
"With my tiny home being smaller than most people's walk-in closets at 165 square feet, it's difficult for most individuals to get a sense of what that space feels like when its designed efficiently and built with the end-user in mind," Yunker said. "It was my way to live independently, no matter where life took me."
She says her guests choose her tiny house for a variety of reasons.
"Some want an affordable beachfront getaway. Others want to experience what it's like to eat, sleep, cook, bathe and poop in a tiny house. Sometimes my guests are trying to solidify a tiny house decision for themselves; others are trying to convince their spouse or partner that tiny living could work for them."
The best quote she's heard about the property was left in her guest book: "Only a unicorn could have built a cooler house."
5. Omaha, Neb.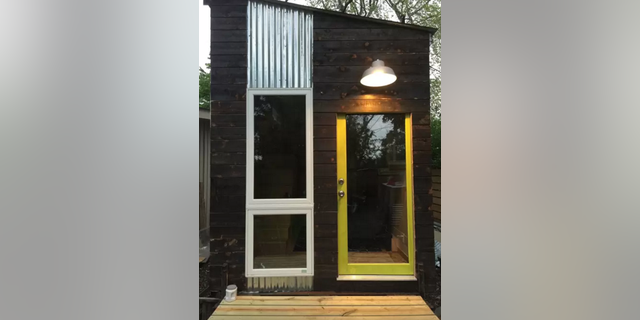 This tiny house in central Omaha can accommodate three with its sleeping loft and fold-out sofa. Hot water comes from a camp-style heater, and the toilet is waterless and composting. If the space weren't so chic and modern, it would feel like roughing it.
6. Portland, Ore.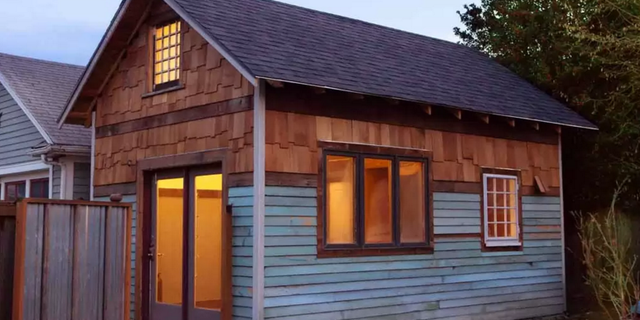 You may recognize this charming 350-square-foot cottage. It's been featured on Tiny House Nation.
Michael Papillo always dreamed of designing and building a tiny house, and he and his bride Jenna Eyee began working on it soon after they started dating.
"Once we started, we realized we loved building with reclaimed materials and amassed most of the things we needed from Craigslist," Papillo said.
Some of those gems include the teak flooring salvaged from high-end construction jobs, the wood-clad windows from a horse farm and the kitchenette from the Hood River History Museum.
"People who come to stay are often searching for a tiny house experience to see if they can build one of their own," Papillo said. "A couple of people have actually built tiny houses after staying in ours."
7. Nashville, Tenn.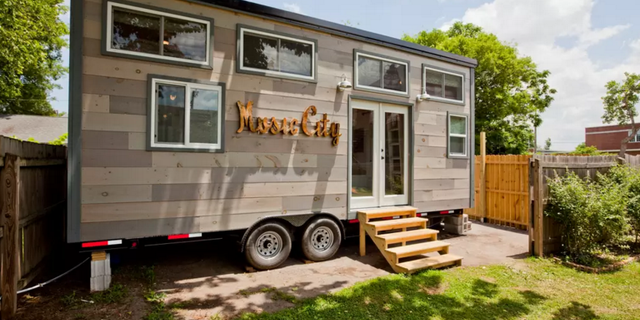 This adorable 200-square-foot cottage on wheels is "Nashville's tiniest fully equipped guest house," according to its Airbnb hosts. It has two queen-sized lofts and can sleep four adults.
With "Music City" scrawled on the side of the building, there's no doubt you've entered the capital of country music. The honkytonks of Broadway are just two miles south.
8. Aptos, Calif.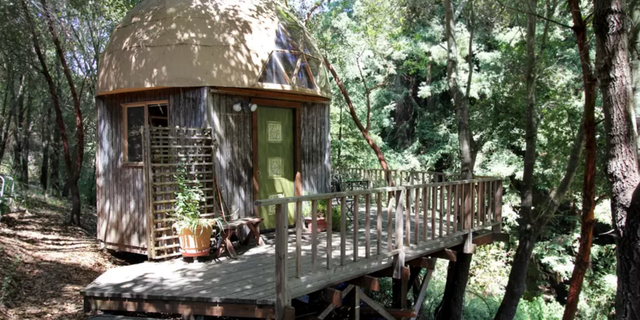 This stunning geodesic dome in the wilderness is dwarfed by the redwoods that surround it, yet it's just 10 minutes from the beach at Monterey Bay. Like most of the unusual properties (domes, treehouses and yurts) on Airbnb, this one books up far in advance, so make sure to plan your getaway a few months ahead of time.
The kitchen contains everything you need to make a gourmet meal, as long you bring along a little ingenuity. There's a professional double hotplate, a small fridge, a toaster oven, a French press and a popcorn popper. The back deck is equipped with a grill and a stellar view of the forest.
9. Cottekill, N.Y.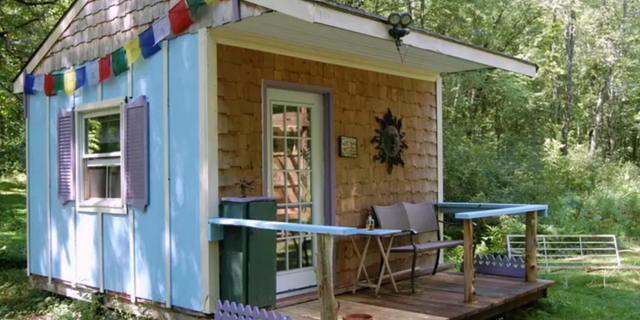 Nicknamed "The Love Shack," this little cabin is completely off the grid with its composting toilet and outdoor shower. Its eclectic design and affordable price ($75 a night) make it an ideal weekend escape from New York City.