9 Fun and Funky Vacation Hotel Stays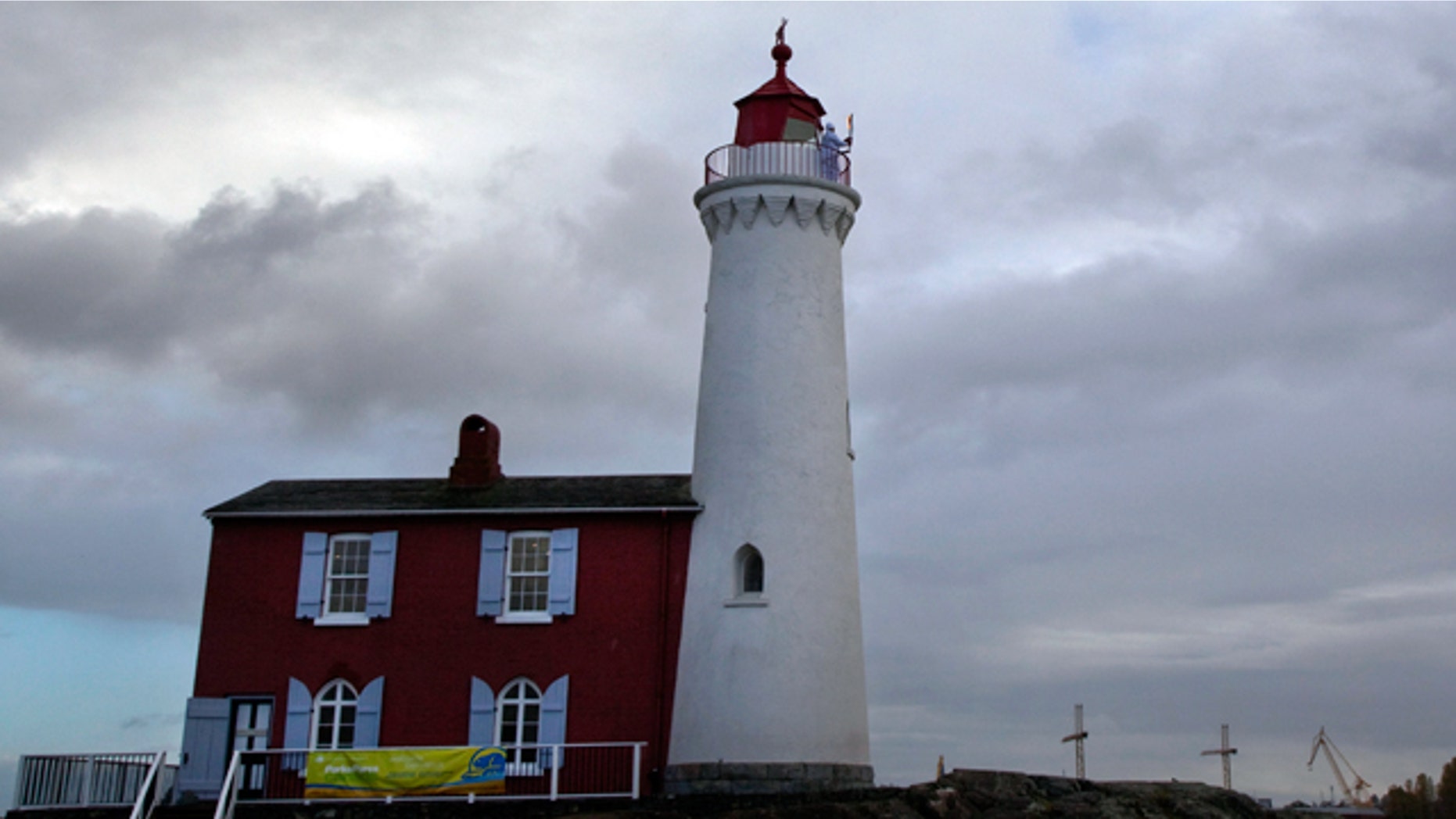 Traveling on a budget? No need to snuggle with bedbugs in a dingy roadside motel. Instead, try one of these cheap and funky hotels, inns, campsites or bed-and-breakfasts in the U.S. and Canada. Among them, you'll find an Idaho dog-shaped inn and a spherical hotel that floats in a British Columbia rain forest.
You don't need to be rich to create lasting summer vacation memories if you're staying at one of these one-night wonders.
A howler of a hotel
Hotel: Dog Bark Park Inn, Cottonwood, Idaho.
Description: Amid North Idaho's rolling fields of bluegrass and barley, the Dog Bark Park Inn welcomes two-legged and four-legged visitors alike.
Climb up an exterior flight of stairs to access the 35-foot-tall, beagle-shaped interior's accommodations. The beagle is the largest (wooden) one in the world, according to the woodcarving artists who host the B&B and created the hound. Each stay offers a queen-sized bed located in the dog's belly, with two twin beds in the level above, a full bath, games and full breakfast.
Rates: $86 to $92 per night; dogs welcome for an extra $10 fee.
Teepee sleepy-time
Hotel: Wigwam Motel, San Bernadino, Calif.
Description: On famous U.S. Route 66, the Wigwam Motel has welcomed families since 1949, whether arriving then by station wagon or now by hybrid car. In California's lazy and warm Inland Empire, the Wigwam's 19 30-foot-tall teepees encircle a pool. Each wigwam is made from wood, concrete and sun-friendly stucco, and all come equipped with a Serta Perfect Sleeper bed, free Wi-Fi and HBO. Not authentic by a long shot, but definitely hits that kitschy-cool spot.
Rates: Varies, but average around $77 per night single occupancy and $88 per night double occupancy.
Take no prisoners (anymore)
Hotel: Jailer's Inn, Bardstown, Ky.
Description: For almost 200 years, this building functioned as the Nelson County Jail in Bardstown, Ky., now known as the "Bourbon Capital of the World." Today, Jailer's Inn graciously welcomes visitors with antique-decorated rooms. You also can opt to stay in "The Jail Cell," a black-and-white room with two stark bunks. But unlike a prisoner, you'll get a full breakfast (no, not gruel and moldy bread) and a private bath.
Rates: $80 to $145 per night depending on furnishings.
Rain forest redux
Hotel: Free Spirit Spheres, Qualicum Beach, British Columbia.
Description: At Vancouver Island's Free Spirit Spheres, two handcrafted wooden spheres float in maple and cedar trees -- perfect for anyone who'd like nothing more than time alone with nature.
The Eve is a mere 9 feet in diameter, but packs a bed into the room. The Eryn provides 10.5 feet for a bed, loft, minifridge, cupboards and dishes. For a small bump in price, a third sphere, the Melody, offers a yellow fiberglass sphere with rich black walnut interior and a Murphy bed. While the orbs sound like child's play, these sophisticated spheres are for the over-16 set only.
Rates: $135 to $205 per night, with a discount for two-night stays.
Ride the rails
Hotel: Northern Rail Traincar Suites, Two Harbors, Minn.
Description: In the 1930s, travelers "rode the rails," or traveled for free by hopping on freight trains and catching a little shut-eye when possible. Today, there's no need to snore on the floor. Instead, snuggle into a renovated, upscale boxcar that never leaves the depot-style main building at the Northern Rail Traincar Suites.
Located about 20 minutes from Duluth, Minn., this unique hotel is set amid a quiet birch and pine forest, with easy access (no ticket required) to Minnesota's picturesque North Shore of Lake Superior.
Rates: Prices vary, but they start at $87 in the winter and $139 in the summer.
Reader's retreat
Hotel: Innsbrucker Inn, Leavenworth, Wash.
Description: Anyone who remembers hiding under the covers with a flashlight may just fall in love with the Innsbrucker Inn, a literary-themed hotel that caters to the bibliophiles among us.
Six suites offer twists on beloved authors and tomes, from the floral Secret Garden room to the Wonka-fied Chocolate Suite. Set in the Bavarian-style town of Leavenworth, Wash., above a bookstore no less, the Innsbrucker might be a reader's first resort.
Rates: $99 to $140 per night.
Sleeping with the fishes
Hotel: Floating Inn, Key Largo, Fla.
Description: Ever fished from your hotel room? At The Floating Inn, guests are gently rocked to sleep aboard a custom-built structure set in a 3-foot-deep saltwater cove.
Surrounded by mangrove trees, the 60-foot-long structure offers spectacular sunrise views from four suite-style rooms. If you're feeling seasick already, don't worry. The hotel is solidly anchored to the ground, so the building's movement is subtle, even when tropical winds blow in.
Rates: $79.95 to $119.95 per night.
Escape from civilization
Hotel: Forest Fire Lookout, various locations in Oregon, California, Washington, Montana and other states
Description: Yes, it'll probably require a hike and a steep stair climb. But once you've arrived at your reserved fire lookout, you'll get a two- or three-story tower to yourself.
From your perch, enjoy sweeping panoramic views over densely forested mountain ranges. Many lookouts offer simple bedding, tables, chairs and heat. Most lookouts are located in the Western U.S. where once-frequent forest fires required lookout towers.
Visit the National Recreation Reservation Service website and type "lookout" into the "park or facility name" search bar to find more than 70 options.
Rates: Rates vary by state, location and amenities.
Light up the night
Hotel: Lighthouses, multiple locations across U.S. and Canada.
Description: Many working U.S. and Canadian lighthouses aren't retired. They're doing double-duty as inns, hostels and bed-and-breakfasts. Apply to volunteer for a week as a lighthouse keeper at Lake Michigan's Big Sable Point Lighthouse, stay overnight at the Rose Island Lighthouse near Newport, R.I., or sleep at a lighthouse-turned-hostel at California's Pigeon Point Lighthouse Hostel. Check these Web listings for more ideas.
Rates: Rates depend on the lighthouse amenities and location, but simpler accommodations are a steal.
MORE FROM BANKRATE.COM
Bankrate's content, including the guidance of its advice-and-expert columns and this website, is intended only to assist you with financial decisions. The content is broad in scope and does not consider your personal financial situation. Bankrate recommends that you seek the advice of advisers who are fully aware of your individual circumstances before making any final decisions or implementing any financial strategy. Please remember that your use of this website is governed by Bankrate's Terms of Use.