9 beaches that are perfect for families
Parents with young children crave a different beach than their rowdy peers, one that isn't rife with skimpy swimwear, drinking and loud music.
From Hawaii's stunning North Shore to Kennebunk, Me., here are nine family-friendly beaches that offer playgrounds, ice-cream cones, nature centers and boardwalks. A day at the beach never looked so good.
1. Kuilima Cove, North Shore, Hawaii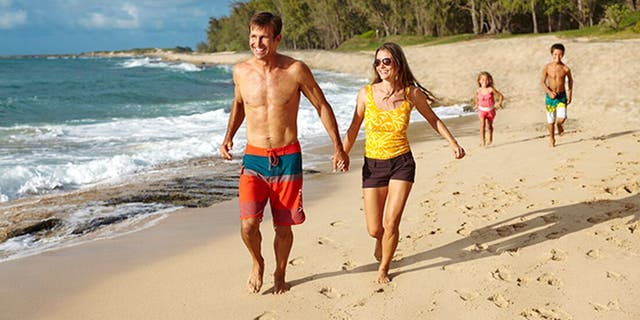 Turtle Bay, a secluded, family-friendly resort, sits along a 5-mile stretch of beach on Oahu's North Shore that's convenient to Honolulu International Airport but far from bustling Waikiki Beach. Families who stay here need never leave. There are seven restaurants (plus a Sunday-night poolside luau) and daily activities from Rise 'N Shine and Sunset yoga classes to stand-up paddle-boarding for the whole family. Or go on a guided hike of Kahuku Point, where kids will ooh and aah at Hawaiian monk seals and green sea turtles.
2. Huntington Beach City Beach, Calif.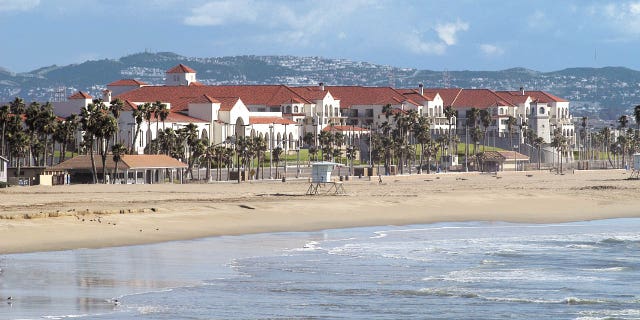 Huntington Beach attracts many local surfers, but it's all good, family-friendly fun on this stretch of sand just off of Highway 1/Pacific Coast Highway. Downtown Huntington Beach's restaurants and shops – plus Hyatt Regency Huntington Beach Resort and Spa, with firepits for roasting marshmallows in – are all across the street. Kids and adults can even take a lesson in the art of the pop-up (surfer-speak for jumping up on the board) from Banzai Surf School.
3. Mother's Beach, Kennebunk, Maine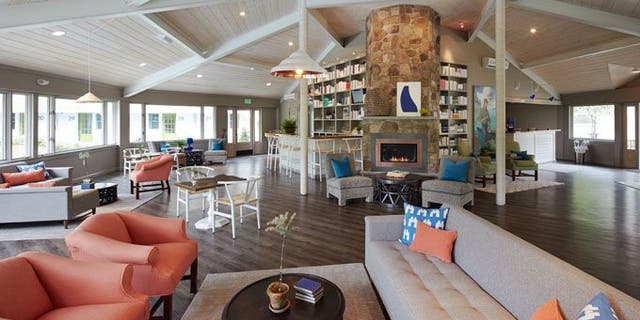 When kids tire of playing in the sand, point them to the new playground at Mother's Beach. Budding scientists might like the tidal pools at this beach, which is short and wide but easy to access from the parking lot, so little feet don't get tired. Or hop on the town's trolley for easy pick-up and drop-off as a group. For a smart lodging option on a weekend trip, look to The Lodge on the Cove, a five-minute drive from the beach that features lawn and pingpong games, plus retro ice cream bars.
4. Clearwater Beach, Fla.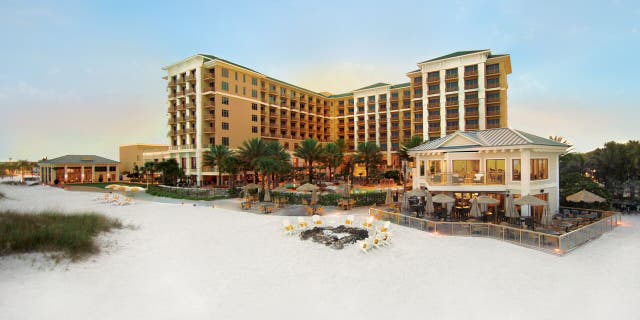 Clearwater Beach is on a barrier island over the causeway from Clearwater and 25 miles from downtown Tampa along the Gulf Coast. Pier 60 hosts a playground and snack shack, while all ages can enjoy free "Sunsets at Pier 60" nightly shows with musicians and street performers. Hop on the Clearwater Jolly Trolley, which travels along the shore between North Clearwater Beach and Sand Key. With a kids' club on-site (Camp Ridley), families can look forward to built-in programming at the Sandpearl Resort, snug on the white sand beach.
5. Cooper's Beach, Southampton, N.Y.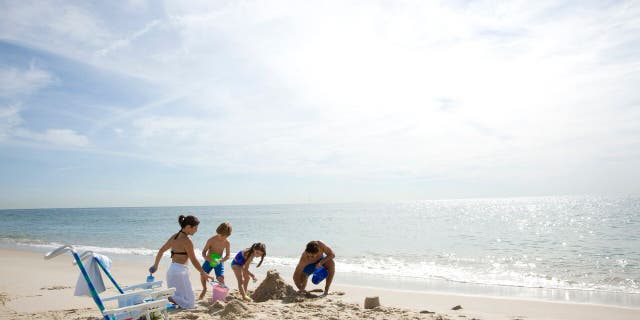 Forget what you know about the Hamptons party scene. Families love the chill vibe of 7-mile-long Coopers Beach in the village of Southampton. And, thanks to a $40 parking fee, it's rarely teeming. There are beach chairs and umbrellas for rent, a concession stand that sells burgers and hot dogs, and access to showers and bathrooms.
6. Wild Dunes Resort, Isle of Palms, South Carolina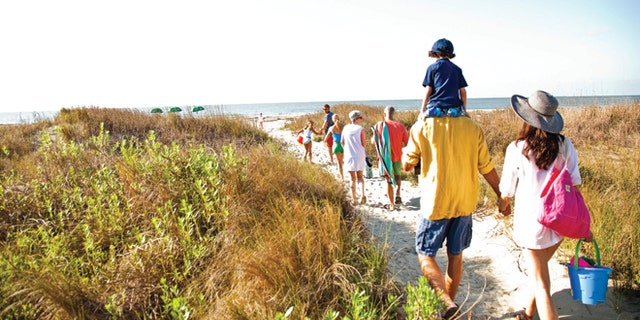 Wild Dunes Resort on Isle of Palms in South Carolina is just 10 miles from downtown Charleston. The barrier island is a favorite beach getaway for locals and a stay at Wild Dunes Resort, which is part of the island, gives everyone in the family a chance to tap into its bliss: There's a 36-hole golf course and a spa for mom and dad, and water sports (like stand-up paddleboarding) and guided activities (fishing, crabbing and kayak tours) for the kids. Families can even book a beachside cookout (choose a low-country boil or oyster roast for local flair).
7. Santa Cruz Wharf, Santa Cruz, Calif.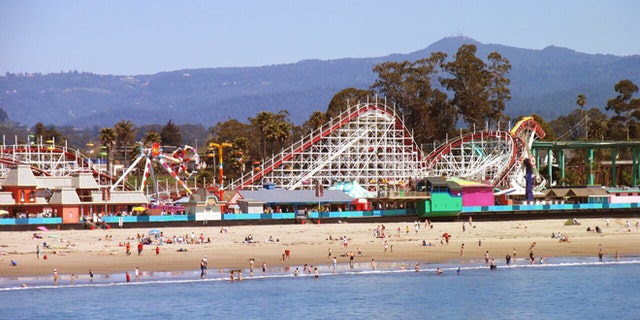 The Santa Cruz Wharf celebrated its 100th anniversary last year. Kids love that the wharf is the longest timber-pile pier remaining in the coastal U.S., and the "Coney Island of the West" vibe extends to the Beach Boardwalk. There's no cost to enter; only the rides carry a fee. Wednesday night movies on the beach are free, and so are Friday night shows by top acts like Eddie Money and Soul Asylum. For the best views and access, check into the hip Dream Inn, Santa Cruz's only beachfront boutique hotel.
8. Whitefish Dunes State Park, Door County, Wis.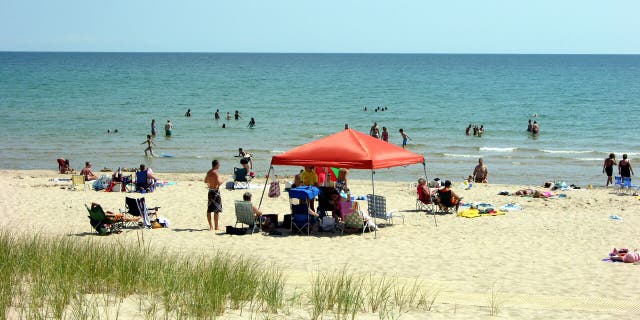 Wisconsin's busiest state park, Whitefish Dunes State Park, is in the southern tip of Door County, the Midwest's version of Cape Cod. A nature center welcomes guests. Among the 14.5 miles of hiking trails is an interpretive trail that teaches about early settlers (including a replica of a primitive lodge). But the crown jewel is an expanse of sand along Lake Michigan that's wide enough to ensure you don't elbow your neighbors. Families like to grill out in a picnic area near the parking lot.
9. WaterColor Beach, Fla.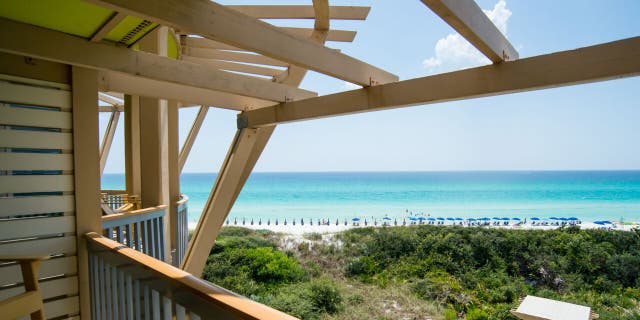 Need proof that the Florida Panhandle – the "Redneck Riviera" – has evolved? Visit WaterColor Beach behind the 60-room WaterColor Inn & Resort in Santa Rosa Beach. It's ultra-casual, with colorful walls throughout, and there's a kids' camp for ages 3 to 12. This highly walkable, 500-acre beachfront community also offers cottage rentals for families.