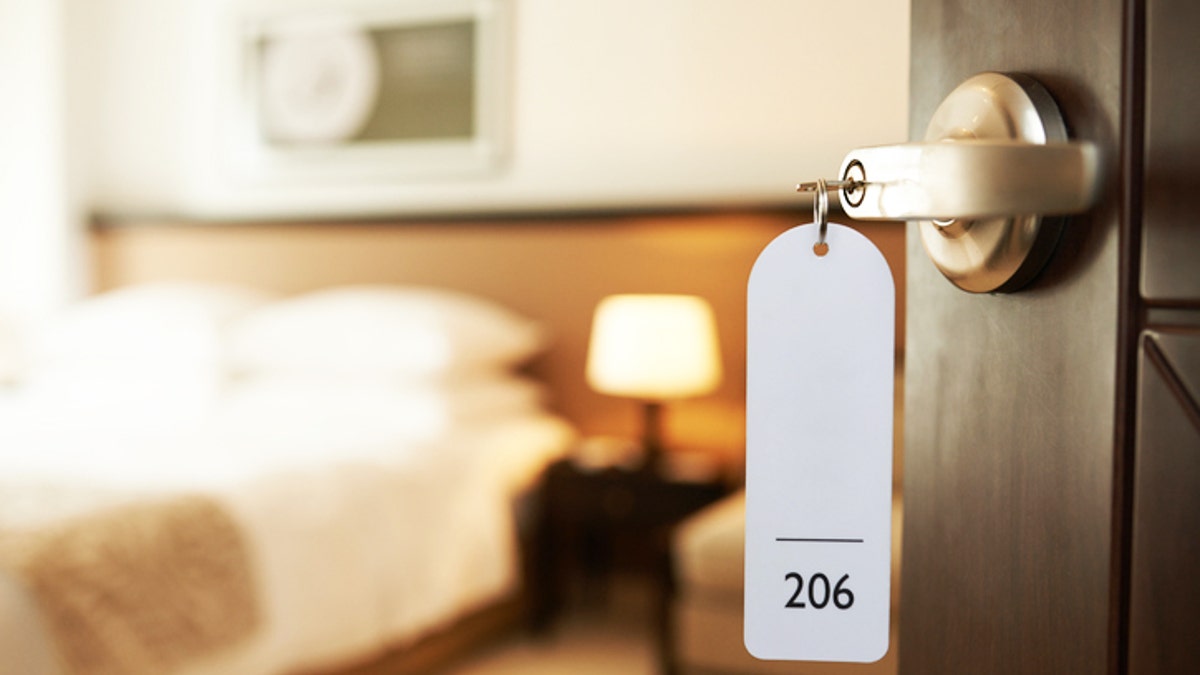 A stay at your average run-of-the-mill hotel chain — while adequate in most cases — can be underwhelming for some seasoned travelers.
Sure, there's something to be said for a predictable motel room with a queen bed and cable TV, but some tourists would rather eschew a typical lodging experience in favor of stranger accommodations.
Looking for an unforgettable getaway? Check out the weirdest motels and hotels below, and book a trip that's anything but boring:
Opened in 1950 as a motel, gas station and roadside attraction on Route 66, this Holbrook spot houses guests in its 15 concrete "teepees" designed by architect Frank Redford. According to AZ Central, a classic car is also parked outside of each unit in order to evoke memories of a simpler time. The Village's website says the place has been renovated and updated over the years, though it remains family-operated until this day.
According to the New York Post, Stephen King's "The Shining" was inspired by his wife and his one-night stay in this hotel in 1974. Reports of paranormal activity abound to this day, with some tourists flocking to the Rocky Mountains hotel in the hopes of experiencing something strange.
THIS COMMON HOTEL BOOKING SCAM COSTS TRAVELERS AROUND $4 BILLION A YEAR
Let's get the obvious out of the way — this hotel is shaped like a beagle. He's named Sweet Willy, and he's sure to provide a unique lodging experience. Sweet Willy also has a smaller friend named Toby, but per the Huffington Post, he's merely decorative: You cannot sleep inside of Toby. But Sweet Willy's interior is also dog-themed, so guests will have plenty of canine decor to enjoy.
If you want a literal underwater experience, look no further than Jules' Undersea Lodge. Scuba certification is reportedly required to stay, given the entrance to this hotel is 21 feet underwater. But no creature comforts are missing from this two-bedroom spot, which features hot showers, refrigerator, microwave, DVD player, and even pizza delivery — not to mention the view of the Emerald Lagoon out of a 42-inch round window.
HOTEL KEEPS LONELY GUESTS COMPANY WITH FISH RENTALS
5. Winvian – Litchfield Hills, Conn.
Winvian offers a variety of cottages for guests to book, each with a different theme. Among the stranger ones are "The Golf" cottage, featuring green carpeted floors reminiscent of a golf course, and the "Helicopter" cottage, which has a restored 1968 Sikorsky Sea King Pelican HH3F helicopter right in your room.
This unique "hotel" is a collection of twelve vintage trailer homes from the '40s and '50s, each decked out with its own kitchy theme. Guests are also provided with board games and record players — complete with the records to go with them — and if they get hungry, there's an on-site eatery named Dot's Diner, "which looks how you think it looks," the Huffington Post writes.
For a more "elevated" experience, TreeHouse Point is your place. Guests enter the six treehouses through bridges, winding stairways or ladders. And if Treehouse Point's Instagram page is any indication, the site is especially popular during wedding season.
FOLLOW US ON FACEBOOK FOR MORE FOX LIFESTYLE NEWS
8. The Clown Motel – Tonopah, Nev. 
The aptly named Clown Motel in Tonopah is decorated — nay, festooned — with pictures, statues, and books about clowns. And to top it all off, it's located next to the city's very first cemetery. "It's also called the scariest motel in the U.S.," said owner Bob Perchetti in a recent interview with Las Vegas Now. The hotel has also been up for sale since July 2017, in case you want to make your dream of becoming a clown-hotel owner a reality.