6 top low-tech reasons to love the most technologically advanced ship at sea
Sure, you've heard a lot about the technology on Royal Caribbean's newest ship, Quantum of the Seas, which the line proclaims to be the "world's first smart ship." There's the super efficient embarkation process that let's you check-in online, upload your own photo, sail right through customs, and track your suitcases by app; the fast, inexpensive broadband Internet access that allows you to stream video and video chat (a first at sea, sadly); and the use of robots in both stage-show entertainment and as the first ocean-going non-human bartenders.
But there are plenty of other things we love about Royal Caribbean's newest build which is being christened Friday in Bayonne, New Jersey's Cape Liberty port. Here are some of our favorite new low-tech features:
1. There's no main dining room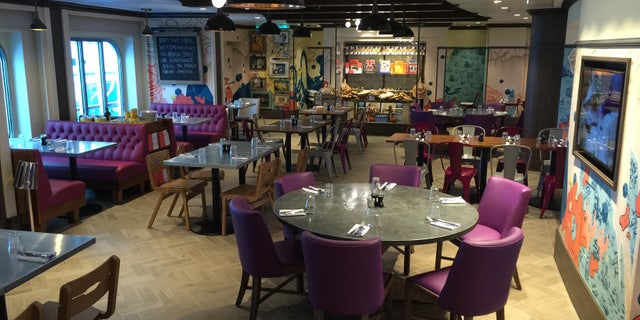 You've probably never heard anyone say they hate the whole concept of main dining rooms on cruise ships, but that's just because most people take it for granted that you need a large banquet-style venue to serve thousands of people. Royal Caribbean has innovated on this ship by doing away with the whole thing altogether, and dividing the dining room into five smaller no-fee restaurants with different décor and menus, as well as an additional seafood restaurant that's just for passengers in suites.
The result is impressive. Sure, the main dining rooms are still designed to serve crowds of mainstream cruisers – in Silk, the Asian restaurant, you can expect that even dishes marked "spicy" (such as peanut sauce-topped chicken wings and ramen in broth) are relatively benign. But the experiment is still a game-changer: Food quality and plating have more attention to detail, as do the number of choices available without an additional charge. And, since all restaurants are open seating, you can dine when you want and with whom you want, unlike in traditional main dining rooms.
2. The sports complex has bumper cars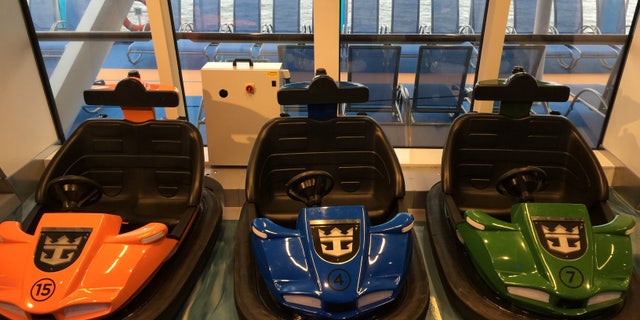 You're used to seeing running tracks, pingpong tables, miniature golf courses, and rock climbing walls. But this ship's sport complex also has complimentary bumper cars. Better still, there's a DJ booth suspended overhead and, at night, the space morphs into a roller skating party with flashing disco lights.
Perhaps the coolest feature of all: You don't have to run downstairs to the pizza parlor or the pub when you're hungry – the SeaPlex space has another first, the first food truck at sea, Dog House, permanently parked in the space. There, you can get hot dogs and bratwurst at both lunch and dinner, and (unlike on some other lines) they're complimentary.
3. You can learn to sky-dive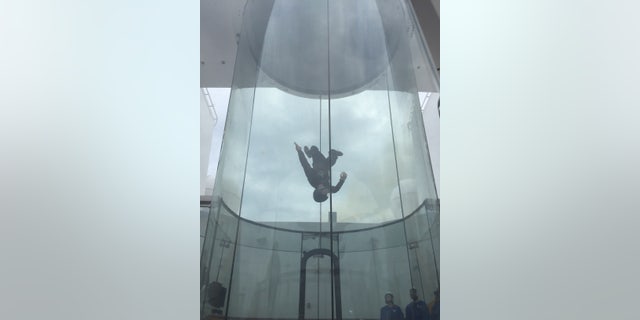 On Royal Caribbean's last class of ships, you could learn how to surf with an onboard simulator. That feature is back on Quantum, along with the first sky diving simulator at sea, RipCord by iFly. Sign up for a one-hour class that includes suiting up in a flight suit, a helmut, ear plugs, and goggles; learning how to position your body; and mastering the hand signals so the instructor operating the 170-mile-an-hour wind tube can tell you to, say, spread your legs to stabilize your body. Flight time is one minute, and the complimentary class is one-hour long. If you love it, you can take additional instruction for $49.99 per course.
4. There are even more celeb chef restaurants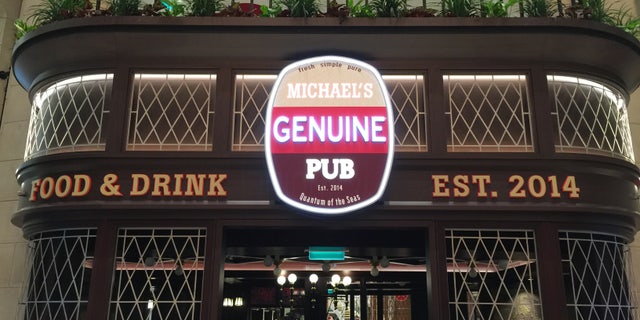 Chef Michael Schwartz (of the acclaimed Michael's Genuine Food and Drink in Miami) has had a partnership with the line for years, but on this ship he rolls out his first pub at sea. With crowd pleasers like pulled pork sandwiches and deviled eggs (executed at a level that's a step above what you would normally find onboard), singer-songwriter performances, and a classically British pub atmosphere (picture wood-lined walls and cutting boards topped with charcuterie), it's sure to be a hit.
And that's not the only new hot spot with a big name behind it: Jamie Oliver launches his first at-sea restaurant on Quantum. Opened for both lunch and dinner, dishes at Jamie's Italian showcase familiar favorites, like arrancini, charcuterie trays, calamari with lemony aioli, and fried polenta squares as well as house-made pastas.
Once you've hit your calorie max, you can eat at Devinly Decadence, the 500-calorie-or-less restaurant by Devin Alexander, the chef from NBC's "The Biggest Loser."
5. The ship's coolest new feature offers the best views at sea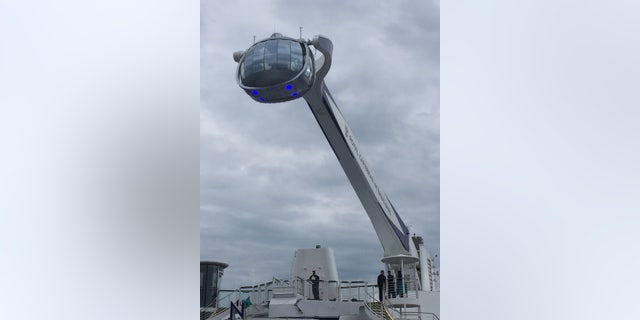 The ship's new thrill ride – a mechanical arm called North Star, that extends 300 feet above deck – offers some very cool views. The 15-minute ride is complimentary, unless you charter the pod for private proposals or weddings. It doesn't matter how fast the ship is moving – it can operate in up to 70 knots – but large waves are a different story. Not sure when to do it? While frothy water is a nice sight, it would be hard to beat the port views of, say, Manhattan, as you sail into New York's harbor.
6. You can learn to hang from the rafters after watching the pros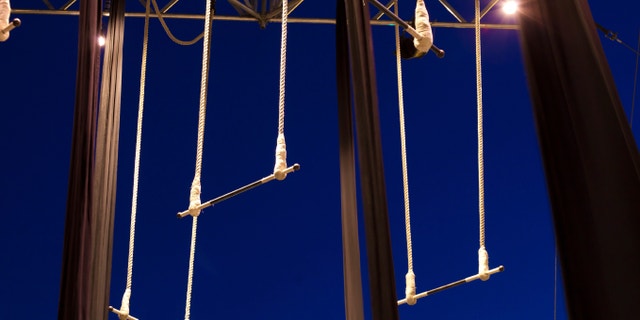 After you watch the acrobatic show in Lounge Two70, you can sign up for the ship's circus school and learn how to fly on a trapeze as well as juggle. Sure, you can buy something in the onboard mall, but there may not be a better souvenir to bring home than a few new tricks.