6 gifts for the jet-setter mom
Showing your appreciation for the mom that's always on the go is never easy but this year we've put together a list of some of the hottest new gifts for the most travel-aficionado mothers out there.
1. Frends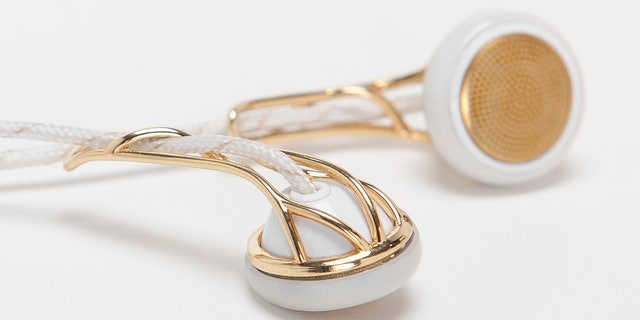 Spending hours on a bus to a private resort or beach can be dreary, but listening to your favorite tunes can always help pass the time. Whether your mom wants to jam out to some classic oldies or relax over old-school blues, she'll love wearing Frends headphones. These gorgeous and gold encrypted headphones will leave your mother feeling stylish and comfortable. The "earrings for your earbuds" come with an ambient silicone tip that directs sound right into the ear for a natural sound from a 13mm driver. It also comes with a chic little carrying case to wrap up its soft fabric cord and fashion-accessory like buds into so they don't get tangled or lost. These made for women headphones come with a lifetime guarantee and are compatible with select Apple devices. Available at Apple Stores, Best Buy, Nordstrom and wearefrends.com. Price: $ 99.99.
2. Chilly Jilly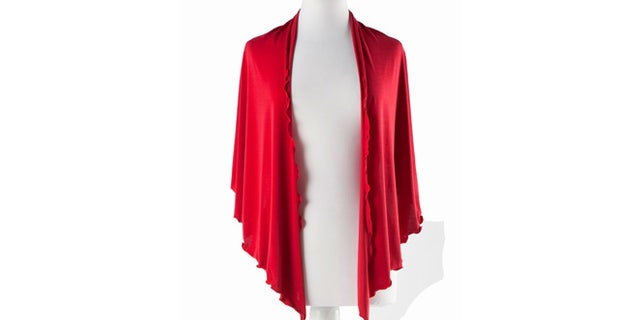 When your mother is getting ready to take a long flight you want her to be as comfortable as possible. First class tickets might leave you with a little extra leg room but wearing the right attire can truly upgrade your comfort level. Chilly Jilly has new lounge pants that are so cozy and soft you'll want to wear them whether you're traveling or not. Made with a high quality brushed wrinkle-resistant micro fiber, these pants feel and look amazing. These pants are nothing like dumpy sweatpants- with slick long pant legs that feature a fold-over waistband they'll give mom and extra flattering and slimming touch to the waist. The Chilly Jilly Company also makes a Jilly Jacket that wears like a fashionable blanket with sleeves. It's perfect for a warmer and restful flight and comes in a pretty drawstring pouch that can easily fit into a purse or carry-on. Available at ChillyJilly.com . Price for The Lounge Pants $45.00 / The Jilly Jacket: $ 60.00.
3. VinniBag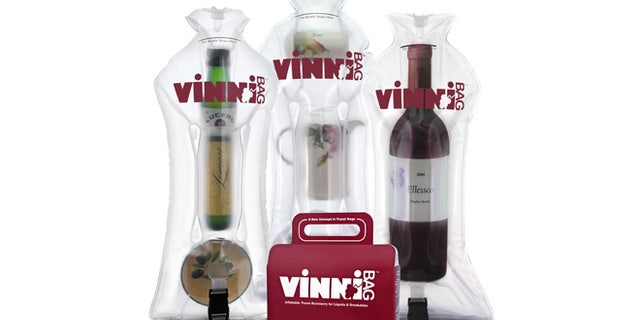 Everyone loves to bring home a memorable souvenir, but with all the TSA rules and strict security checks it's sometimes hopeless to think your fragile or liquid items will make it back in one piece. A brilliant way for your mom to protect her keepsakes is to get her a VinniBag. The wine bottle shaped like bag has inflatable air chambers that conform to the items you put in it, giving them isolated, immobilized and cushioned protection all around. With the Vinnibag your mom will never have to worry about flying with her favorite wine from Italy or special memento from Europe. The reusable and recyclable bag is also great to use when skiing, camping or boating. Available across the globe at airports and stores like Brookstone and Bed Bath and Beyond. Price $28 each or 2 for $25.
4. Hammacher Schlemmer Neck Massager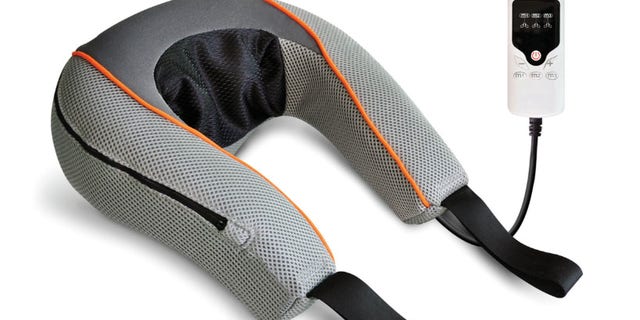 Sitting straight up for hours while you drive of fly to your next destination is bound to leave you with a painful sore neck. Hammacher Schlemmer recently released a deep or light pressure neck massager. Shaped to put around your neck like a travel pillow the massager has two rollers that knead the back of your neck like two human hands. For a quick bout of muscle pain relief this massager is a great new travel buddy to bring along on lengthy trips. Whether you like a deep tissue massage or a soothing gentle massage an attached controller lets you alter and modify the intensity and direction of the rollers. This travel-friendly device can be plugged into an AC or a car's DC power plug- both adapters come included. Available at Hammacher.com. Price $99.95.
5. Kindle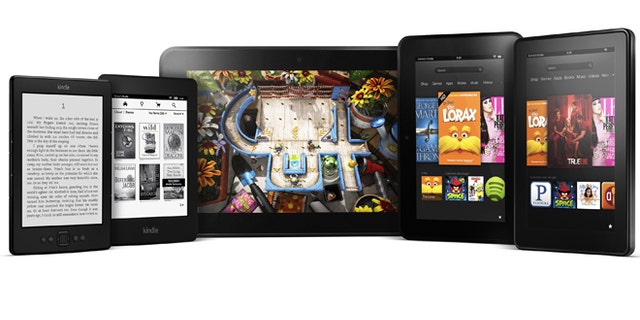 If your mom's idea of a relaxing vacation is basking in the sun while reading a good book then it's the perfect time to get her an E-Reader. The lightweight and compact digital reads are one the best travel accessories to bring along with you anywhere. On Amazon they are promoting a special $179 for their Kindle Fire that originally goes for $199 (special lasts from now through May 12th), but if you're looking for a more affordable price their original Kindle makes a great gift for under $100. At $69 the Kindle's electronic ink screen will have your mom lounging by a resort pool with her favorite novel without any annoying glares from bright sunlight. Personalize the gift by sending your mom her first Kindle book to read. Some great new picks to consider; Parenting Without Borders (Penguin), takes readers on a tour around the world to learn about all the different parenting lessons and practices other countries are using. 65 Things To Do When You Retire: Travel (Sellers Publishing Inc) puts together exciting ideas and advice for retirees who want to explore the world with new adventures and opportunities. Available at Amazon.com. Price Kindle $69, Kindle Paperwhite $119, Kindle Fire HD $199.
6. Polaroid iF045 Digital Camera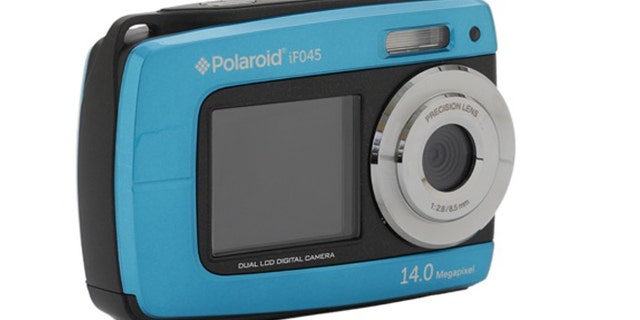 It's no secret that most mom's love to take pictures. Maybe it's in their maternal genes but whenever there is a special occasion or event going on mothers will undoubtedly have their fingers on the shutter button. If you're looking for a reasonably priced camera that mom can use during her travels the Polaroid iF045 digital camera is a great option and is retailed at just $69.99. Mom doesn't have to be tech savvy to work this highly functional camera either. With a one-press shutter button and dual screen LCD displays she can snap beautiful clear pictures or take her own selfies at all the places she journeys to. The waterproof, shockproof and sand-proof model also makes this camera the perfect travel companion for family vacations or days at the beach. Available at Amazon.com, the Polaroid store, Sears, Kmart and Staples. Price $69.99.