5 ways to splurge on travel once you win the Powerball lottery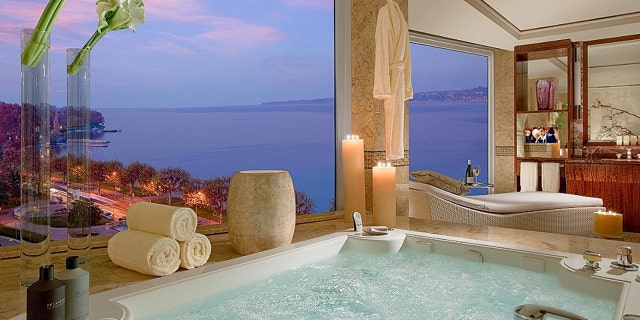 In case you have been living under a rock, the national Powerball lottery just hit the $1.5 billion mark – that's a cash value of $930 million. And, just in case you are THE lucky winner – or among the lucky winners – of Wednesday night's Powerball lottery (Jan. 13), you are likely going to be looking at ways to spend some of your millions. In case you need some travel ideas to pass onto your travel agent, here are a few ideas.
Stay in the World's Most Expensive Hotel Suite
Nothing says high roller like booking the most expensive hotel suite in the world. It can be yours at the Hotel President Wilson in Geneva, Switzerland. The Royal Penthouse runs upwards of $80,000 per night, a mere pittance for you now, features 12 bedrooms and 12 bathrooms and overlooks Lake Geneva and the Swiss Alps. It's almost like renting your own B&B. There are giant plasma-screen televisions, your own fine-art collection, a Steinway grand piano and more.
Private Jet Around the World
Abercrombie & Kent is one of the most luxurious – and adventurous – tour operators in the world, and the sky's the limit on where they can take you. With A&K, it's not around the world in 80 days, but 26. For just $135,000 per person, you can head to some of the world's most exotic islands and off-the-beaten-path destinations by private jet, including Colombia, Easter Island, French Polynesia, the Solomon Islands, the Phillipines, Mongolia, Uzbekistan, Russia, Greenland and New York City.
Cruise Onboard the World's Most Luxurious Cruise Ship
This Regent Seven Seas Explorer hasn't even made its debut, and it's already making headlines as the world's most luxurious cruise ship. Chief among Regent Seven Seas Explorer's high-end accolades is the Regent Suite, which can be yours for around $60,000 per person, including excursions, in-room spa treatments, a private garden, a sauna, a steam room and more than 3,500 square feet of space. The ship is scheduled to set sail this summer and she will sail itineraries in the Mediterranean and the Caribbean during her inaugural season.
Take a Trip on the Maharaja's Express
The Maharaja's Express is the most luxurious, and one of the most costly, train journeys in the world at around $3,400 per night in the Presidential Suite – the only suitable accommodation for a newly minted billionaire. The train is operated by Indian Railway Catering and Tourism Corporation and offers five itineraries: Heritage of India (seven nights, eight days), Treasures of India (three nights, four days), Gems of India (three nights, four days), The Indian Panorama (seven nights, eight days) and The Indian Splendour (seven nights, eight days).
Rent Your Own Island
Sometimes, a hotel suite is just not enough. The rich and famous often need an entire island to themselves before they can properly decompress.
Necker Island, the preferred island hangout of Sir Richard Branson, is available for a mere $78,000 per night for up to 34 people. The rental includes eight bedrooms and one master suite and a bunkroom that includes space for up to six children. In addition, six Balinese-style houses dot the landscape, each sleeping two guests – this includes the Temple House and the Love Temple. Rates also include all meals and drinks, transfers to the island from Virgin Gorda or Beef island airports, a staff of 100, two infinity pools, a hot tub on the beach, tennis courts, water sports equipment, wireless Internet, a DJ for one night and more.
More from TravelPulse
Trafalgar Tours Offering Huge Last-Minute Savings
7 Apps To Help Wipe Out Winter Delay Doldrums
5 Romantic NYC Hotel Packages for A Steamy Valentine's Day
How to Pick the Perfect Ski Resort