5 men caught smuggling $71 million worth of cocaine in their suitcases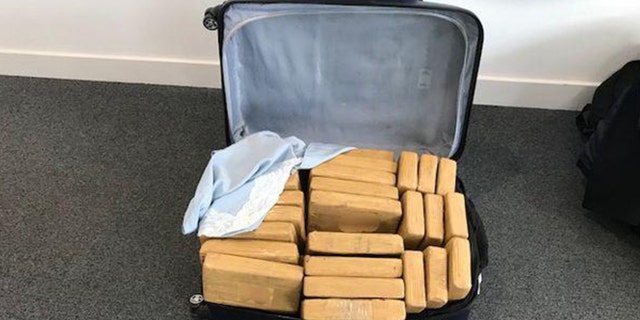 NEWYou can now listen to Fox News articles!
Five men were arrested at a small airport in England after smuggling in over 1,100 pounds of cocaine estimated to be worth around $71 million from Columbia.
A private jet carrying the drugs arrived at Farnborough airport in Hampshire, Monday, when U.K. Border Force officers found what's believed to be one of the largest recent seizures of its kind, the Independent reports.
GROUP ACCUSED OF SMUGGLING GOLD IN AIRPLANE TOILET
After questioning the people on board, the officers became suspicious and searched the aircraft, where they found the drugs hidden in 15 suitcases.
"When opened, each case was found to contain between 34 to 37 tape-wrapped packages weighing approximately one kilo each. One of these was pierced and a white powder exposed which tested positive for cocaine," Border Force deputy chief operating officer Mike Stepney told the Independent.
Of the five men arrested, two were British brothers, along with a Spanish and Italian national, according to The Sun. Border Force officers questioned the airplane crew as well, who were released without being charged.
NCA operations manager Siobhan Micklethwaite told the Independent: "This is a major seizure of cocaine, one of the largest flown into the UK by plane in many years, and this seizure by Border Force represents a major blow to organized crime. We estimate that once cut and sold on the streets in the U.K. it would have had a potential value in excess of £50m (about $71m)."
FOLLOW US ON FACEBOOK FOR MORE FOX LIFESTYLE NEWS
A spokesperson for the Farnborough Airport told The Sun this was a matter for the authorities and they "do not comment on individual aircraft and passengers."