16 steamy hotel packages for Valentine's Day
Hotels are pulling out all the stops for lovebirds this year, swapping out the typical Champagne and roses for intimacy kits, aphrodisiac cuisine and boudoir-style photo sessions. Each of these X-rated packages aims to spice up the night and is designed for new loves and long-standing couples alike. Whether your dream destination is Vegas or Victoria; a swank beach retreat in Florida or Punta Cana; or a ski lodge in Park City or Colorado Springs, it's all here.
Now all you have to do is make plans.
1. Cheyenne Mountain Resort's "A Romantic Affair" package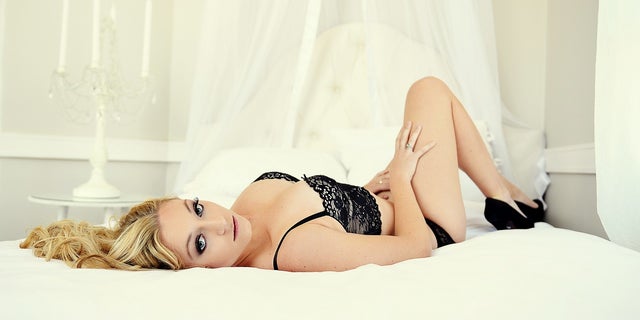 Where: Colorado Springs, Colo.
Roll back a few decades with the boudoir photo session ($325, including hair and makeup, plus a DVD of edited photos) at a local studio — one of three customizable perks included in this package that will capture the night's passion for years to come. Other add-ons include a romantic turndown of roses and a cheese-and-fruit plate, or a three-course dinner for two paired with a mountain view. But we know you want the boudoir session.
2. The Hotel Zamora's "Wink, Wink" package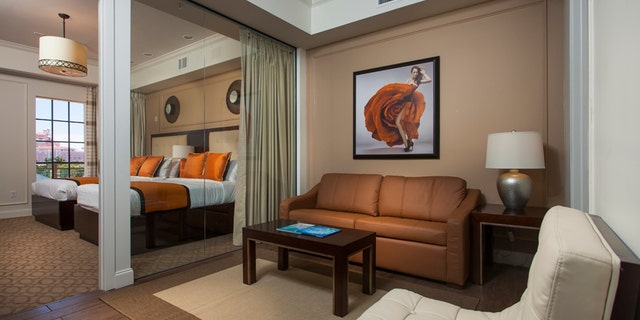 Where: St. Petersburg Beach, Fla.
Life at this year-old hotel takes a risqué turn come Valentine's Day. Forget the mod rooftop bar (Castille), because there's a "naughty and nice" intimacy kit and a chocolate aphrodisiac waiting for you in your room. What's in the kit? How about a glow-in-the-dark dice game, sultry Valentine's Day candy, condoms, lots of lotions and oils and a mini personal massager?
3. Hotel Albuquerque's"Sensuous Romance Getaway" package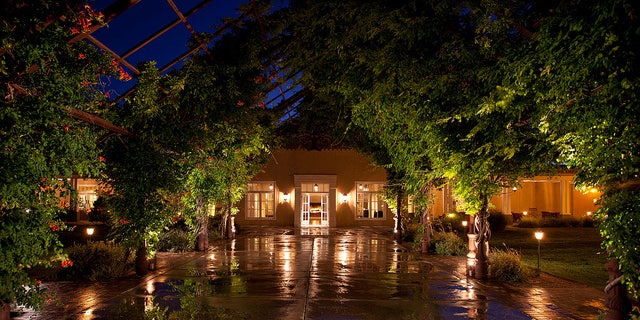 Where: Albuquerque, N.M.
Chocolate-covered strawberries, check. Posh room, check. The usual amenities are included in this package, but the romance tilts to a new level with a "Sultry Seductive Love Kit." The toys in the kit are curated by Self Serve, a tasteful sex store that is owned and operated by women. Other nods to the local economy are a bottle of New Mexico wine and a discount coupon for Self Serve.
4. Barceló Bávaro Beach Resort's "Valentine's Day Special" package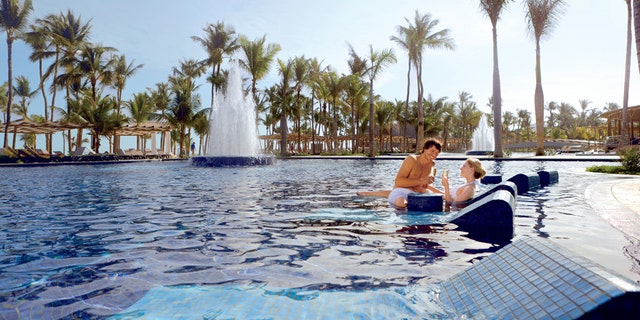 Where: Punta Cana, Dominican Republic
Check into this adults-only, all-inclusive property on Valentine's Day and things quickly turn even more adult. There's a yoga class for couples in the morning, followed by a sexy tequila game (you sit, covered in salt, in a chair while your partner licks you clean). Also included: a bottle of chilled Cava in your room, dinner at La Comedie and strawberries and chocolate upon arrival.
5. Grand Hotel Minneapolis' "Lounging in Love" package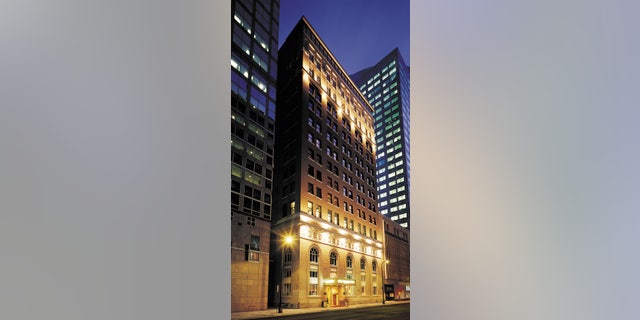 Where: Minneapolis
Who says the Midwest is chilly? Things heat up fast with this package, thanks to a toolkit of passion-provoking goods that includes condoms, massage oil, scratch-off "lottery" tickets for lovers, personal lubricants and Oral Fixation mint packets. Also tacked on are a $25 dining credit — taken in-room, of course — and a free room upgrade.
6. Donovan House Hotel's "Dalliance and the Donovan" package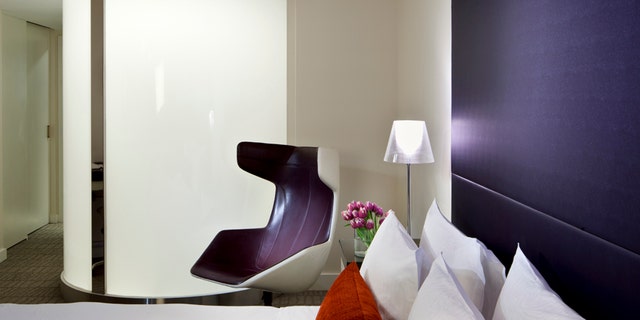 Where: Washington, D.C.
The nation's capital gets sexy with this package. Wake up to a cozy breakfast in bed for two and wind down the night — or just get it started (did we mention the intimacy kit?) — at the hip Zentan restaurant inside the hotel. Both meals, plus Champagne and chocolate-covered strawberries upon arrival, are included.
7. Surfcomber Miami's "Tryst with a Twist" package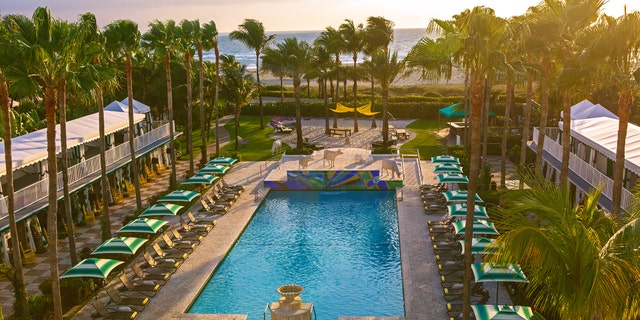 Where: Miami Beach
Is there any place better than bustling South Beach to flee with your sweetheart? Slip away from the nightlife for intimate time at this chic hotel. You'll be greeted upon arrival with a "Sex on the Beach" cocktail, and you'll find an intimacy kit waiting for you in your room. Late checkout is not a problem, of course.
8. Hotel Palomar Philadelphia's "Drunk In Love" Package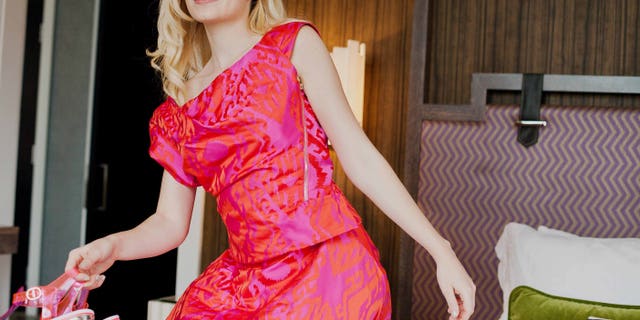 Where: Philadelphia
Celebrate the history of your relationship in one of America's most historic cities. There's an intimacy kit (courtesy of The Velvet Lily) waiting for you in your suite, and you can dial room service for the aphrodisiac menu (matched with an enticing cocktail) to get in the mood. Staff can arrange a boudoir shoot with photographer Natasha Esguerra, too.
9. MacCallum House's "B&B Lover's Adventure" package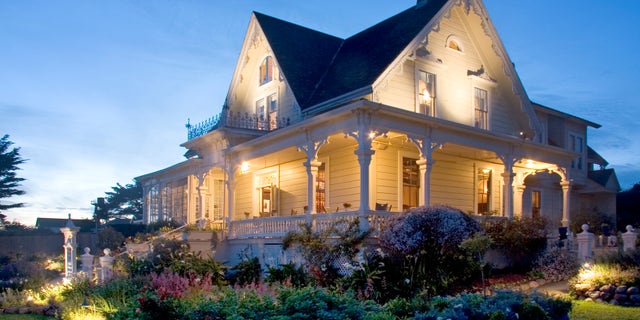 Where: Mendocino, Calif.
The gorgeous vistas of the rugged Mendocino coast make for an ideal romantic getaway. Add wine and this package, and the thrill deepens. Enjoy a professional makeup and hairstyling session ahead of a boudoir photo shoot by Glass Slipper Photography, plus a romance-themed outdoor shoot on the beach or in the forest. Dine fireside at the inn's restaurant, cuddle over breakfast in the morning and sip a bottle of sparkling wine (all on the house).
10. Mandarin Oriental, Las Vegas's "Lover's Toast" package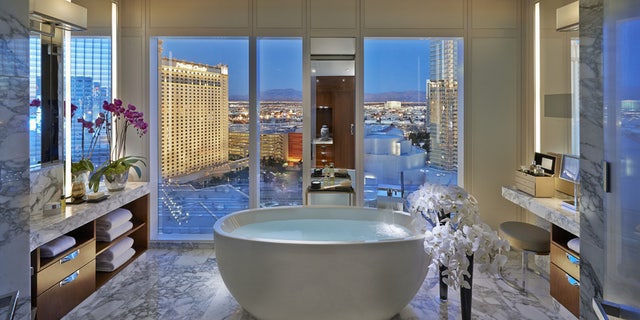 Where: Las Vegas
Ideal for spa junkies who want to be pampered, this package includes a Tian Quan thermal-spa experience at The Spa and a jaunt to the Kiki de Montparnasse Boutique, where you can scoop up some sultry lingerie and tools to get the night hopping. For a traditional Valentine's Day tweak, Champagne and sugary sweets are included.
11. Hotel Palomar San Diego "Lazy Lover" package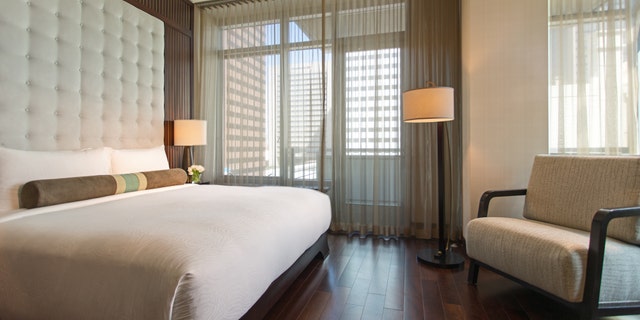 Where: San Diego
All the cliché Valentine's Day gifts — rose petals, a Mylar balloon, a teddy bear, Champagne and a box of chocolates — are included, but so are erotic items (cue the intimacy kit). The package also features a financial boost: Choose between a $100 nightly credit to Nature's Spa by Jurlique or in-room dining from Saltbox Dining and Drinking, including morning coffee and tea service in bed.
12. 70 Park Ave. "Exs and Ohs" package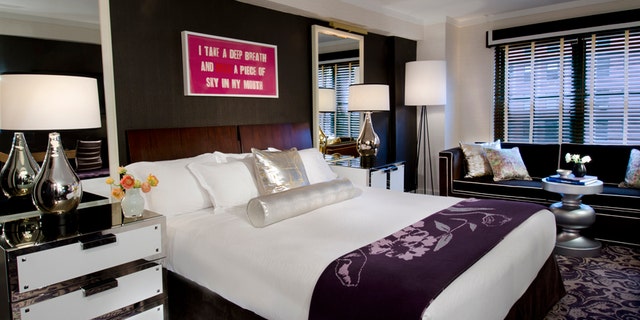 Where: New York City
Manhattan hotels are a dime a dozen, but this one stands out come Valentine's Day weekend with an on-site love doctor who draws up a list of sensual suggestions — from a boudoir photo session to in-room massages. Your stay begins with Hot and Toddied cocktails at the hotel's tavern, followed by two tickets to a burlesque show and a three-course dinner.
13. Embassy Row Hotel's "Extreme Lovers' Romance" package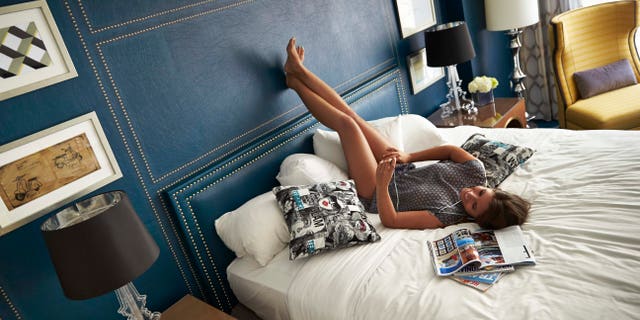 Where: Washington, D.C.
Check into this hotel for a little bit of edge. This package includes a bottle of sparkling wine (no surprise there) and a Kama Sutra kit (racy!). Should you choose to go outside, there are a lot of quickie bites to eat and bars to lounge in around Dupont Circle, but why would you and your sweetie want to leave the room?
14. Waldorf Astoria Park City at Canyons Resort's "Kami Ski-tra" package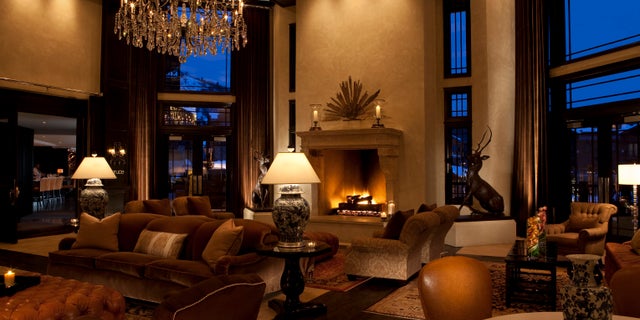 Where: Park City, Utah
Located at the base of Utah's largest ski/snowboard resort, each room here has a gourmet kitchen and mountain views, perfect for holing up with a ski bunny who wants to be pampered. Guests who book the package get a $50 ski credit, but the real adrenaline is back at the room: a Kama Sutra book, adult games, chocolates, essential body oils and Champagne delivered with turndown service.
15. Hotel Zed's "Get Lucky this Friday the 13th" package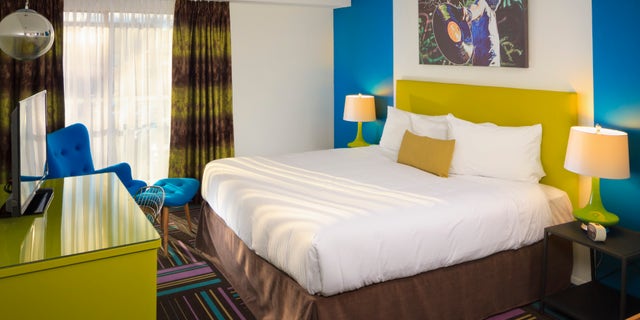 Where: Victoria, British Columbia
Ease into Valentine's Day one day early at this offbeat, vintage-themed hotel, where a "nooner" is encouraged. You book a room between 11 a.m. and 2 p.m., choosing from among quirky themes like Bachelor Pad and King for a Night, each with neon walls and midcentury modern décor. If you venture outside, hop on a bicycle with your lover, thanks to free rentals.
16. Inn at Laurel Point's "Naughty Package"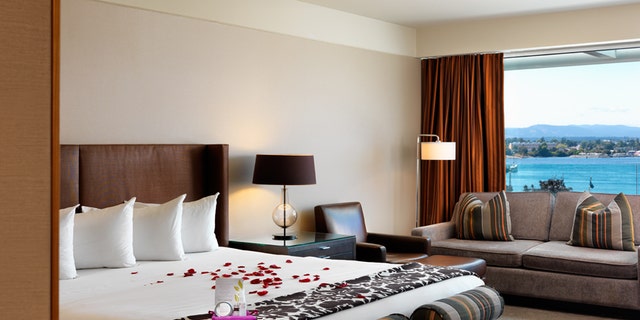 Where: Victoria, British Columbia
All the goods — and most of the senses — are covered for naughty couples with this package. Enjoy a bottle of The Velvet Devil Merlot on the house, then crack open the Naughty Love Kit (love decoder, condoms, a mini vibrator, lubricant and a feather tickler). Whether you sleep or not, you'll enjoy breakfast in bed. Staff will even deck out your room with a romantic vibe: rose petals and a chocolate treat devised by the chef.