15 Cool and Unusual Hotel Lobby Features
Hotel lobbies have long been social gathering spots, but lately they have also emerged as showcases for unexpected features, from a lobby vending machine that dispenses gold bars to a floating catwalk in Barcelona. Gold-plated pianos, ceiling sculptures, and priceless Renaissance frescos may get visitors in the door, but are they worth checking in for? We'll let you decide.
By Donna Heiderstadt
1. $225,000 Fazioli Piano
Where: The Fairmont Pacific Rim in Vancouver, BC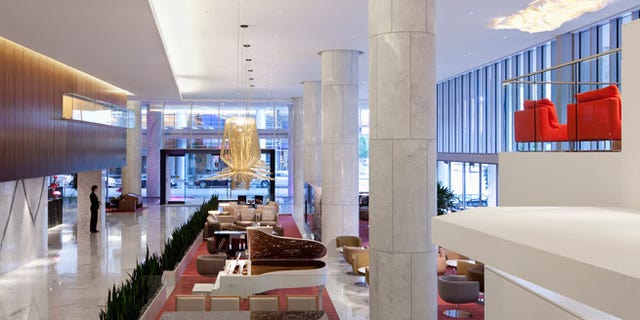 You can't possibly miss the gleaming white Italian-made Fazioli grand piano in the lobby of The Fairmont Pacific Rim in Vancouver. Someone is either playing it, especially during cocktail hour, or snapping photos of it—perhaps because it is one of just 2,500 Fazioli pianos in the world, took 1,000 hours to make, has 18-karat-gold hinges, and cost almost a quarter of a million dollars. Relax in the lobby to hear the sweet, dulcet tones of this instrumental masterpiece.
Plan Your Trip: Visit Fodors's Vancouver Guide
2. Gold Vending Machine
Where: Emirates Palace Hotel in Abu Dhabi, UAE
If you happen to have a few thousands dollars burning a hole in your pocket, you can turn it into gold in the lobby of the lavish, 394-room Emirates Palace in Abu Dhabi. Since 2010 a "Gold to Go" ATM vending machine dispenses everything from coins, to pendants, to gold bars weighing from 1 gram to 250 grams.
Plan Your Trip: Visit Fodor's UAE Guide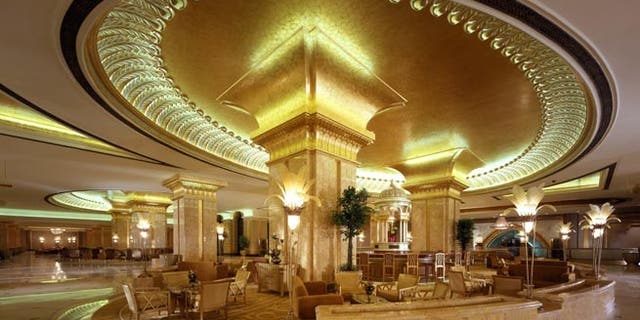 3. Dale Chihuly Ceiling Sculpture
Where: Bellagio Las Vegas
While the first thing you hear upon entering the lobby of Bellagio Las Vegas is the clamor of the adjacent casino, the first thing you see is the glow of Fiori di Como, the Dale Chihuly glass sculpture that dominates the ceiling. At 2,100 square feet and 40,000 pounds, it is comprised of 2,000 pieces of multi-hued glass that was hand-blown into an abstraction of flowers.
Plan Your Trip: Visit Fodor's Las Vegas Guide
4. Subterranean Roman Ruins
Where: Hospes Palacio del Bailio in Cordoba, Spain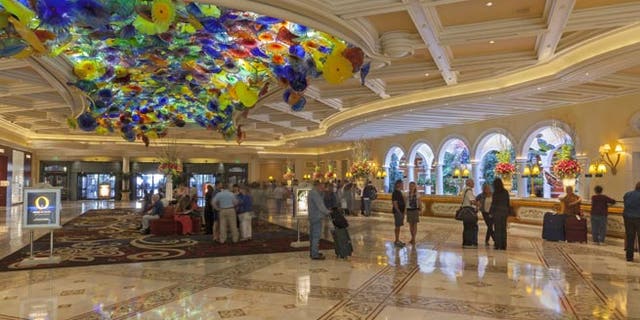 The lobby of Hospes Palacio del Bailio, which is located in an elegant 16th-century palace in Cordoba, Spain, leads to an atmospheric central patio that serves as the hotel's dining room. There, guests are greeted by an unexpected visual treat: a glass-paneled floor that provides views of ancient mosaics and columns of a subterranean Roman-era villa.
Plan Your Trip: Visit Fodor's Cordoba Guide
5. Staircase to Nowhere
Where: Fontainebleau Miami Beach in Miami
Guests of the famed mid-century Fontainebleau Miami Beach who are curious about where the dramatic two-story staircase in the hotel's 17,000-square-foot marble lobby leads, will quickly discover the answer is nowhere. But that wasn't always the case. When architect Morris Lapidus designed the lobby in 1954, he put a coat check at the very top, and arriving ladies would ascend to it via a discreet elevator and then make a dramatic entrance down the photogenic staircase.
Plan Your Trip: Visit Fodor's Miami Guide