Will the new iPhone 5 increase distracted driving?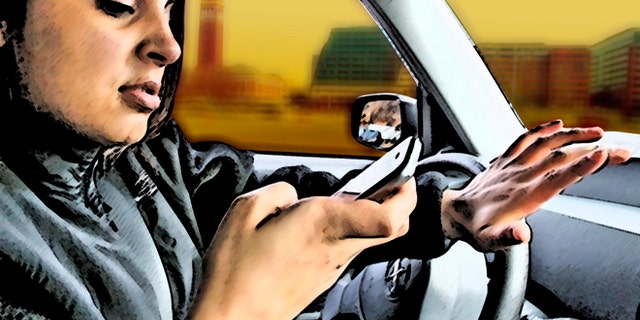 Getting more information for free is usually a good thing.
That's why we all love Google Maps and why Apple is emphasizing free Maps and navigation in its new iOS 6 software for the iPhone 5 and compatible models. But could the free software and service have the unintended consequence of increasing cases of distracted driving?
Apple certainly looks poised to take smartphone navigation mainstream. It's already received orders for over 2 million new iPhone 5s, and the company's use of TomTom software could encourage many owners to drop their dedicated GPS devices. It's certainly cheaper than built-in car navigation systems that cost from $800 to $1,500.
Of course, free phone-based navigation usually only works when you've got a reliable cell connection (as in Apple's and Google's case); most in-dash systems have no such weakness. But you do the math: Free vs. hundreds of dollars, how difficult a decision is that?
You do the math: Free vs. hundreds of dollars, how difficult a decision is that?
Nevertheless, using a phone to direct you on the road isn't an ideal solution. Without a cradle mount, drivers are tempted to look down at the phone's directions, and even with the iPhone 5's larger 4-inch screen and improved speaker, it can be difficult to make out directions when you're negotiating heavy traffic at 65 mph. Then there's the potentially distracting fact that the phone is also a texting and social networking device, sitting there tempting you to read a girlfriend's SMS or frenemy's Facebook post. (You know you want to.)
People love their phones, and navigation is a great feature, so what can be done to minimize the danger?
Apple is including a "Do Not Disturb" feature in the new iOS 6 software. But owners have to voluntarily switch it on, and it is mainly intended to mute calls and messages save those from VIPs, like your mom or your spouse (or maybe just mute your mom, you decide). The feature isn't intended to quell distractions in the car.
Many car makers and smartphone developers believe a better approach is to make phones work more seamlessly with in-dash systems in automobiles. The general ideal is to put the controls for appropriate apps -- navigation and music -- onto the car's larger, up-front display. Such systems usually lock out the phone's screen once the handset is tethered to the car, preventing drivers from reaching for their Android handset.
At least half a dozen new systems that work this way are being introduced in automobiles this fall. The major hurdle for these approaches is that there are too many divergent ways to do this and there's no standard in place. In other words, you need a different app to work with Ford's Sync or Mercedes-Benz mbrace or Toyota's entune.
Worse, each allows different functions. Some will let you play Pandora, but not Rdio. Some let you speak commands, others require you to touch the car's screen.
One effort aimed at creating such as standard (and there have been several such efforts) is the Mirrorlink format being promoted by the Car Connectivity Consortium. Consortium members include consumer electronics companies, automakers, and phone manufacturers. Products supporting Mirrorlink have been few so far, though, with Sony out in front offering two compatible in-dash systems that can be installed in vehicles. Unfortunately, the Mirrorlink function only works on a couple of Android smartphone models so far.
The other way to get around part of distraction problem is to allow inexpensive or even free navigation apps on smartphones to work via a car's in-dash LCD panel. That's the approach Telenav is taking with its new Car Connect version of its Scout nav app. For $24.99 a year, the navigation software will work on Ford vehicles with Sync screens and controls.
It's a great idea, but automakers have to cooperate and one wonders how many others will be willing to forgo their own profitable built-in navigation systems to allow this. (Ford's Sync systems are standard on some models, and start as low as $295 on other vehicles.)
In the meantime, no standard exists, and as you might have guessed, Apple isn't a member of the consortium backing Mirrorlink. Heck, the company won't even use the industry standard micro USB connector. Yet everyone seems to agree that something needs to be done to minimize distracted driving.
Let's hope that happens sooner rather than later.
Follow John R. Quain on Twitter @jqontech or find more tech coverage at J-Q.com.