Apple unveiled three new iPhones at its big September event on Tuesday, including the high-end iPhone X, which comes with a new way to unlock the device, known as Face ID. While Apple touted the increased security of its facial recognition technology, it's unclear whether law enforcement could use it against you.
During the event, Apple senior vice president of marketing Phil Schiller said that the facial recognition technology can adapt as your face changes. "Face ID learns your face. It learns who you are," said Schiller. This includes changes such as growing facial hair, wearing makeup or other alterations people might make to their face.
However, there are concerns that, if a situation arises where the police need to access someone's iPhone, they could theoretically hold it up to someone's face to gain access. NSA whistleblower Edward Snowden, for example, warned that the technology could be abused.
During Tuesday's launch event, Apple's Schiller said that just holding the iPhone X up will not work if it's not properly aligned with a person's face. "If your eyes are closed, if it's not lined up, it's not going to work," the Apple executive added.
APPLE UNVEILS IPHONE 8, IPHONE X
In 2016, Apple was caught up in a fight with the FBI over a shooting in San Bernandino, Calif. when the FBI requested Apple's help to unlock the gunman's iPhone. Apple worked with the agency to a point, until it deemed the FBI's request to build a backdoor to the iPhone "too dangerous to create."
Apple touted the security of its new Face ID compared to the previous method for unlocking iPhones, known as Touch ID. Apple said the chances of someone being able to unlock your phone with Touch ID, which utilizes a finger print, is 1 in 50,000. With Face ID, it's 1 in 1 million.
Apple's senior vice president of Software Engineering Craig Federighi said that if a person has an "evil twin," they would need to add extra protection in the form of a password.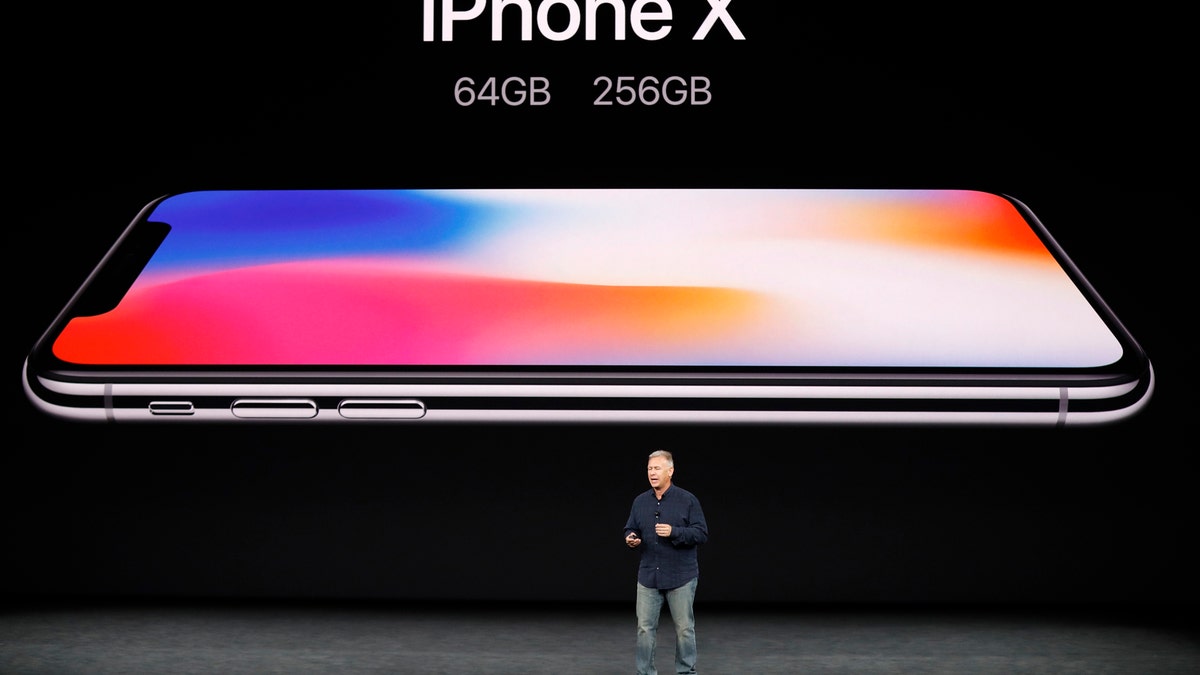 Added layer of security
According to The Verge, leaked source code shows the ability to opt out of Face ID, which Apple offered with Touch ID. Apple also said that it would not store facial features in the cloud. Instead, they would be stored locally on the phone itself.
While it may provide some comfort to potential iPhone X buyers worried about privacy, facial biometrics has an uneven history. Last year, security and computer vision specialists from the University of North Carolina were able to hack facial recognition systems by using pictures from Facebook.
The attack was successful in four of five systems, according to Wired.
HOW GOOD WILL APPLE'S FACE ID BE?
Apple, for its part, said it has worked tirelessly to make Face ID secure. On stage, Schiller said the company worked with Hollywood makeup artists and professional mask makers to thwart users trying to game the system. It also makes use of the iPhone X's infrared camera, its A11 Bionic processor, as well as a heavy emphasis on machine learning, going so far as to create a neural network for the iPhone X that creates a mathematical model of a person's face.
And the company's upcoming mobile operating system, iOS 11, has additional security features to prevent access. If law enforcement wanted to do a forensic search on iOS 11, they would need a passcode, Nicholas Weaver, senior staff researcher focusing on computer security at the International Computer Science Institute at Berkeley, told Forbes.
Privacy as a feature
In the past, Apple has touted its relentless focus on user privacy and the security of its devices as a selling point.
While the full efforts of Face ID to keep privacy intact may not be known for some time, analysts still expect the iPhone X to sell well nevertheless.
"It offers considerably additional appeal and features over the iPhone 8 and will cost two hundred dollars more than the 8 Plus and ship rather later, in early November," Jackdaw Research chief analyst Jan Dawson said in comments obtained by Fox News.
"These devices collectively should sell very well over the next year or so, with the iPhone X becoming a more meaningful contributor to sales late in the December quarter and especially into early next year," he added.
Follow Chris Ciaccia on Twitter @Chris_Ciaccia