Watch Navy pilots save plane after it falls off carrier
NEWYou can now listen to Fox News articles!
Dramatic footage released by the U.S. Navy shows a close call earlier this year on the aircraft carrier USS Dwight D. Eisenhower.
After an arresting cable broke as an E2-C Hawkeye aircraft was landing on the ship on March 18, the plane flew off the end of the carrier. The footage shows the plane, with its distinctive radar on top, disappearing over the side, but then reappearing after it recovers.
The Navy awarded three pilots-- Lt. Cmdr. Thomas Browning, Lt. Cmdr. Kellen Smith, and Lt. Matthew Halliwell-- from that plane the Armed Forces' Air Medal in a ceremony aboard the Eisenhower this month.
Kellen Smith, who was the plane's copilot, said they heard a "loud snap" as the plane slowed.
"When we would normally be coming to a stop, we weren't," Smith said in a statement. "Our years of training kicked in and we reacted on instinct. I slapped back the ditching hatch (Hawkeyes do not have ejection seats) as we cleared the deck and began a deep settle (significant descent)."
He estimated that they came within about 10 feet of the water before the plane pulled back up.
Halliwell wasn't at the ceremony-- he's now an instructor, the Navy said.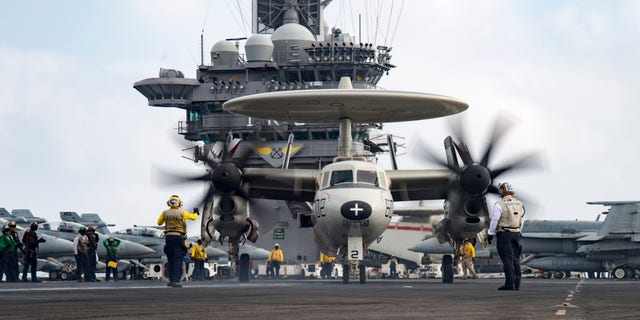 The Navy credits the crewmembers with saving the aircraft, which is part of a group called the Carrier Airborne Early Warning Squadron One Two Three, or VAW-123. They're also called the Screwtops.
They fly a plane called the E2-C. It's the biggest plane to currently take off and land from an aircraft carrier, according to the Navy, and it weighs more than 25 tons and has a wingspan of 80 feet, which is only about 13 feet shorter than some models of the Boeing 737.
Follow Rob Verger on Twitter: @robverger