Walmart's best Black Friday deals revealed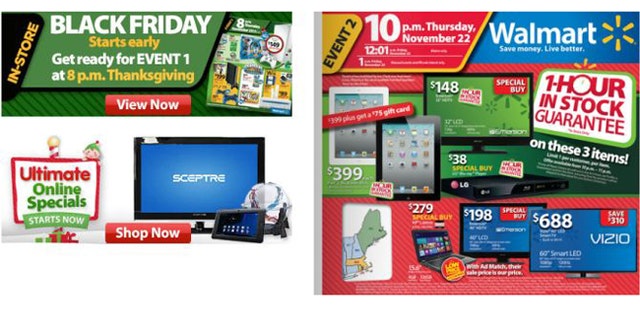 NEWYou can now listen to Fox News articles!
Walmart has unwrapped the details on its Black Friday specials early, and there's a lot of loot for mobile technology lovers on the hunt for a deal -- especially if you don't mind shopping on Thanksgiving day. Some of the biggest bargains include a Nook Color for just $99 and an Acer Ultrabook for a shockingly low $499.
Walmart's deals kick off before the final NFL game of the day, with the first of three low-cost price waves starting at 8 P.M. on Turkey Day. You can grab the LeapPad 1.0 Learning Tablet at $65, down $14 off its normal price, as well as movies and video game consoles marked down at steep discounts, but consider the 8 P.M. offers to be the appetizer for the main course.
At 10 P.M., Walmart plans to roll out price cuts for numerous brand-name electronics, highlighted by a "One-hour guarantee" that locks certain Black Friday deals in stone if you're waiting in line for, amongst other things, a 16GB iPad 2. The tablet's being sold if its usual $399 cost, but Walmart's sweetening the pot by tossing in a $75 Walmart gift certificate, and if your store runs out of stock before 11 P.M., they'll give you a rain check for a pre-Christmas pick-up.
The majority of the offers, however, are firmly of the "while supplies last" variety. Notable 10 P.M. offerings include an unnamed 15.6-inch HP laptop with 4GB of RAM and a 320GB hard drive for $279, several discounted cameras, the 8GB Nook Color for $99 ($50 off its normal price), and a Virgin Mobile MiFi hotspot for $39.88.
Shoppers who decide to wait until Black Friday proper will be greeted by a third and final wave of deals at 5 A.M. The specials here skew more towards the everyday crowd, but mobile mavens may be excited by the $100 gift card Walmart's offering when you buy select phones, including the Galaxy S III, HTC One X and Droid Razr M.
The retailer's also offering an unnamed Acer 13.3-inch Ultrabook with 4GB of RAM and a 320GB hard drive with SSD cache for $499. Our gut tells us it's a variant of the Core i3-equipped Acer Aspire S3.
Hit the Walmart.com homepage to sneak a peek at the Black Friday flyer for your local store.