Volleyball Beach Bums to Sport Bikini Barcodes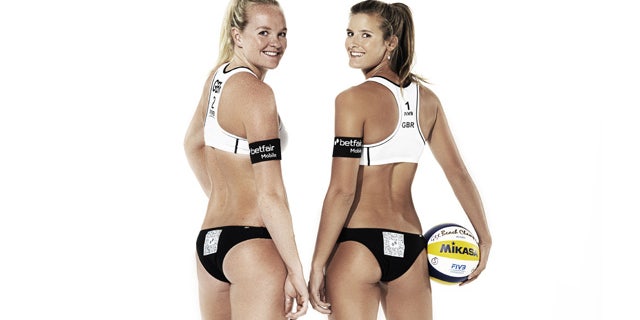 Soccer teams have home and away shirts, tennis and golf stars have clothes and gear with sponsored logos, but if you're a female beach volleyball star there's not a lot of costume real estate to hire out to the marketing folks.
That's why British beach volleyball stars Shauna Mullin and Zara Dampney will be sporting a teensy weensy high tech bar code on their itsy bitsy bikini bottoms when they compete in a high profile London tournament this week.
The Olympic pairing -- ranked 26th in the world -- will have a Quick Response (QR) code on their costumes at the Visa FIVB Beach Volleyball International, an intercontinental women's volleyball exhibition.
When photographed on a smartphone, the QR matrix barcode directs users straight to a specific website, in this case a site owned by online sports betting company Betfair.
The barcode, part of a sponsorship deal with Betfair, will be printed on the back of the bikini bottoms, where advertisers think it will attract the most attention.
"There is huge interest in beach volleyball and we want to ensure that our advertising campaign is seen and remembered by as many sports fans as possible," Betfair's Andy Lulham said in a statement.
"As far as we're aware this is the first time QR codes have been used in in-play sports advertising and what better way to test its effectiveness than by putting them on one of the places that is likely to get photographed the most."
The tournament, which is part of the official 2012 London Olympic Games sports testing programme, takes place in Horse Guards Parade, London, the ceremonial grounds which hosts the Trooping of the Colour each year on the Queen's birthday.
This venue will host the 2012 London Olympic Games beach volleyball tournament in a temporary arena which will be built next year and have a capacity of 15,000.