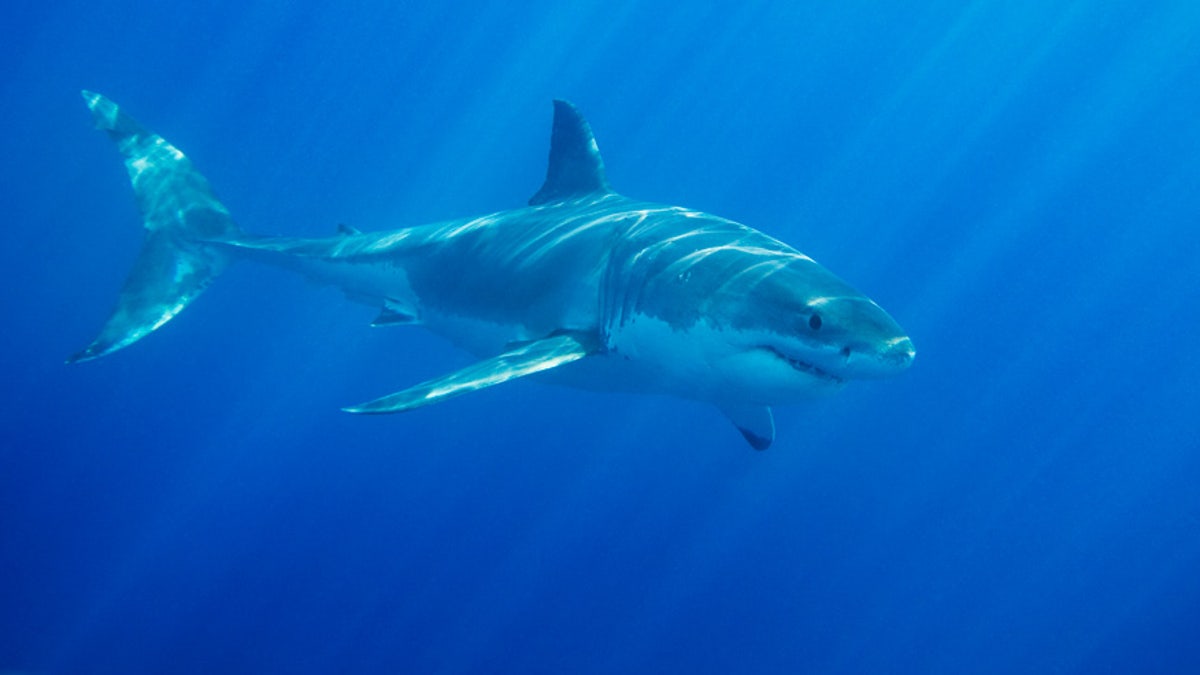 A video that purportedly shows a diver's terrifying encounter with a massive great white shark has gone viral.
UPI reports that the video was shared on Ocean Imaging Action's Facebook page and also appeared on a Facebook page belonging to SA Spearfishing. Additionally, the video was posted on the Instagram account of Young Bloods Inc., which makes ocean-inspired films.
The short video clip appears to show a huge shark emerge from the ocean's darkness and bump the head of an unsuspecting diver with its giant mouth. Startled by the encounter, the diver ducks down as the predator swims over his head.
'JAWS' SPOTTED? MASSIVE GREAT WHITE SHARK SIGHTED OFF AUSTRALIAN COAST
While the shark briefly bares its teeth, the diver apparently emerges from the bizarre ocean incident unscathed.
"Salvage diver in South Africa gets bumped by great white shark," explains Ocean Imaging Action in a Facebook post accompanying the video. It is not clear, however, when the video was shot.
The video has been viewed 265,000 times on the Ocean Imaging Action Facebook page, and has been shared more than 5,850 times. The video on the Young Bloods Inc. Instagram account has been viewed more than 62,000 times.
GREAT WHITE SHARKS FACE OFF AGAINST ORCAS IN OCEAN BATTLEGROUND
Citing SA Spearfishing, WAtoday reports that the video was taken by the diver's son.
However, some social media users have questioned the authenticity of the incredible footage.
This is just the latest shark-related video to go viral. Drone footage of a great white shark circling a boat off Western Australia, for example, created quite a stir when it was recently posted to Facebook.
Fox News' Christopher Ciaccia contributed to this article. Follow James Rogers on Twitter @jamesjrogers