US military can shoot down trespassing consumer drones, Pentagon says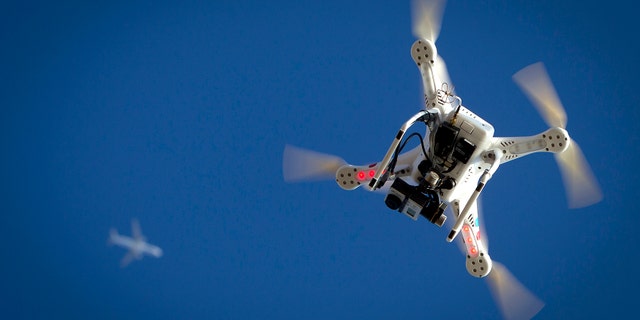 The military has permission to shoot down consumer drones that fly over and around its U.S. bases.

The Department of Defense sent guidance to the military on Aug. 4 about the use of small Unmanned Aircraft Systems (UAS), or drones, over and around U.S. military sites. In a statement released Aug. 7, DoD spokesman and Navy Capt. Jeff Davis, explained that the new guidance follows classified guidance that was sent out in July.
HOW ISIS IS TURNING COMMERCIAL DRONES INTO WEAPONS IN THE BATTLE FOR MOSUL
"Protecting our force remains a top priority, and that's why DoD issued the specific, but classified policy developed with the Federal Aviation Administration and our interagency partners that details how DoD personnel may counter the unmanned aircraft threat," he said.
Davis noted that all drone activities in the US must follow FAA regulations and guidelines.
TERRORIST DRONE THREAT: US UNPREPARED FOR GROWING DANGER, EXPERTS SAY
"We support civilian law enforcement investigations in the prosecution of unauthorized UAS operations over military installations," he said. "And though we do not discuss specific force-protection measures, we of course retain the right of self-defense. And when it comes to UAS or drones operating over military installations, this new guidance does afford us the ability to take action to stop those threats."
These actions include tracking, disabling and destroying drones, depending on the circumstances and the type of installation where drone activity is detected, he added.
SECRET SERVICE WILL TEST SURVEILLANCE DRONE DURING TRUMP'S GOLF CLUB VISIT
Drones have become a source of security concern in recent years. In 2015, for example, a quadcopter drone sparked a security alert after it crashed onto the White House grounds.
Commercial drones can also be weaponized, as evidenced in Iraq where Islamic State militants modified commercial drones to drop 40 mm rifle grenades. Experts have warned that America is unprepared for the threat of terrorist drone attacks on targets within the U.S.