U.S. Cellular Offers Unlimited 4G LTE Plan for $40 per Month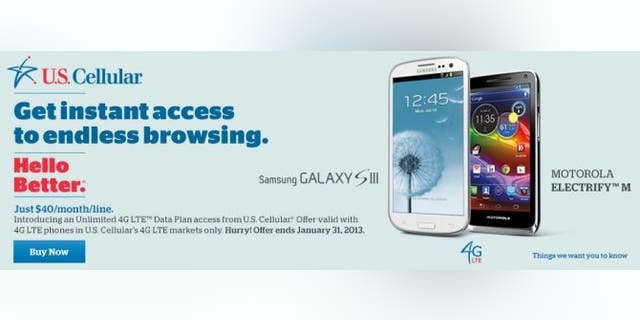 NEWYou can now listen to Fox News articles!
U.S. Cellular customers have something new to be thankful for this week: low-cost, unlimited 4G LTE data. The small carrier is the latest network to wave a tantalizing all-you-can-eat bandwidth option in front of its customers, though the promotion only lasts for a limited time in pretty much every sense of the word.
Between now and January 31st, U.S. Cellular is giving new and existing subscribers alike the opportunity to hop on board the unlimited data bandwagon for just $40 per month, but only if you own a 4G LTE phone. Even better, if you buy a new 4G LTE phone or tablet from U.S. Cellular during that time frame, the company will toss in a free 4G LTE Samsung SCH-LC11 hotspot.
There are a few strings attached to the offering, of course. U.S. Cellular's 4G LTE coverage area simply doesn't cover much of the country right now, for one thing, though the company says 58 percent of its customers will have access to 4G speeds by the end of the year.
You'll also want to pay attention to the fine print. That $40 doesn't include voice or text coverage, which you'll need to buy separately. Nor does it include tethering capabilities, though you'll be able to pick up unlimited hotspot capabilities for an extra $20 per month. The idea of unlimited 4G LTE for all of your devices for just $60 sounds pretty enticing, but you'll need to commit to a two year subscription in order to snag the promotional rate.
The deal isn't available for renewal, either. "Unlimited data valid only for first 2 yrs, customers will then be required to choose another then available data plan," U.S. Cellular's small print informs. Bummer.
T-Mobile offers an unlimited 4G plan for $20 to $30 per month when added to an existing plan, but its HSPA+ "4G" is more akin to "3G-plus" than true LTE. Sprint also offers unlimited data, but its LTE roll out is in its infant stages, with most customers falling under Sprint's 3G coverage area.