Twitter suspends account that threatened Meghan McCain with sick memorial service image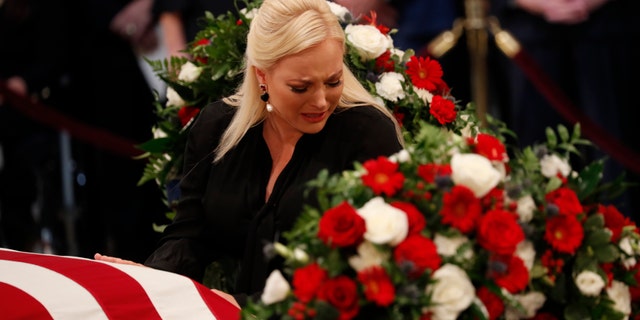 NEWYou can now listen to Fox News articles!
Twitter has suspended an account that posted a sick image threatening Meghan McCain during ongoing memorial services for her late father Sen. John McCain.
A Twitter user posted an image of Meghan McCain grieving over her father's casket in the Arizona Capitol with a photoshopped gun pointing at her. The tweet sparked outrage and McCain's husband Ben Domenech slammed Twitter and its CEO Jack Dorsey over the social media giant's response to the vile post.
"Twitter finally suspended this account this morning," Domenech wrote in a tweet that has since been deleted. "No one should have to raise a ruckus or highlight this sort of thing publicly to get their attention."
In the early hours of Friday, Domenech tweeted that the image had been up "for half a day," and had been reported over 100 times.
In its rules, Twitter says that it will not tolerate violent threats and glorification of violence.
Tributes have been pouring in for John McCain since he lost his battle with cancer on Aug. 25. He was 81 years of age.
Memorial services for the Vietnam hero and longtime Arizona senator were held in Phoenix earlier this week. His casket was brought to the U.S. Capitol Friday, where the late senator is lying in state beneath the Rotunda's majestic dome.
A funeral service will be held for McCain at Washington's National Cathedral Saturday and he will be laid to rest at the U.S. Naval Academy in Annapolis Sunday.
The Associated Press contributed to this article.
Follow James Rogers on Twitter @jamesjrogers