Trump makes first tweets as president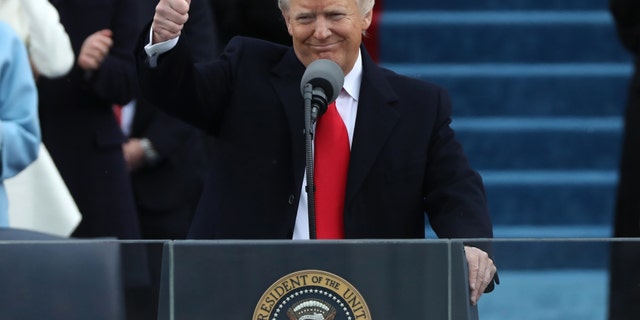 Donald Trump has sent out his first tweets as President of the United States.
"Today we are not merely transferring power from one Administration to another, or from one party to another – but we are transferring...power from Washington, D.C. and giving it back to you, the American People," he wrote, in the first of a series tweets from his @realDonaldTrump account.
Trump, who has 20.6 million Twitter followers, turned the @realDonaldTrump account into a potent political weapon during his shock run to the White House, fueling huge interest in how he will harness social media as president.
TRUMP'S TWITTER: COULD HACKERS WREAK HAVOC FROM THE WHITE HOUSE?
In an interview published earlier this week, Trump told The Times of London that he plans to continue using @realDonaldTrump from the White House. Trump said that he won't personally be taking over the @POTUS government account used by President Obama.
However, security experts have warned that Trump's Twitter account is a prime target for hackers. Citing people close to the transition, The New York Times reported Thursday that the president has traded his Android phone "for a secure, encrypted device approved by the Secret Service with a new number that few people possess."
DONALD TRUMP HAD TO TRADE-IN HIS ANDROID TWEETING MACHINE FOR A MORE SECURE DEVICE
President Obama made his final tweets from the @POTUS account on Friday morning. The account's timeline was cleared on Trump's inauguration, as the White House had announced last year.
"I'm still asking you to believe - not in my ability to bring about change, but in yours. I believe in change because I believe in you," Obama wrote, in his final tweet from @POTUS.
OBAMA POSTS FINAL TWEETS FROM OFFICIAL PRESIDENTIAL TWITTER ACCOUNT
The Trump administration made its first tweet from the @POTUS account on Friday afternoon, tweeting out an inauguration day image and a link to the text of President Trump's inaugural address, posted on his Facebook page.
Trump is also inheriting the previous administration's Twitter followers, a process that Twitter is currently working on. The @POTUS account, which had 13.7 million followers in the final hour of Obama's presidency, had 9,635 followers at 12:05 p.m. EST just after Trump was sworn in as president. This number had surged to 3.62 million just 12 minutes later and 5.33 million shortly before 3 p.m. EST.
"Both accounts will retain the followers," a Twitter spokesman told FoxNews.com, noting that the process is currently ongoing.
The spokesman explained that the same process applies to the followers of other accounts such as @WhiteHouse (Obama administration tweets have been archived at the new @ObamaWhiteHouse account) and @FLOTUS (Michelle Obama's Tweets have been archived at @FLOTUS44).
With Vice President Mike Pence taking over the @VP Twitter account, Joe Biden's tweets are archived at @VP44.
Follow James Rogers on Twitter @jamesjrogers