Trump attacks Amazon on Twitter again, says it's 'doing great damage' to retailers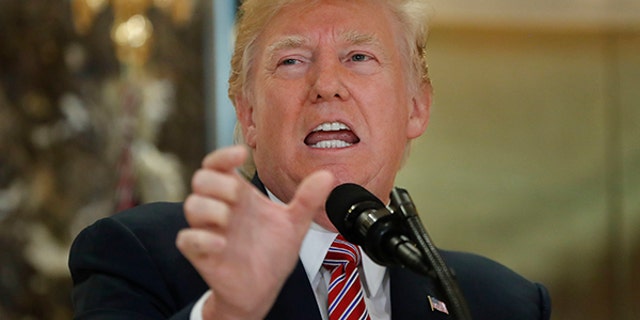 For the second time in a little over a month, President Trump has taken to Twitter to attack Amazon over taxes.

"Amazon is doing great damage to tax paying retailers," Trump wrote on Twitter. "Towns, cities and states throughout the U.S. are being hurt - many jobs being lost!"
The retail industry has felt the impact of the so-called "Amazon-effect," with many retailers closing stores around the country.
SAY WHAT? AMAZON ECHO'S SMART SPEAKER CAN BE HACKED, EXPERT CLAIMS
According to Bloomberg, citing a Credit Suisse report, the number of retail stores estimated to close in 2017 are on pace to reach nearly 8,000. In 2016, that number was around 2,000 stores.
Amazon had not yet responded to a request for comment from Fox News.
Shoppers are gravitating more towards buying items online, as the e-commerce industry experiences significant growth, led by Amazon.
Retailers, such as the home improvement company Home Depot, are being bombarded by questions about whether they are "Amazon-proof." On the company's second-quarter conference call discussing its financial performance, Home Depot fielded over 20 questions from analysts, with nearly half of them mentioning Amazon in some form or fashion.
In the first-quarter of 2017, e-commerce sales only accounted for 8.5 percent of total sales, according to data from the U.S. Department of Commerce.
PRESIDENT TRUMP ATTACKS AMAZON ON TWITTER, SAYS IT DOESN'T PAY 'INTERNET TAXES'
Amazon has been busily expanding, hiring thousands of workers. Last month, Fox Business reported the company held a jobs fair at its warehouses, aiming to hire 50,000 workers in a single day.
In January, the company said it would create 100,000 full-time jobs in the U.S. over the next 18 months.
In June, Trump attacked Amazon, tweeting the company did not pay "internet taxes." As of the time of Trump's tweet, Amazon had paid $229 million in income taxes on approximately $1 billion in profits in 2017.
Amazon also collects sales tax in every state (as well as the District of Columbia) that levies a sales tax.
Follow Chris Ciaccia on Twitter @chris_ciaccia