Travel Gadgets: Tech to Take With You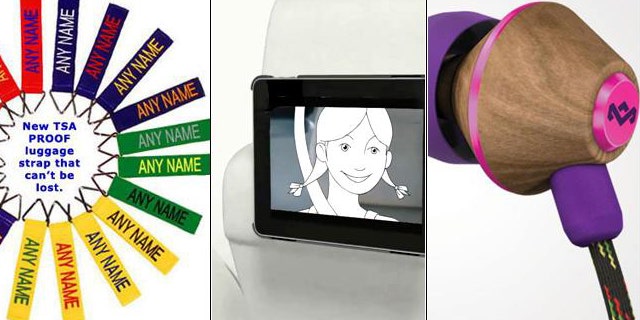 In my teens, I never went on vacation without my yellow Sony Walkman. Today's travel gear may be more sophisticated, but the premise is the same: high tech toys that help out when it's time for R&R.
When I'm leaving on a trip, I spend hours syncing iPads, iPhones, and eReaders with my media library so I can watch new episodes of AMC's "The Killing," listen to tech podcasts, or read ebooks. But you need fun gear to play all of this digital content too.
Here's my checklist of a few simple toys that will make your summer travel go far more smoothly.
Marley Headphones and Earbuds
You can't listen to your fresh summer tunes if you don't have headphones. The House of Marley line of headphones and earbuds offer high-quality sound that you can feel good about -- they're made from recycled material.
Styled after the late Bob Marley, they'll make you look cool whether you are listening to a lecture about biochemistry or jamming to a Justin Bieber album. These are affordable too! They start at just $29.99 for the earbuds and $59.99 for the headphones.
Vogel's RingO Car Pack
Want to keep the kids quiet on a long roadtrip? Or keep yourself quiet from the backseat? The Vogel's RingO Car Pack attaches to the headrest and turns your tablet into an in-car entertainment center. It allows for full, 360-degree rotation of the screen and can attach to any surface, even the front-seat dashboard.
This isn't for the entertainment of the driver, of course. It's for entertaining the passengers. Drivers, keep those hands on the wheel and eyes on the road, please!
Heys Luggage
If you're a heavy packer, you don't want heavy luggage. That could result in costly extra baggage fees. Heys Luggage dubs its products the "world's lightest carry-on bags." And they are impressively light, even when jammed with my wife's many, many pairs of shoes that she insists she needs on short trips.
Heys makes bags from carbonite, so they're virtually indestructible -- and if bent out of shape, they'll pop right back to their original form. Single bags run around $60, which is a good bargain for something that will last you so long.
MyTags from TagsForBags.com
And how do you recognize the bags that you do check in when they come tumbling down the baggage carousel? How about a customized luggage tag from TagsForBags.com?
These colorful tags let you write anything you'd like on them to make your bag easily distinguishable from other travelers' bags. I have a few that say "Clayton's Bags," which are a much classier way to identify your bags than an old scrunchie.
EatSmart Precision Voyager Luggage Scale
If you want to be sure that you won't overpack and be charged an overage fee for heavy luggage, you can weigh your bags yourself before you leave home. The EatSmart Precision Voyager Luggage Scale builds the scale into a handle shape, so you can weigh your bags by just picking them up.
Sure you could use your home scale but not on your way back from your trip. This scale can travel with you so you can be sure your souvenirs don't put your bags over the top.
Tumi International Electric Adaptor
When traveling internationally, you'll want to make sure you have an adapter to power up all your gadgets and your curling iron ... or your wife's curling iron.
Tumi makes an international adapter that has you covered wherever you go. It has four retractable plugs that protect against surges when you plug your American cord into a European outlet.
Clayton Morris is a Fox and Friends host. Follow Clayton's adventures online on Twitter @ClaytonMorris and by reading his daily updates at his blog.