Town suddenly dwarfed by massive iceberg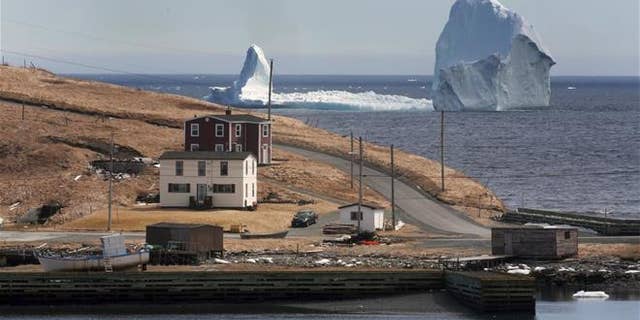 A small town on the coast of Newfoundland is—in the words of one local—suddenly "swarming with people" after a huge iceberg recently set up shop there, the CBC reports.
The iceberg—150 feet above the water at its tallest point—got stuck in the shallow waters off Ferryland, and it doesn't look like it's going to move anytime soon.
The iceberg is so big it dwarfed a helicopter that recently appeared to land on it. According to Quartz, unusually strong winds and rising Arctic temperatures could be responsible for an increase in icebergs in the area, including the one stuck in Ferryland.
Hundreds of people are causing unprecedented traffic jams in the small town, trying to get photos of the iceberg, which are proliferating on social media. Ferryland Mayor Adrian Kavanagh tells VOCM the iceberg is a great way to start the tourist season—though a little early, as the town's two restaurants don't open until later in May.
"We just gotta find a way to keep that iceberg there," he says. Kavanagh says the iceberg is the biggest he's ever seen in Ferryland and people are interested "in that kind of stuff." (Trips to the Titanic start in 2018.)
This article originally appeared on Newser: Town Suddenly Dwarfed by Massive Iceberg