Toshiba Launches Excite 7.7 Tablet with AMOLED Screen for $499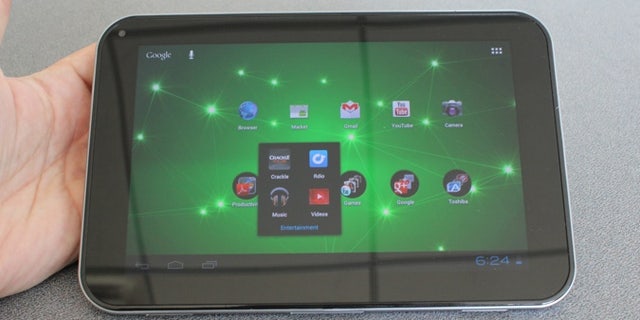 It looks like those shoppers who have been clamoring for a Galaxy Tab 7.7 without a carrier contract finally have a good alternative. The Toshiba Excite 7.7 is the first Wi-Fi only Android Tablet to sport an AMOLED screen, and this 7.7-inch panel was a beautiful sight during our hands-on time. Toshiba is targeting this Ice Cream Sandwich slate at gamers, and it certainly has the graphics chops to handle the latest titles, thanks to Nvidia's Tegra 3 processor.
The Excite 7.7 is very portable at just 13.4 ounces, and it measures a mere .3 inches thin. And yet Toshiba found room for a micro USB port and microSD card for expansion. In addition to Google Play and other Google apps, the Excite 7.7 comes with Toshiba Book Place for access to more than 3 million books, Toshiba Media Player, a file manager, Netflix and Zinio.
The biggest drawback to the Excite 7.7 is the price. At $499 for 16GB and $579 for 32GB, this tablet costs $300 more than the Amazon Kindle Fire. The Galaxy Tab 7.7 also costs $499, but you have to spend at least $30 per month for a data plan.