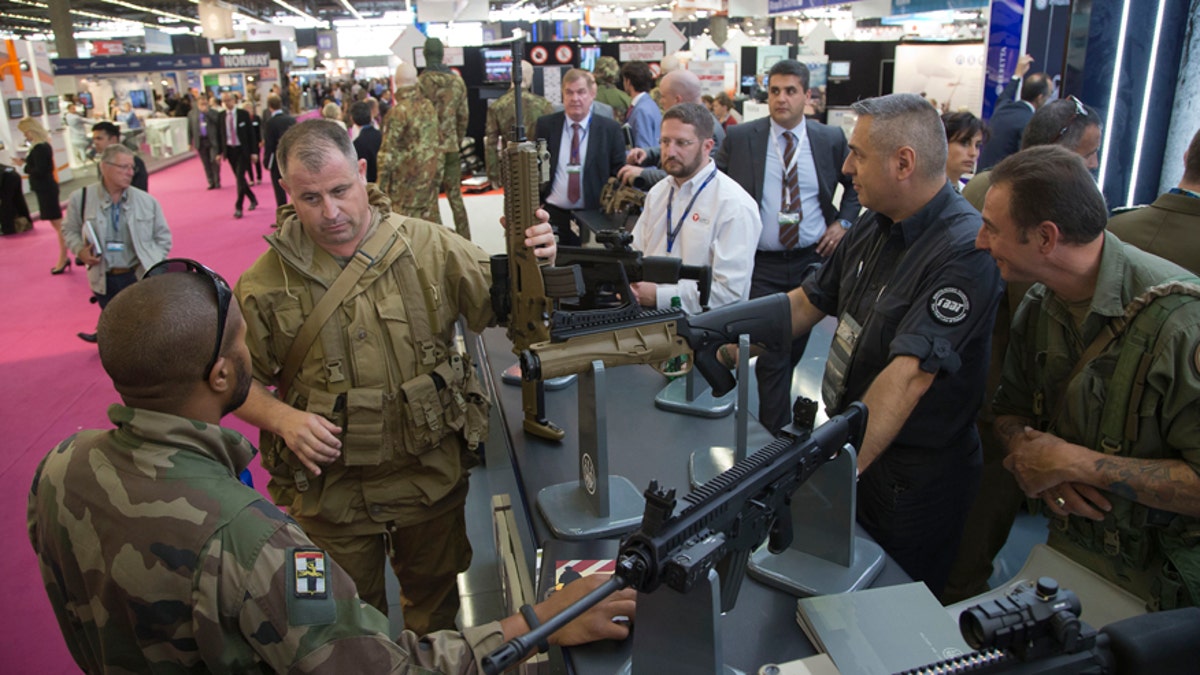 PARIS – Delegations from more than 100 countries are sifting through the latest land warfare tech this week, looking for everything from weapons and assault vehicles to robots and more.
The five-day biennial Eurosatory, backed by the French defense and interior ministries, kicked off Monday in Paris.
Officials from the U.S. and around the globe are converging on the city to consider tech brought by more than 1,500 companies, representing every inhabited continent.
Buyers will seek out tech that will give their forces an advantage from the very best military and security tech jam-packed into a sprawling more than 500,000 feet (163,523 square meters) of floor space.
USA largest presence
The United States has the largest international presence at Eurosatory with 137 companies, followed by Germany with 118, Britain with 105 and Israel with 51.
In spite of cutbacks in the U.S. and European defense budgets, this year shows an overall increase of 6 percent from the 2012 exhibition.
Competition in the land weapons market remains fierce, and the number of countries with companies duking it out for tech sales has increased to 57 from 53.
The strong international presence reflects the rise in emerging markets like Southeast Asia and South America. Chile, Colombia, Mexico and Peru have all expanded their military requirements. Thales, one of the mega players at Eurosatory, has already been awarded a large security contract from Mexico City.
Coges cited escalating security needs of both government and commercial companies as one of the fundamental drivers to this year's growth. The demand for non-lethal weapons is expected to be high this time around.
You're either in, or you're out
More than 250 military and security vehicles and more than 60 robots are part of the offerings this year. At the outdoor ranges, drones and security air support are regularly demonstrating their cutting edge capabilities.
Inside Eurosatory, the buyers circulating the floor reflect the state of international politics and tensions.
France has invited 160 official delegations from 108 countries – eight more delegations than last time.
Some countries did not make the cut for invitations while others, like China, are allowed to participate with tight restrictions. Two notable absent delegations are the former regulars Russia and Ukraine.
In light of the ongoing Russia Ukraine crisis, France chose to not extend invitations to the Russian and Ukrainian official delegations.
Patrick Colas des Francs, head of the show organizer Coges, explained at the press briefing that "Official invitations from the French government were not sent, neither to Russia or the Ukraine."
The event opening this morning coincided with the headlines that Russia cut off Ukraine's gas supply.
However, while their official delegations may not be hobnobbing, Russia and Ukraine are still represented by their defense and security companies.
Russian companies are out in full force. There are 28 Russian companies with a whopping space of more than 2,200 feet (700 square meters) -- dominating Ukraine's space with nearly twelve times more exhibition floor.
Ukraine defense umbrella organization Ukroboronprom State Concern and Therma Vision Technologies are occupying a total 196.85 feet (60 square meters). The jungle drums were brisk with concerns for the Ukrainian companies that may face complications having built equipment on Russian licenses.
Russia's leading machine building company Uralvagonzavod made a very public point of not displaying as planned its two new vehicles: the modernized main battle tank T-90 and the fire support combat vehicle BMPT-72, titled Terminator-2.
Rosoboronexport, Russia's main defense export agency, also took a stand, announcing it was dramatically reducing its participation in European defense and security exhibitions and focusing instead on events in the Middle East, Latin America, Asia-Pacific and Africa.
In spite of the refusals to bring some of their tech, Russia's companies still have more than 350 options on offer at Eurosatory.
Last month, the French Defense Ministry stated France will still go ahead with the sale of two Mistral helicopter carriers to Russia's navy despite U.S. pressure to halt the deal.
Despite Europe's arms embargo on China, following shootings during the Tiananmen Square protests in 1989, Chinese companies are allowed to attend, but on a short leash.
China is here with a big presence of more than 20 companies; but these countries are restricted to presenting only civilian security gear, like radios.
United Arab Emirates has more than doubled its presence. In 2012, 11 UAE companies participated and this year 23 companies have taken up more than twice as much space, at 5413 feet (1,650 square meters).
First timers
The national firsts to Eurosatory are also newsworthy.
Iraq's defense companies made their debut at the land warfare event in Europe, set against the backdrop of more Iraq headlines.
From U.S. Secretary of State John Kerry's comments about U.S. military intervention to yet another city seized by militants, Tal Afar, Iraq is once again dominating the news.
For the first time, Japanese companies will be participating. Their debut reflects a major sea change in Japan's military posture. Tokyo has only recently decided to allow arms exports.
Fujitsu, Kawasaki Heavy Industries, Mitsubishi Heavy Industries, Toshiba and ten other companies are showing their latest tech.
Companies from Argentina, Colombia and Hong Kong are also making their debut this Eurosatory.