Top Gear-worthy trucks and more from 2013 DSEI, the world's largest defense show
Prefer your car to be rocket AND jet powered?
The Bloodhound, in contention for world's fastest car, the supersonic's sidekick Supacats and more vehicles are making their DSEI debut this week.
This year's DSEI is featuring its largest ever Land Zone with an expanded Vehicle Park to showcase the vehicles.
Vehicles large and small, heavily armored and light-weight, for a range of needs are on display brought by key providers like Daimler, General Dynamics, Iveco, Jankel Armouring, JCB, Land Rover, Nexter, Streit Group, Supacat and more.
1. Bloodhound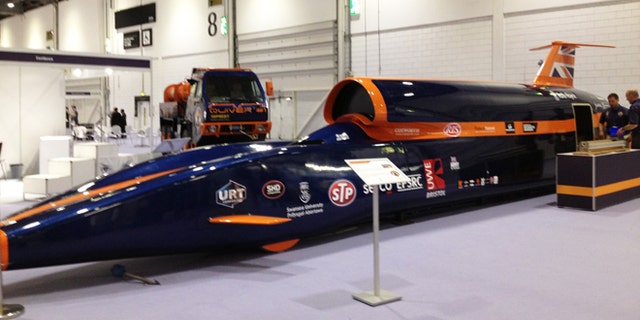 Faster than the speed of sound -- and powered by both a jet AND a rocket -- the Bloodhound combines the latest automotive and aircraft technology.
The Bloodhound's engines produce more than six times the total power of a Formula 1 starting grid -- that's more than 135,000 horsepower.
Since the project first launched in 2008, the Bloodhound Team has been gearing up to break the existing world land speed record. The goal is to travel at 1,000 miles per hour, in spite of the fact that it weighs more than 7 tons. The team says Bloodhound SSC is designed to break the current land speed record by 31 percent.
Part racecar and part aircraft, Bloodhound uses a carbon fiber shell in front like a racecar. Similar to an aircraft, the back half is built with metallic framework and panels.
So why is a faster-than-sound car being pitched to a weapons fair?
On Wednesday, the Bloodhound Project Team's Head of Sponsor Liaison, Tony Parraman, encouraged collaboration between companies working in the racecar and defense fields.
2. Quiver - Supacat Supersonic Sidekick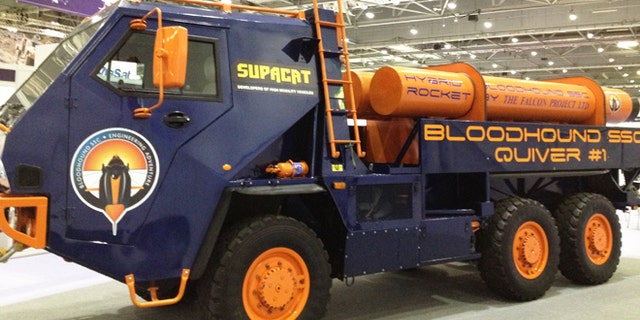 In some instances, there is already an overlap between that racecar and the military. Take Supacat, a company that develops high mobility vehicles for defense, including recent Afghanistan operations, but also provides the Bloodhound initiative with an all-together different species of vehicle.
The six-wheeled Supacat "Quiver" support vehicle carries spare rockets for the team. And like any self-respecting sidekick, the Quiver wears a complimentary costume to the Bloodhound.
Painted in the Bloodhound's trademark blue and orange, Quiver accompanied the vehicle at its DSEI appearance.
3. The light Supacat prototype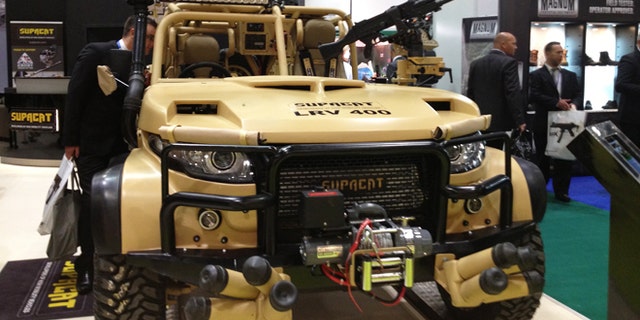 Just built last week, the Light Reconnaissance Vehicle 400 (or LRV 400) prototype made its debut at DSEI.
Also the result of a partnership with race vehicle designers, the high performance off road military vehicle used the Qt Wildcat race vehicle as a point of departure to build the hybrid.
Reflecting its racing roots, the vehicle has 300 mm travel race derived hydraulic shock absorbers.
The LRV 400 weighs 7,700 pounds, totes almost 3,100 pounds, and can reach speeds of over 100 mph. Designed to deliver "high speed through harsh environments," the LRV 400 could be deployed for rapid intervention or strike missions by users like special forces, reconnaissance or border patrols.
In addition to ballistic armor and ballistic crew seats, there are a range of other options to customize the vehicle for combat such as remote weapons station, weapon mounts and smoke grenade launchers.
4. Iveco Defence Vehicles Triple Launch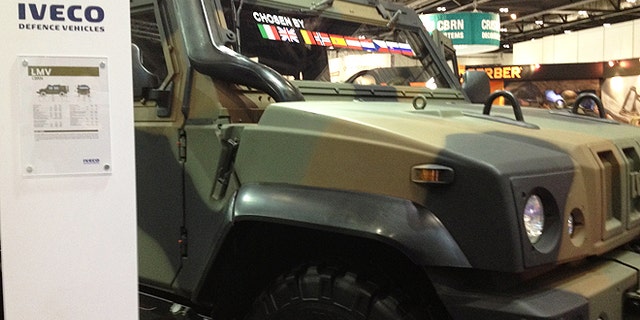 Familiar with the Fiat ad campaign, "the Italians are coming"? Suddenly nightclub music starts playing and women let down their hair, adopt shorter skirts and get the party started?
Iveco Defence turned that into a reality last night.
On the floor of the world's largest defense show Tuesday evening, amidst a very staid atmosphere in a vast sea of tanks, missiles, surface to air rocket launchers, drones and armored vehicles, music erupted. While other companies quietly brought the drinks out, the party was in full swing at Iveco Defence, where champagne was flowing and beautiful women in cocktail dresses played classical music.
A very smart defense pied piper operation, the musical act drew potential buyers from all over the sprawling space, where Iveco introduced three new vehicles.
First came a chemical, biological, radiological and nuclear (CBRN) reconnaissance vehicle, a timely introduction following concerns over chemical weapons in Syria. The LMV DCBRN variant can undertake a range of critical tasks such as sampling, analysis, survey and marking, the company said.
The massive Dry Support Bridge Launching System made its debut as well. In partnership with WFEL, the Trakker 8×8 chassis was adapted to create tactical bridging over gaps up to 150 feet wide. The 10×6×8 vehicle was designed to launch bridges for the Swiss Army and is in use by U.S., Turkish and German armed forces.
The amphibious 8×8 SUPERAV for littoral operations was also displayed for the first time in the UK.
Weighing in at 24 tons, it can reach speeds of 3 miles per hour and carry 12 warfighters and a driver.
It is designed for protection against small arms fire, IEDs and artillery shell splinters and can be armed with different weapons systems. Originally designed to meet the requirement of the Italian Army, the base vehicle is currently being offered for the U.S. Marine Corps program.
Ballet dancer turned defense specialist Allison Barrie has traveled around the world covering the military, terrorism, weapons advancements and life on the front line. You can reach her at wargames@foxnews.com or follow her on Twitter @Allison_Barrie.