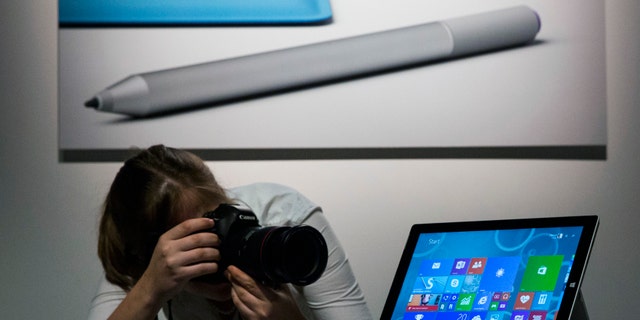 Laptops are facing a lot of competition from tablets and even large smartphones, but they're still the mainstay device for getting work done. Here are the best of 2014.
13-inch MacBook Air
The MacBook Air hasn't changed much over the past few years, but that's a testament to its design, which was introduced more than four years ago. The 13-inch MacBook Air has always been one of the lightest (just under 3 pounds) and thinnest laptops, and it has incredible battery life. Its most recent iteration packs Intel's latest silicon and can run for 12 hours or more in common usage scenarios.
And let's not forget its 11-inch sibling, which is probably the closest a laptop can get to the size and weight of a tablet like Apple's iPad Air. The 11-incher's battery life is comparable to the 13's, but it's even lighter at 2.4 pounds. And it starts at $899, a hundred bucks less than the 13.
The only notable drawback of both models is the screen. The MacBook Air 13 offers a modest 1,440 x 900 resolution display, a bit of a throwback to the days when screens were almost an afterthought in laptop design. But that's easy to overlook when you have a design this good.
Surface Pro 3
This could be considered a controversial top pick because the Surface Pro 3 is not a laptop per se, and many business laptop users insist on a tried-and-true, traditional clamshell design. But Microsoft has reached a high degree of refinement with its third-generation Surface Pro after two generations of more or less experimental designs.
The Pro 3 is offered as a standalone 12-inch tablet, but almost no one would buy it without its Type Cover, the stellar detachable keyboard that essentially turns it into a laptop.
The design is impressive: At only 1.8 pounds (2.3 pounds with the keyboard) and 0.3-inches thick, it's about the same weight (with the keyboard) as the uber-svelte 11-inch MacBook Air and packs all the power of a typical laptop, including the option for Intel Core i7 processors. And the gorgeous 12-inch, 2,160 x 1,440 resolution touch screen is icing on the cake.
Toshiba Chromebook 2
Chromebooks run Google's Chrome operating system, and that's just fine if you spend most of your time in the Chrome browser anyway, especially when the hardware comes cheap (below $400).
Topping the list is Toshiba's latest entry, the 13-inch Chromebook 2, which goes above and beyond the typical stripped-to-the-bone hardware of this category and delivers a brilliant 1,920 x 1,080 display (high-end model), a plenty-fast Intel "Bay Trail" processor and a chassis with an easy-to-hold textured material.
The Toshiba offers probably the best experience you can have on a Chromebook, though it's a minimalist one because of the limitations of the Chrome OS and the Chrome store.
Dell XPS 15
With the XPS 15, Dell has designed a laptop that might make you think twice about buying its Apple rival, the revered 15-inch MacBook Pro Retina.
For starters, it has a mind-blowing display with plenty of real estate. The 3,200 x 1,800 edge-to-edge screen is not only beautiful, it's touch capable. Inside are a quad-core Intel processor and Nvidia graphics to push around those 5.7 million pixels. It's reasonably light (4.4 pounds) for its size (a 15.6-inch diagonal display), and it's only 0.7-inches thick at its widest point. The chassis is made of brushed aluminum with a carbon fiber bottom. It's quality all around.
HP Stream laptops
The HP Stream laptops are exceptional for one reason only: price. The HP Stream 11 is available at the Microsoft Store for $199, a good deal considering that you get a full Windows 8.1 laptop with a one-year subscription of Office 365 Personal, to boot. The Stream 13 sells for $229. Think of it this way … based on pricing at the Microsoft Store, you could buy four Stream 11s for the price of one MacBook Air.