Tobii Eye Tracking Tech Watches What You Watch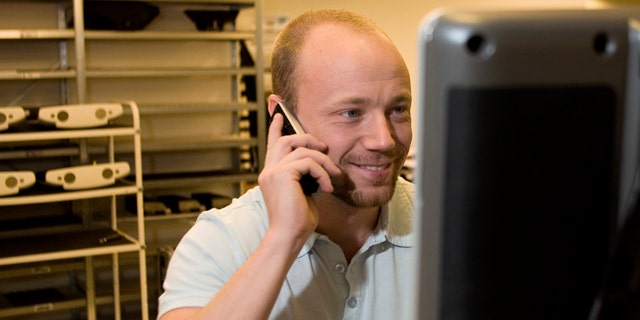 Operating your computer with just your eyes alone -- sound farfetched and futuristic at best? Hardly, and it might be the perfect stocking stuffer for the wounded warrior in your life.
Earlier this year, Swedish firm Tobii Technology revealed a laptop prototype that users could control with their eyes. For wounded war fighters who have lost the ability to operate a computer in the conventional way in service to their country, this is a hugely important innovation.
Eye tracking technology lets you operate a computer entirely without a keyboard or a mouse. Tobii's tech can switch between windows and move the mouse pointer to whichever point on screen you look; it even provides sidebars with shortcuts that can be controlled by eye movement. As you read a story, it automatically scrolls a web page or document.
Throughout the eye-tracking industry, most companies track attention using reflections from the cornea. Using image sensor technology instead, Tobii locates a person's eyes, identifying the pupil and iris positions and using mathematical algorithms to figure out the point of gaze.
While complex technologically, it's not so on your end: You simply get in front of the screen. The system automatically calibrates to your eyes within a few seconds, requiring zero fiddling or adjusting by you.
You can even freely use your head with minimal impact on eye-tracking accuracy -- and it can carry on if one eye falls outside of its field of view, flexibility that sets Tobii apart from rivals.
But basic operation of a laptop is just the start: From a defense and security perspective, there are a range of very cool applications.
For starters, there's identification of users through eye tracking -- essentially recognizing your eyes in a Mission Impossible sort of way -- which can be used to login to a computer or network to bolster security.
Chameleon, developed by Oculis Labs, uses Tobii eye trackers to let only authorized people read a secret document in a crowded room, stopping all others from seeing the information. It works by only responding and showing content to the designated reader by harnessing Tobii gazetrackers.
Should soldiers need to access sensitive information in the field and ensure this information is not seen by others, or for those working in a multinational center who must ensure information is not seen by other countries, Chameleon could prove essential.
What about for the gamers out there? Eye tracking tech means that a gamer's eyes become the game controller. Tobii says it's as though the game were reading your mind, giving you a sense of possessing super powers. The game reads your gaze just as a person would, a "gaze interaction" experience you can check out in the first and only eyes-as-console game arcade: Tobii EyeAsteroid.
Apple iPads and reading tablets are flying off the shelves this holiday season. They look old school compared with the eye-tracking version. Using Tobii eye trackers and eye monitoring technology, the German Research Center for Artificial Intelligence (DFKI) developed a "Text 2.0" reading tablet that will automatically react to the reader and understand your eye movements, from staring to pausing.
If the reader looks away, it automatically inserts a bookmark. If the reader starts skimming a section, it will automatically edit itself including only the most important words. It will even interact with you; asks it how a word is pronounced and the system will respond verbally.
Eye tracking holds promise for the medical profession as well. In the operating room where sterility is a priority, surgeons can access information, shift between screen views and zoom in and out of imaging -- all without using their hands.
From supporting our wounded warriors by restoring their access to computers to lie detection and even video surveillance and vigilance, it's easy to see very cool potential for eye tracking -- across the defense space and beyond.
Ballet dancer turned defense specialist Allison Barrie has travelled around the world covering the military, terrorism, weapons advancements and life on the front line. You can reach her at wargames@foxnews.com or follow her on Twitter @Allison_Barrie