This humanoid Atlas robot can take a punch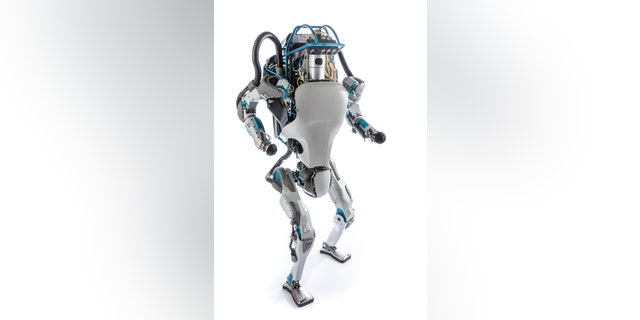 NEWYou can now listen to Fox News articles!
You might call this the Energizer Bunny of the robot world.
The newest version of the Boston Dynamic's Atlas robot just keeps going, even when one his handlers thrust a hockey stick into its chest and then knocks it down from behind. It also holds its own outdoors, taking a stroll through a snow-covered forest and righting itself after nearly falling down.
Related: Shrink playerRoom service robot makes the rounds in LA hotel
In a video of its exploits posted online by the company, the robot also can be seen opening a door and heading outside. It also isn't a bad warehouse worker, lifting and place boxes on a shelf and picking up one on the floor - even after its handler repeatedly moves it beyond its reach.
Perhaps the moment that is most troubling _ and maybe reminiscent of something out of "The Terminator" - is when it's knocked down and manages to get back up.
Related: Farm run by robots will churn out 30,000 heads of lettuce a day
The latest version of the company's Atlas robot stands 5' 9" tall (about a head shorter than the DRC Atlas) and weighs 180 lbs. Designed to operate outdoor and inside building, the electrically powered robot uses sensors in its body and legs to balance and LIDAR and stereo sensors in its head to avoid obstacles, assess the terrain, help with navigation and manipulate objects.