The most exciting military vehicles of 2017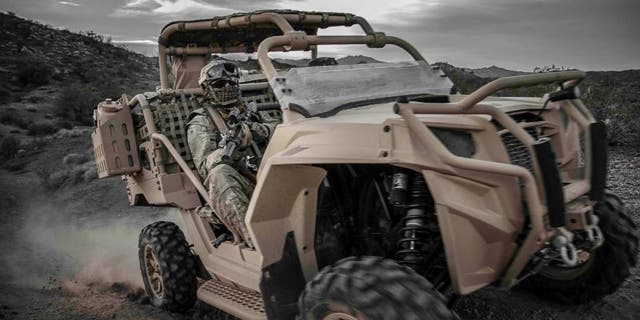 Whether you're interested in trucks, tanks, motorcycles, armored vehicles or ATVs, 2017 was a great year, with lots of incredible machines.
And it was a year in which lots of out-of-the-box advances – some might even say shocking – were revealed.
Where do we find these insider machines? All year, I comb through the enormous defense events all over the world, where the best companies showcase their latest and greatest — and where the military and special operations window-shop.
I also meet with military and private sector innovators to closely evaluate the vehicles and put them through their paces.
In the eye-popping category, it will be hard to surpass the military's announcement that they've figured out how to use urine as fuel for vehicles in war zones.
PODCAST: DISCOVER HOW THE MOST ELITE, SECRET MILITARY UNITS TRAIN FOR MISSIONS WITH MOTORCYCLES WITH THIS ULTRA-TALENTED PJ
Tiny tanks with virtual reality, snow motorcycles and silent motorcycles that can run on anything from BBQ propane to jet fuel were three of the most exciting this year.
Popular vehicles used on dirt roads and off road, like ATVs and trucks, were transformed into futuristic combat machines. Two of the most outstanding were the "thinking" self-driving robot Polaris MRZR and the Army's modified Chevy Chevrolet truck powered by a hydrogen fuel cell.
And who wouldn't want a vehicle pimped out with a powerful laser mounted on top?
Here are six of our favorite vehicle stories of the year. You'll want to drive every single one.
Urine fuel for combat vehicles
In one of the most jaw-dropping breakthroughs of 2017, the Army announced it has discovered a way to use urine to power devices they need on the move.
In other words, soldiers in war zones may be using their own urine to produce electricity and power anything from drones and night vision devices to laptops and communications equipment – and even potentially combat vehicles.
Could this urine discovery reduce the extreme load a soldier carries? Could it power entire bases? How would urine provide fuel for combat vehicles? Get the full scoop here: [Will combat vehicles use urine for fuel? ]
The jet fuel bike
Speaking of surprising fuel, another big hit this year in the covert tactical space is the SilentHawk motorcycle that can run on a surprising range of fuel, from locally scavenged propane or jet fuel, in a war zone. With these geniuses, someday even products you would find on a kitchen shelf may provide fuel.
The bike is remarkably capable. The very impressive SilentHawk ─ a hybrid-electric, two-wheel drive all-terrain motorcycle ─ handles very tough terrain extremely well, and it can also do so nearly entirely silently.
Find out all about the groundbreaking bike and how special operations can use them to provide major advantages on missions. [AUSA 2017: 4 amazing land vehicles at this year's show]
Snow bikes for snow supremacy
Arguably providing far more tactical advantages than snowmobiles, the Timbersleds have been one of the hottest vehicles at every major defense weapons show this year.
Timbersled tech transforms motorcycles into special operations snow bikes for winter warfare and mountain combat. A Timbersled modified bike will excel not just on hard-pack and trails, but also deep snow in the most remote terrains.
And the great news is that this amazing tech is now available to civilians to have a blast tearing it up on the slopes too.
How does it work? Learn more about this cool tech that converts your favorite dirt bike for Jason Bourne-style snow supremacy. Read all about it here: Cool tech converts dirt bikes for Jason Bourne-like snow supremacy]
Stealthy, spec ops Chevy trucks
US Army TARDEC – renowned tank experts – and General Motors teamed up to explore a new method of power for Army vehicles that could deliver near silent operation and hard-to-detect heat signatures.
It's based on a Chevrolet Colorado truck driven on dirt roads and off-road all across America — but with lots of modifications for military purposes.
This new General Motors prototype, known as the Chevrolet Colorado ZH2, doesn't run on gas but on hydrogen fuel cells.
How else is it different to a typical Chevrolet Colorado? Find out here: AUSA 2017: Stealthy Chevy trucks for soldiers?
PODCAST: LEARN HOW TO DRIVE YOUR TRUCK LIKE REAL LIFE JASON BOURNES FROM A TOP SPECIAL FORCES EXPERT
Tiny tanks
Part tank and part ATV … Future U.S. military tanks may look and perform nothing like they do today.
DARPA's Ground X-Vehicle Technology program (GXV-T) initiative will lead to an entirely new era of tanks and armored combat vehicles.
How different? The smaller size is just the beginning. These futuristic tanks do not have any windows whatsoever and instead seal military personnel inside a closed cockpit to better protect them against threats.
In a massive breakthrough, they proved this groundbreaking way of driving is possible this year.
But how could they see the battlefield around them without windows? Honeywell's ingenious augmented and virtual reality.
How does the virtual reality allow you to "see" and what would it be like to drive it? Explore it here: Powerful tiny tanks with VR and futuristic cockpits could revolutionize the battlefield
Thinking ATV
Robots will soon be serving alongside soldiers in the U.S. Army, but not the sort of humanoid robots seen in "Terminator" — these robots could be more like "thinking" ATVs.
The U.S. Army launched a revolutionary SMET initiative that aims to create "thinking," "smart" vehicle brigades.
One of the top contenders for selection by the Army is the mysterious MRZR-X made by Polaris Defense, the company that dominates downrange ATVs.
So what can we expect the under-wraps MRZR-X can do? Find out everything you need to know about this military ATV that can "think" and drive itself. AUSA 2017: This military ATV can 'think' and drive itself
Armored vehicles with laser weapons
Oshkosh celebrated its 100th birthday this year so their presence at the top defense shows was epic.
There's no question the Joint Light Tactical Vehicles (JLTV) armed with a Boeing Compact Laser Weapon System (CLWS) was one of the most exciting vehicles showcased at AUSA.
It's hard to beat an advanced armored vehicle regularly responsible for saving American warriors lives in war zones, now amped up with a powerful laser weapon. Who wouldn't want to have a go driving and blasting?
What are the other incredible features? Find out everything you need to know clicking here: AUSA 2017: 4 amazing land vehicles at this year's show