The Mac's new OS brings Siri to your computer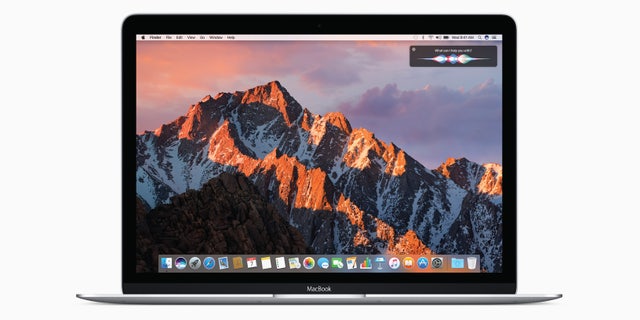 The Mac's rebranded operating system, which edges closer to the iPhone experience, arrived this week.
The OS X brand is officially defunct, as MacOS takes its place. Probably the single biggest change is the addition of Apple's voice assistant, Siri, for the first time. It's been a long time coming. Siri has been on the iPhone since 2011, when it debuted on the iPhone 4s.
Here are some of the highlights of MacOS Sierra, which became available as a free download from Apple this week.
Siri: The intelligent voice assistant – it now appears in the Mac's dock at the bottom of the screen and up top in the menu bar next to the "search" magnifying glass icon – can do pretty much everything it does on the iPhone and iPad. In my limited testing on MacOS Sierra, it worked most of the time.
Using voice commands, you can change settings like volume, display brightness, Bluetooth, and Wi-Fi. You can of course search via voice commands either on the Web, on your Mac, or in the App Store, for example. You can also ask directions, get the weather, play music, and make appointments. And you can compose and send email and text messages, just like the iPhone and iPad. I tried composing— via voice dictation— and sending email and it worked pretty well. Voice recognition and dictation isn't flawless, but it's certainly usable.
Smart photo searches: Like the recently-released iOS 10 for iPhone and iPad, the photo app has gained some artificial intelligence for face and object recognition. You can search for objects (e.g., flowers) and scenery (e.g., lawn). And if you select specific people, photos will generate results with only those people's faces. The specific locations of those people will also appear on Apple's Maps app.
Video grab and go: Another cool feature that has come to MacOS Sierra is Picture in Picture. Basically, this allows you to detach a video from YouTube, for example, and drag it around the Mac desktop. While writing this article, for example, I could detach and move a YouTube video— it becomes a small floating window— from Safari and move it to a corner of the desktop and watch the video as I wrote.
iCloud desktop data sync across Macs: iCloud will now sync documents across multiple Macs that appear on the desktop or in the documents folders. If you have more than one Mac, this can be pretty handy. Of course, this is already possible in iCloud for Mac apps like Photos, Pages, and Calendar as well as for other platforms such as Google Docs and Microsoft's Office 365. But that abovementioned data sits in the cloud while the Mac desktop and documents have not. So, for example, drop a photo onto the desktop and it automatically appears on other Macs. This keeps files consistent across multiple Macs.
Universal copy/paste: Now you can copy and paste across devices. For example, I was able to copy a photo on my iPhone and paste into a Word document on a Mac instantly.
Apple Pay: You must have an iPhone 6 or later running iOS 10 or an Apple Watch with watchOS 3. This streamlines the payment process by allowing you to buy an item without filling out billing data. Just select Apple Pay and verify the transaction on your iPhone or Watch.
Apple Watch unlock: This is one of the coolest features but, unfortunately, only works if you have an Apple Watch. If you're wearing your Apple Watch, it verifies your login credentials and allows you to skip the login process.