TechCrunch stirs outrage with misogynistic presentations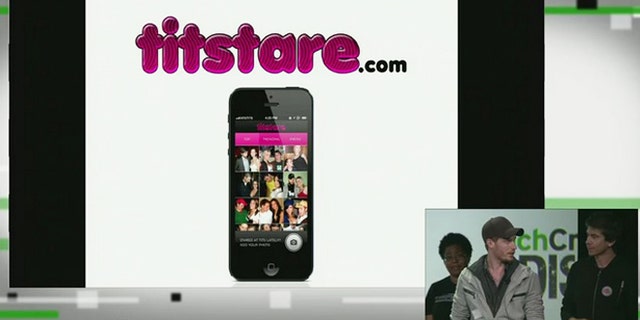 What a pair of boobs.
A blatantly misogynist presentation by a pair of smirking Australian programmers at the TechCrunch Disrupt 2013 show has drawn cries of outrage from the Internet. At the Sunday presentation, the grinning duo discussed an app they called "TitStare," which purported to feature men staring at women's chests -- for health reasons.
"Did you know that looking at breasts is directly linked with a good healthy heart?" one of the presenters said to the other.
"What's the problem, Dave?" the first one asked in response. "Well, women just aren't that warm to it," he replied with a chuckle.
In a second presentation for an app called "Circle Shake" a man simulated self-pleasure in front of the crowd.
The TitStare app was presented by Jethro Batts and, according to Valleywag.
After the Valleywag blog highlighted the cringeworthy stunts, calling the first "exactly as tasteless as it sounds," TechCrunch co-editors Alexia Tsotsis and Eric Eldon posted an apology onto the website.
"Earlier today, the spirit of our event was marred by two misogynistic presentations. Sexism is a major problem in the tech industry, and we've worked hard to counteract it in our coverage and in our own hiring."
"You expect more from us and we expect more from ourselves. We are sorry," the note ended.
Eric Eldon, another editor for the site, told the New York Post that the site didn't have an appropriate review process in place for presenters.
"TechCrunch didn't have a good enough review system for screening presenting hacks," Eldon said. "The hackathon organizers immediately took a much more stringent approach once we saw what happened with the two offenders. We are going to keep this from happening again."
Tech heavyweights including Facebook's Mark Zuckerberg and Yahoo! CEO Marissa Mayer are set to attend the Disrupt show, which kicks into high gear in San Francisco Monday.