Tech titans slam Trump's controversial immigration move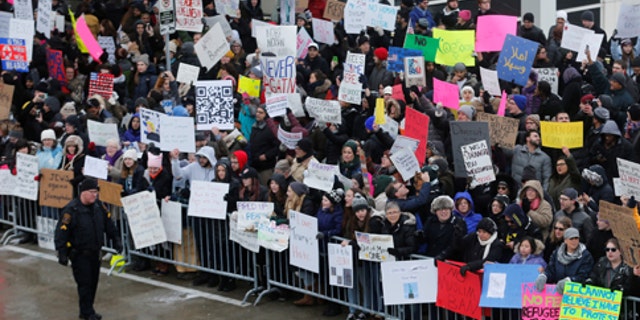 NEWYou can now listen to Fox News articles!
Silicon Valley heavyweights Apple, Google and Microsoft are among a host of tech companies blasting President's Trump's controversial refugee and immigration restrictions.
Trump signed an executive order Friday that imposed a 120-day suspension of the refugee program and a 90-day ban on travel to the U.S. from citizens of seven countries, including Iraq, Syria, Somalia and Sudan.
The order sparked chaotic scenes at U.S. airports as customs agents struggled to interpret the policy and outraged civil rights groups launched protests.
In a memo sent to Apple employees Saturday the iPhone maker's CEO, Tim Cook, voiced his concern about the executive order.
WHY DID APPLE JUST FILE A VAPORIZER PATENT?
"I've heard from many of you who are deeply concerned about the executive order issued yesterday restricting immigration from seven Muslim-majority countries. I share your concerns. It is not a policy we support," he wrote, in the memo, which was obtained by MacRumors.
Cook added that some Apple employees have been affected by the immigration order.
"Apple will do everything we can to support them," he wrote, adding that the Cupertino, Calif.-based firm has "reached out to the White House to explain the negative effect on our coworkers and our company."
The Apple CEO was one of a number of U.S. tech leaders that met with Trump last month. Cook is also a member of Trump's Strategic and Policy Forum, which also includes Tesla and SpaceX CEO Elon Musk and Uber CEO Travis Kalanick.
"Apple believes deeply in the importance of immigration -- both to our company and to our nation's future," Cook wrote in his memo. "Apple would not exist without immigration, let alone thrive and innovate the way we do."
FACEBOOK UPDATES ITS TROUBLED TRENDING FEED WITH MORE INFO, LESS PERSONALIZATION
Apple co-founder and tech icon Steve Jobs was the son of a Syrian immigrant to America.
Google CEO Sundar Pichai slammed Trump's move in a memo to employees Friday. "It's painful to see the personal cost of this executive order on our colleagues," he wrote, in the memo, which was obtained by Bloomberg. "We've always made our view on immigration issues known publicly and will continue to do so."
More than 100 Google staff are affected by the executive order, according to Pichai's memo.
Google co-founder Sergey Brin attended a protest against the immigration move at San Francisco International Airport, according to media reports.
TWO EMPLOYEES ARE SUING MICROSOFT, ALLEGING THEIR JOBS GAVE THEM PTSD
"We're concerned about the impact of this order and any proposals that could impose restrictions on Googlers and their families, or that could create barriers to bringing great talent to the United States," Google said, in a statement sent to Fox News. "We'll continue to make our views on these issues known to leaders in Washington and elsewhere."
The search giant has also created a crisis fund that could raise up to $4 million for four immigrant rights organizations. Google confirmed a USA Today report that it is funding an initial $2 million for the fund that can be matched with up to $2 million in donations from employees. The money will go toward the American Civil Liberties Union, the Immigrant Legal Resource Center, the International Rescue Committee and the U.N. Refugee Agency.
Company executives are also donating separately to the effort.
One of the strongest condemnations of Trump's move came from Netflix CEO Reed Hastings. "Trump's actions are hurting Netflix employees around the world, and are so un-American it pains us all," he wrote, in a Facebook post Saturday. "Worse, these actions will make America less safe (through hatred and loss of allies) rather than more safe."
IS PRESIDENT TRUMP STILL USING HIS OLD ANDROID PHONE?
Other tech heavyweights also weighed in on the events unfolding at the nation's airports. "As an immigrant and as a CEO, I've both experienced and seen the positive impact that immigration has on our company, for the country, and for the world. We will continue to advocate on this important topic," wrote Microsoft CEO Satya Nadella in a LinkedIn post Saturday.
Nadella also posted a memo from Microsoft President and Chief Legal Officer Brad Smith that described the company's belief in a "strong and balanced high-skilled immigration system."
"Like many of you, I'm concerned about the impact of the recent executive orders signed by President Trump," wrote Facebook CEO Mark Zuckerberg in a post on the social network Friday. "We need to keep this country safe, but we should do that by focusing on people who actually pose a threat."
GOOGLE ENTERING CUBA IS 'TROJAN HORSE' THAT COULD REINFORCE REGIME, RESIDENTS SAY
Uber has also been dragged into the immigration furor amid allegations that it attempted to exploit a taxi protest against the ban at New York's JFK Airport on Saturday by turning off surge pricing. Uber NYC tweeted that surge pricing had been turned off at JFK airport Saturday.
Surge pricing has been turned off at #JFK Airport. This may result in longer wait times. Please be patient.

— Uber NYC (@Uber_NYC) January 29, 2017
The hashtag #DeleteUber was soon trending on Twitter.
In a subsequent tweet Uber NYC said that its earlier tweet was not meant to break the strike and linked to Uber CEO Travis Kalanick's Friday Facebook post opposing the travel ban and explaining how affected Uber employees will be compensated.
In a Facebook post Sunday Kalanick explained that Uber is creating a $3 million legal defense fund to help drivers with immigration and translation services amid what he described as "the President's unjust immigration ban."
Rival Lyft has voiced its concern about Trump's immigration move, announcing on Sunday that it is donating $1 million over the next four years to the ACLU.
The Associated Press contributed to this report.