Tech and the movies: 3D printing brings new angle to animation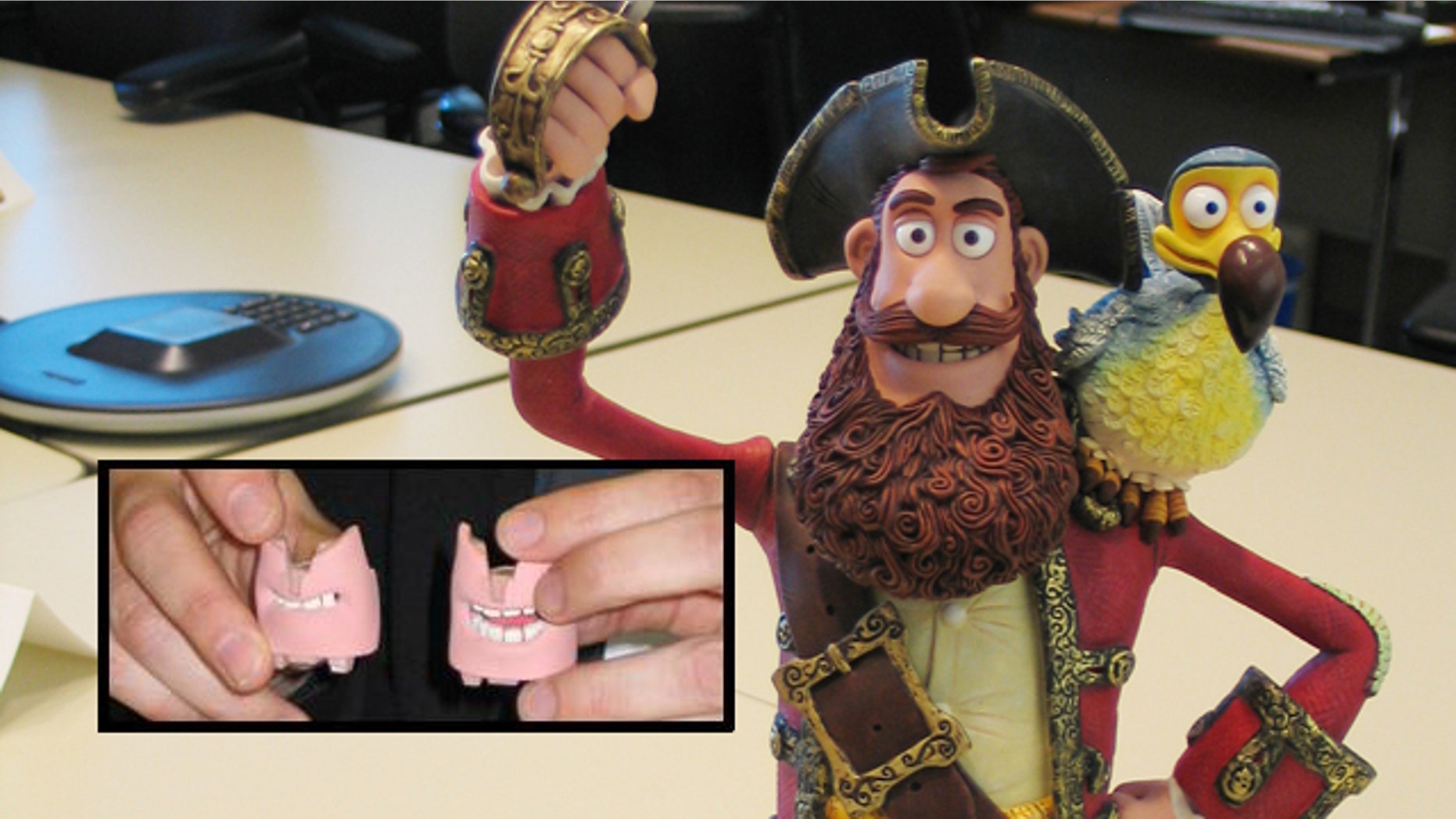 Sony Pictures' upcoming "The Pirates! Band of Misfits" still uses molding clay and traditional stop-motion animation to bring its wide-eyed characters to life, but creator Aardman Animations happily embraced a strange new technology to make those figures speak: 3D printers.
A 3D printer is much like an ordinary one, but it works in a third dimension, depositing a substance that eventually builds up, layer by layer, into an object -- a ball, a model airplane, or an animated critter.
"We built about 8,000 mouths," key animator Ian Whitlock said, explaining how he brought the various characters to life in an unusually short time. "For the Pirate Captain model, we made 257 separate mouths. For someone like Charles Darwin, we probably had about 130 mouths."
A 3D printer connects to a computer and receives a file that describes an object in three dimensions, explained Rich Brown, senior editor at cnet.com.
"It works much like a 2D printer," he said. "The layers build up in liquid form. The material solidifies as it prints out each layer, and the end result is a 3D object in real life."
The 3D printing of all those different mouths helped speed up the animation process, allowing for more details and characters in the film.
"We'd still be shooting now if we had to sculpt all of these mouths," Whitlock said. "Even with 3D printing, you can easily spend two to three months on a character. I probably did five or six characters in the space of 10 months."
The film's animators broke down the mouth shapes of the characters by listening to an actor's dialogue. "That would be broken down onto a 'dope sheet,' which is a phonetic breakdown," Whitlock said. "When the directors were happy with the way the mouths looked, then the files would be sent off to a rapid prototype machine, which would then physically print the mouths out.
"When the mouths are printed out, they're sort of a flesh color. It's the same technology used to create hearing aides. They have about 14 different skin tones … once it's done, we sand it and paint it."
Whitlock said "The Pirates!" is the first animated film to widely embrace 3D printing, although the 2009 film "Coraline" used a similar technique on a smaller scale.
"Using 3D printing technology in animation is brand new to me," Brown said. "I had no idea they were using 3D printing for a movie. I'm surprised that it turned out to be faster [than traditional animation]."
It's not just faster, but a tremendous boon, Aardman Animations cofounder and movie director Peter Lord said.
"You can get stronger individual animation styles to each face because of the way that they're made," Lord said. "You retain the style very faithfully, so that's very helpful."
Animation technology has come a long way since Lord first made a bit of plasticine clay come to life in the '70s. "My model-making skill was zero, so every character had to have huge feet with big, thick legs in order to stand up right," he said.
"It was all shot on film with a clockwork camera and the exposure was all over the place. My animation was so bad … and of course there was no playback, so you'd animate all day, and everything that you'd done was hidden in the camera on a roll of film. Then you send it to the lab and keep your fingers crossed."
Despite all the advances in animation technology, the Aardman team still painstakingly creates the expressions of the characters' eyes using hand-molded plasticine -- much as Lord did almost 40 years ago.
"The most important thing for the performance is through the eyes," Whitlock explained. "It meant having a more organic performance, keeping it as clay. It keeps the acting the way we want it."
"The Pirates! Band of Misfits" is set to be released in theaters on April 27.