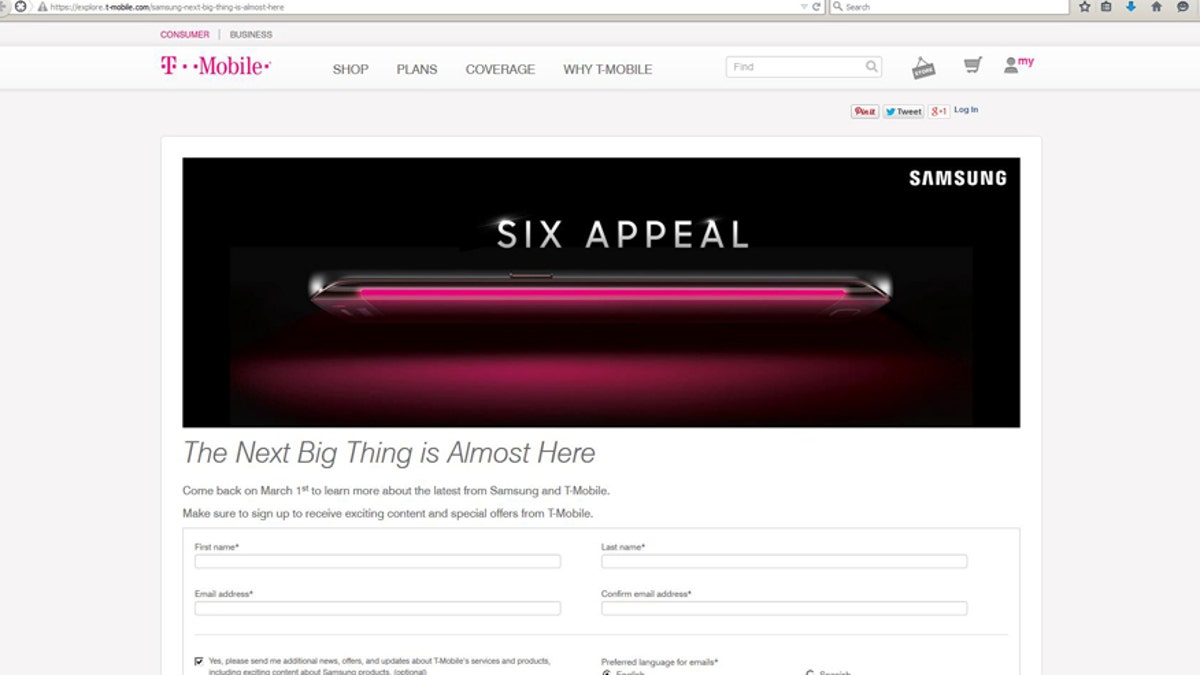 The teasers for Samsung's next big phone keep rolling out, with the latest coming from T-Mobile's CEO. John Legere recently tweeted out what appears to be a photo of the upcoming Galaxy S6 smartphone, reassuring the public that the T-Mobile will indeed carry "The Next Big Thing."
Legere's tweet links to a T-Mobile webpage announcing "The Next Big Thing is Almost Here," and features a photo supposedly of the new Samsung smartphone. With two sleek, curved edges and a glowing magenta screen, the image believed to be the Galaxy S6 looks much like Samsung's Note Edge with pixels oozing over its slim sides.
MORE: Samsung Galaxy S6 Rumors: Dual Curved Screen and Beyond
T-Mobile's webpage also lets you sign up for email updates about about the new Samsung device, and says to check back on March 1, the date Samsung is unveiling its next smartphone at Mobile World Congress in Barcelona.
As the big day approaches, more teasers and leaks are likely to come. Last week Samsung released a teaser video for the Galaxy S6, suggesting the new smartphone could forgo the company's traditional plastic frames and opt for a metal and glass construction. This would make the Galaxy S6 feel like a more premium device in the same realm as the HTC One M8 and the iPhone.
HTC itself is set to announce its next big smartphone, the One M9, at MWC, and details of the device were also leaked recently. We're excited to see these devices officially drop next week in Spain - stay tuned for live updates from the show floor.
Valentina Palladino is a senior writer for Tom's Guide. Follow her at @valentinalucia. Follow Tom's Guide at @tomsguide and on Facebook.
Watch Four4Four: SciTech: