Surface Killer? Lenovo ThinkPad Tablet 2 Hands-on Video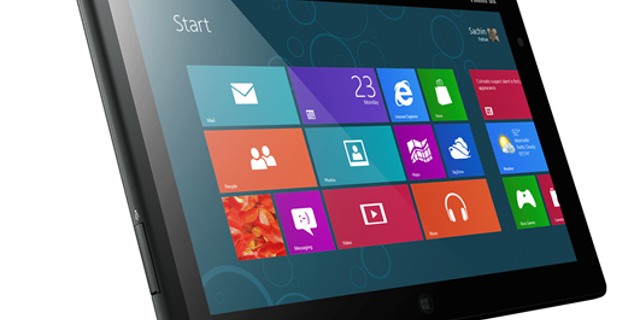 Watch your back, Microsoft. The ThinkPad Tablet 2 could be a Surface killer. As the first Windows 8 tablet powered by Intel's upcoming Atom processor for mobile devices, this slate will be able to run all of your desktop apps, plus apps downloaded from the Windows Store. To get that versatility from the Surface you'll need to buy the version with a full-power Core processor.
Launching in October along with Microsoft's new OS, the ThinkPad Tablet 2 has a 10.1-inch (1366 x 768) display, weighs 1.3 pounds, and is just 10.3 x 6.5 x 0.39 inches thick. That's in the same ballpark as ARM-based Android tablets. Ports include USB 2.0, a microSD slot, mini HDMI, a front-facing 2-MP webcam, and a rear-facing 8MP shooter.
Shoppers will be able to choose from a number of options, including digitizer and pen support (great for taking notes) a fingerprint reader, 3G wireless with Lenovo Mobile access pay-as-you-go, 4G, and NFC. You'll also be able to purchase a keyboard dock, which has a full-size USB port and built-in pointing stick.
During our hands-on time, the ThinkPad 2 felt very solid in the hand, and the pen input was silky smooth. (Don't worry, there's a holster for the pen.) We were also impressed with the bright and colorful display; the viewing angles are plenty wide for giving a quick 1:1 presentation.
The keyboard dock has a spacious and comfy layout, complete with a smooth touchpad. Unlike Microsoft's Surface, you should have no problem using this device in your lap. Plus, with its built-in NFC capability, this slate offers one-touch pairing.
The ThinkPad Tablet 2 will be available in October when Windows 8 launches. Pricing has not been set. In the meantime, check out our gallery and hands-on video.