Student Vets Group Backs Shinseki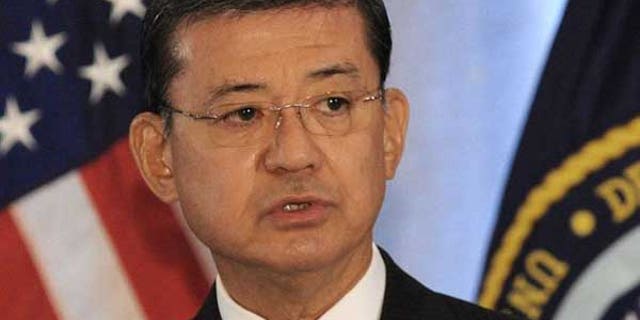 Student Veterans of America says it does not support calls by some veterans groups for the resignation of Department of Veterans Affairs Secretary Eric Shinseki over reports that up to 40 veterans on a secret patient waiting list died before seeing a doctor at the VA hospital in Phoenix.
SVA President and Chief Executive Officer D. Wayne Robinson said Shinseki should be left to continue doing his job while the allegations are being investigated.
"If there has been any negligence, we are confident that those responsible will be held accountable under the Secretary's leadership," Robinson said in a statement released Monday.
SVA has 1,000 chapters at colleges and universities across the country.
One week ago, The American Legion, one of the largest veteran service organizations in the country, said Shinseki and two other senior leaders at VA should step down over the allegations of the secret list and reported deaths of veteran patients. Concerned Veterans of America backed the Legion's call.
So far Iraq and Afghanistan Veterans of America has not decided where it stands on Shinseki.
The group last week concluded an online poll of its members asking if Shinseki should stay or go. IAVA has not released the results, but Rieckhoff said the poll will not be the sole basis of the group's decision.
"We're going to be thoughtful. We're going to listen to our members," he said. In addition to the online survey, IAVA is collecting feedback through social media, phone calls and at face-to-face events in different parts of the country, he said.
"We want to hear from Shinseki. We want to hear from the President on this, too," Rieckhoff said.
President Obama did five fundraisers in California last week during the time the Phoenix VA story and was first reported. Rieckhoff said his organization took notice that Obama did not issue comments on the controversy at that time.
IAVA was an early supporter of Shinseki's when he was nominated for the VA post. Rieckhoff lobbied for Shinseki ahead of the retired Army general's nomination hearing. Rieckhoff highlighted Shinseki's combat experience and testimony leading up to the Iraq War that called for more U.S. ground troops ahead of the invasion.
Rieckhoff said in 2009 that Shinseki "has the potential to be an effective and dedicated advocate for veterans of all generations. But nobody gets a free pass."
"We were very supportive" of Shinseki in the beginning Rieckhoff said. "We would have preferred someone from our own generation but we were hopeful and supportive. But the culture changed over there [at VA] pretty rapidly."
The department under Shinseki has responded poorly to multiple issues, and Shinseki, himself, remains largely silent, Rieckhoff said. The IAVA leader said the CIA is probably more transparent than the VA under Shinseki.
When there's a controversy or issue involving the Defense Department, Secretary Chuck Hagel is quickly out front addressing them – "everything from Benghazi to hair styles," Rieckhoff said. In contrast, Shinseki has largely stayed out of the media, he asid.
The allegations out of Phoenix are only the latest alleged scandal to hit the VA, which has been struggling to tame an official backlog of disability claims even as a larger backlog, reflecting appealed claims or those awaiting a change, continue to grow.
It recent years, investigations have cited avoidable deaths occurring at several VA hospitals. Two years ago, officials and employees embarrassed the agency when many accepted gifts and entertainment from vendors at an official conference at an Orlando resort.
In the meantime, Congress and veterans organizations have railed over Shinseki's apparent inability to discipline or fire managers found to be responsible.
Robinson, however, said SVA's view is that Shinseki has demonstrated "remarkable stewardship of the VA, not seeking political stunts in the news." He said the investigations, including by VA's Office of the Inspector General, need to conclude, followed by swift action against anyone responsible.
Robinson also credits Shinseki with improving service to hundreds of thousands of veterans returning to school. Under Shinseki, he said, the VA has a faster GI Bill processing times – down to one week – while the number of VetSuccessOn Campus chapters has tripled.
Over the past five years, he said, the VA has paid out more than $40 billion in Post 9/11 GI Bill tuition and benefits to nearly 1.2 million veterans, service members and their families, Robinson said in his statement.
-- Bryant Jordan can be reached at bryant.jordan@monster.com