Struggle Ahead to Reach 8-Month Sea Deployments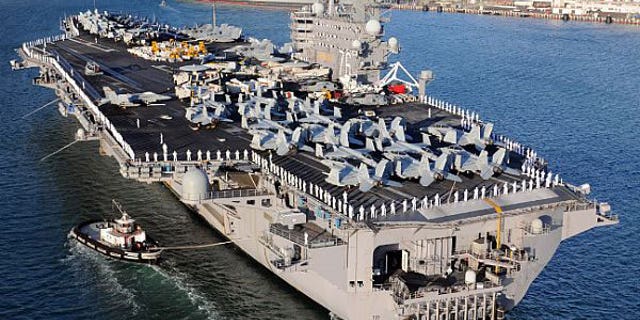 National Harbor, Md. -- The Navy faces an uphill struggle in trying to get back to 8-month sea deployments, the head of the Fleet Forces Command said Tuesday.
"Eight months is right on the ragged edge of what's acceptable" for the force, but several factors were working against it, said Adm. William Gortney, whose FFC Command is responsible for training, manning, and equipping units to deploy.
In the current state of the world, "we have lost a key capability and that's predictability," Gortney said at the Navy League's Sea-Air-Space Exposition here.
"We're probably going to predict the future incorrectly," resulting in longer deployments as forces respond to a crisis and also fewer predictable underway schedules, he said.
Funding was another factor working against getting down to eight months from what have tended to be 10-month deployments in recent years, Gortney said.
There won't be any so-called "peace dividend" after the wars in Iraq and Afghanistan that the services could depend upon to refit. The cost-cutting sequester process imposed by Congress has also strained service budgets, Gortney said.
Despite the budget constraints, Gortney in January came out with the Optimized Fleet Response Plan (O-FRP) that outlined the goals that must be met for an eight-month cycle, including putting all the members of a Carrier Strike Group on the same maintenance and deployment schedule.
The O-FRP will initially focus on the Carrier Strike Groups and eventually include all U.S. Navy assets, from the Amphibious Ready Groups and Marine Expeditionary Units to submarines.
"We have to go get our force generation model back under control and get our deployment lengths and our quality of our service for Sailors and their families back into an acceptable norm," he said.
But executing the O-FRP as planned faces another challenge going forward: The plan was developed assuming 11 aircraft carriers in the inventory. The 2015 budget currently has no funding to refuel the USS George Washington (CVN 73), which leaves the Navy with only 10 operational carriers.
Check out our newly updated Military Equipment Guide.
-- Richard Sisk can be reached at richard.sisk@monster.com