Stop Making Lightsabers, Demands Lucasfilms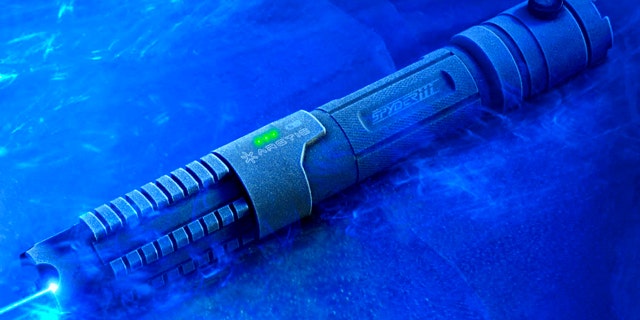 The company that produces a laser device being touted in popular media as a "lightsaber" has dismissed as "strange" an order from the makers of Star Wars to cease production.
Wicked Lasers began selling the Arctic Pro Spyder III laser online earlier this year.
The laser device -- which retails for $200 -- has attracted attention due to the strength of the beam (it's 1,000 times the legal Australian limit) and its uncanny likeness to the famous Star Wars weapon.
The Spyder III is 1,000 times stronger than sunlight on the skin and can blind in a millisecond if shone into the eyes. Several videos on YouTube show people using the Spyder III and other lasers of a similar strength to burn objects, light cigarettes, pop a row of balloons and even turn off a streetlight.
However, its popularity has attracted the attention of Lucasfilm Ltd, which has now ordered Wicked Lasers to "cease and desist any use of the LIGHTSABER copyrights and trade dress by modifying the design of the Pro Arctic Laser."
The film company also demands that Wicked Lasers insert a prominent disclaimer on everything stating that they are not associated with Lucasfilms or anything to do with Star Wars.
The legal action is apparently a reaction to the heavy media coverage the Arctic Pro has received, with most articles referring to it as a lightsaber, or "lightsaber-like."
The legal letter states "these references make it clear that the public is being led to believe that the Pro Arctic Laser is an official LIGHTSABER device, and/or copied from our designs. Lucasfilm cannot allow its intellectual property to be associated with an inherently dangerous device."
Wicked Lasers CEO Steve Liu has dismissed the claims, telling news.com.au that he found it "strange" as they had never referred to the Arctic Pro as a "lightsaber."
"Allegations of Wicked Lasers using any association to the Lucasfilm Star Wars light saber in our design or in our promotion of the Spyder III Arctic handheld laser are not based on fact and their demands will not be satisfied."
Mr Liu says that the "lightsaber" tag was one given by the media, and not by Wicked Lasers.
He said the device was not designed to intentionally look like the fictional weapon.
Mr Liu conceded that there were similarities between the two devices, namely that "they are both cylindrical, handheld, and dangerous to use without following safety protocol" but they have one important difference.
"The blue diode (of the Spyder III) is the result of decades of scientific research by laser pioneer Shuji Nakamura," he said. "The other is from the ingenious creativity of George Lucas."
The matter is yet to be settled.