Spy Agency Amends No-Bid Contract Notice, But Google Still Favored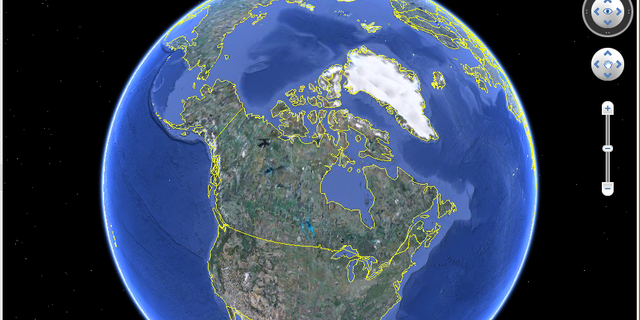 One of America's most secretive spy agencies, responding in part to inquiries made by Fox News about a no-bid contract set to be awarded to Google, announced Tuesday it will revise the terms of its notice for the contract – but Fox News has learned that Google will still have the inside track for the deal.
The National Geospatial-Intelligence Agency, headquartered in Bethesda, Md., first posted online on Aug. 19 a formal notice of its plans to award the "sole source," or no-bid, contract to the Internet and software giant. The contract synopsis – posted on fedbizopps.gov, a sort of bulletin board for federal contractors – stated that the agency was seeking "a secured, hosted environment that provides web-based access to geospatial visualization services." No dollar figure was attached.
One of 16 spy agencies reporting to the president, the National Geospatial-Intelligence Agency provides aerial satellite imagery and mapping, as well as analyses of those products, to civilian and military officials at the other spy agencies and the Pentagon. Experts told Fox News the agency's contract was designed to provide the agency with an integrated system that would allow analysts from different disciplines to use the Google Earth mapping program in a way that allows for a freer exchange of data between them.
"They want to be able to acquire servers where they can host their data, the NGA's data," said Kevin Pomfret, executive director of the Center for Spatial Policy and Law in Richmond, Va. "They want it to be secure, but they want it to be web-based, so that it can be easily accessed."
Others suggested the agency's contract notice reflected the inadequacy of the intelligence community's current computer systems. "This NGA no-bid contract is a cry for help," said Tim Brown, an imagery analyst for globalsecurity.org, in an interview from Los Angeles. "They're basically saying that their classified customers from all over the intelligence agencies, and from (the Department of Defense), are not able to use the clunky, older systems that are all designed very, very top-secret."
The agency's online synopsis indicated that the agency wants to steer the contract to Google, based in Mountain View, Calif., on a no-bid basis because "Google is the only source that can meet the government's requirement for worldwide access, unlimited processing, and Open Geospatial Consortium complaint web service interfaces."
But Microsoft, the computer behemoth headquartered in Redmond, Wash., has indicated that it believes its Bing Maps program can also meet the agency's needs. In response to several calls, the agency told Fox News that a number of "interested parties" had met a Tuesday evening deadline for formally challenging the agency's no-bid plan.
Karen Finn, an agency spokeswoman, said Tuesday afternoon that the agency planned to post a revised version of the contract synopsis no later than Wednesday. Concerns over the appearance of the no-bid contract plan were partly behind the agency's decision to revise the synopsis. "The (agency's) acquisition folks thought about how that might be perceived," Finn said. "Yours was not the only media call we received."
Finn said the revised synopsis would provide more data about the kind of work the agency requires under the contract. "We realized we did not put out enough technical information for (companies) to be able to discern whether they could (perform the work) or not," Finn said. But she also made clear the revised synopsis will still reflect agency's intention to award the contract to Google without entertaining competitive bids.
Brown told Fox News he believes the agency's claim that only Google can perform the necessary work. He noted, for example, that a user of Microsoft's Bing Maps service can obtain detailed, panoramic, street-level views of Los Angeles and other relatively open cities, but that Bing stops at an aerial view when it is trained on an authoritarian stronghold like Tehran. Google Earth, by contrast, can deliver more detailed views of Tehran's streets, or of Pyongyang, the capital of North Korea.
"So we can map every single street with a (geographical) coordinate," Brown said. "We can monitor it to see if there's any cell phones or wi-fis there. This allows the NGA to have a classified version of what we've been using all along here in the United States, which is Google Street Maps."
The satellite mapping galaxy is not vast. Google Earth came into being only after Google's 2004 acquisition of Keyhole, a company that was in part funded by In-Q-Tel, the venture capital firm run by the CIA. And those firms, along with Microsoft, tend to purchase their aerial imagery principally from two other companies: DigitalGlobe and GeoEye. Those firms on Aug, 6 received federal contracts worth close to $4 billion each, in order to collaborate on a next-generation satellite that can deliver even more detailed imagery -- money that was awarded by the National Geospatial-Intelligence Agency.
Because this nexus of private firms and government is so heavily dominated by a few titans – Google, Microsoft, GeoEye, and DigitalGlobe chief among them – many corporate and industry trade executives were unwilling to discuss the agency's contract notice on the record. They told Fox News that Google and Microsoft, in particular, were either customers, sponsors, or members, respectively, of their own firms or trade associations.
But Pomfret noted that similar firms, sometimes backed by their own countries' governments, are cropping up in Italy and Germany, South Korea and Japan. And times are flush for the satellite industry as a whole. In 2009, according to statistics published by the Satellite Industry Association, the industry grew 11 percent, for total billings of $161 billion, during a year when the U.S. economy as a whole shrank by nearly 3 percent.