Special forces' parachutes: What you need to know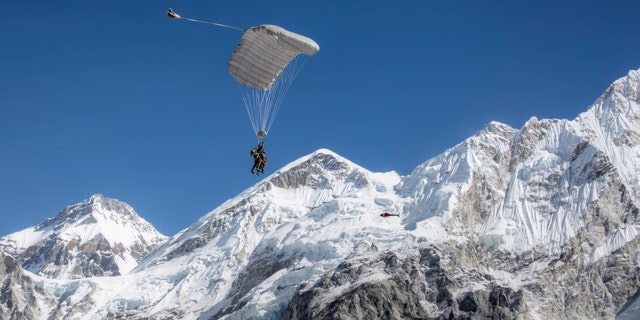 NEWYou can now listen to Fox News articles!
What is the secret that elite special forces around the world know about jumping out of aircraft? State-of-the-art canopies - where to find them and how to leverage them to the max.
Jumping with a parachute provides the military with a range of advantages – not least of which is rapid and stealthy insertion of teams.
Highly-trained and experienced special operations jumpers can take average canopies and do amazing things. But equipped with truly next-gen, cutting-edge canopies, they can take things to an entirely new level.
Making ordinary canopies extraordinary
Retired Navy SEAL Fred Williams jumped a lot during his military career. During his service, he began to have some ideas about how the parachutes could be radically improved to enhance the performance of elite forces.
Determined to ensure U.S. forces had the very best gear to support missions and reduce risk to jumpers, when he retired he committed to doing just that. "Flying parachutes on top of the world requires confidence, having the right equipment allows us to focus on our personal performance," he explained.
Complete Parachute Solutions (CPS), where Williams is President, took those original ideas and then continued to further refine and evolve them. CPS canopies rapidly became a go-to for elite and covert military teams.
EXCLUSIVE: INSIDE AN EPIC PARACHUTE JUMPING EXPEDITION IN THE HIMALAYAS
The Tandem Phoenix and Military Silhouette are two of the most combat proven parachutes since 9/11. For the past 12 years running, the Military Phoenix has earned the best U.S. military school house track record for reliability and safety of all parachutes used at United States Army Special Operations Command (USASOC) validated Military Free Fall courses.
The parachutes were recently used during an epic parachute jumping expedition in the Himalayas.
So how are these canopies different to ones you'll find all over drop zones in America? Many aspects cannot be shared publicly, but here are some key details that can.
Flying solo
The Military Phoenix Series is an advanced medium-high aspect ratio, moderately tapered, nine-cell tactical main canopy extremely popular for solo jumpers in need of a general use ram-air solo parachute. It provides users with an excellent maximum suspended weight capability.
Parachutes with medium aspect ratios have predictable opening capabilities while high aspect ratios offer a flat glide and the most tolerance for timing the landing 'flare' or maneuver.
What is it made of? CPS manufactures the canopy from an exclusive zero-porosity ripstop nylon material. It is built to provide optimal offset performance.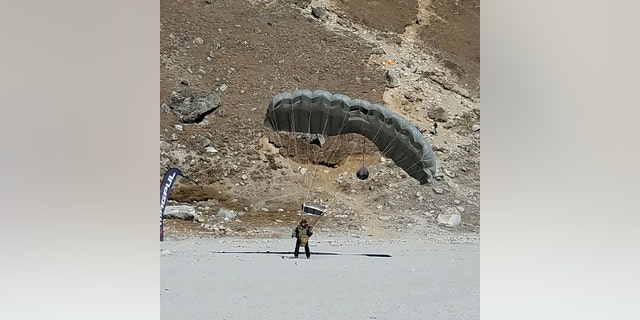 DARPA DEVELOPS DIGITAL COPILOT FOR MILITARY AIRCRAFT
The MP-360 series is the workhorse of solo operations. For a solo operator who needs to carry full combat equipment and a heavy parachutist drop bag, this model is an ideal solution. Parachutists can use it with loads up to 475 pounds.
It is also a great choice for K9 operations where the team requires a dog or dogs on the mission. An operator can jump the dog in to join the team using this parachute.
The maximum deployment altitude is 25,000 feet and the minimum is 3,000 feet. The rate of descent full flight is between 14 to 18 feet per second. The forward speed is about 20 to 35 mph.
The MP-360 Series is available in two configurations. The MP-M1 series is designed for drogue-fall and free fall operations, while the MP-M2 series can handle drogue-fall, free fall – as well as double bag static line operations.
The U.S. Marine Corps uses Phoenix exclusively in the Multi Mission Parachute System. Marine Recon and MARSOC (Marine Corps Forces Special Operations Command) forces train on it while attending the in-service Military Free Fall course at the CPS Tactical Training Facility in Arizona.
Tandem action
U.S. military elite special operations units have been leveraging the Tandem Phoenix series parachutes for the past 15 years.
A NEW COMBAT VEHICLE THAT SWIMS FOR THE MARINE CORPS
The Tandem Phoenix series is also built as a moderately tapered, nine-cell tactical tandem canopy with an advanced medium-high aspect ratio.
The TP-360 is designed for smaller tandem canopy tasks and can handle working loads up to 550 pounds. Solo operators who need to carry heavy rucks or a canine can also use this model.
The TP-360 and TP-400 canopies are constructed entirely of zero-porosity ripstop nylon. But the hybrid constructed TP-460's canopy combines a zero-porosity ripstop nylon on the top surface with nylon ripstop underneath.
On all models, the maximum deployment altitude is 25,000 feet and the minimum is 5,000 feet. The rate of descent full flight is between 14 to 18 feet per second. The forward speed is about 20 to 35 mph.
All models are designed to provide enhanced landing performance during the flare maneuver. They are also built for optimal offset performance with lighter toggle pressure.
Search and Rescue
When search and rescue is necessary, the Military Silhouette canopy is a go-to for special operations forces around the world. It excels at landing in tight areas using braking approaches.
ARMED MUTTS: SELF-DRIVING VEHICLES COULD BOOST THE MILITARY'S ARSENAL
The Military Silhouette is also a moderately tapered, nine cell tactical main canopy with a medium aspect ratio.
The maximum deployment altitude is 35,000 feet across all models. The minimum altitude deployment varies by model, ranging from 3,000 feet down to 2,000. The full flight descent rate is 12 to 16 feet per second. And the forward speed with the Military Silhouettes is about 18 to 28 mph.
This series has a hybrid design that gives users some excellent advantages. To name just two of many- it is easily and rapidly packable and provides extremely reliable openings. All the models also provide exceptional, enhanced glide performance.
Operators take full advantage of the excellent, easy maneuverability and stability for search and rescue missions and beyond.