Sony's new Xperia Z4 Tablet is fast, furious, and the world's thinnest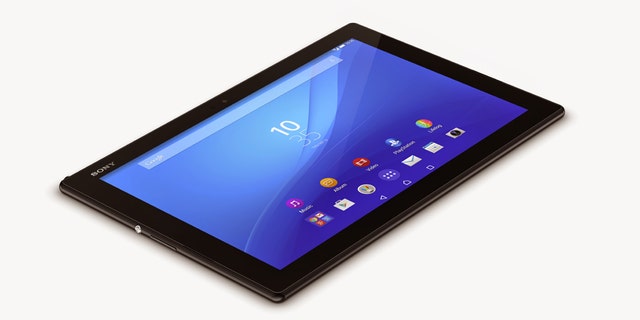 NEWYou can now listen to Fox News articles!
Mobile World Congress is when companies tout their very best in tablets and smartphones, and this year Sony is laying it all on the line with its new Xperia Z4 Tablet and Xperia M4 Aqua smartphone. Not only is the Z4 the world's thinnest and lightest tablet, but it also sports the best hardware in its class and a ridiculously long battery life. Meanwhile, the M4 Aqua is a modest smartphone for emerging markets with a top-notch camera.
Notable by its absence is the Xperia Z4 flagship smartphone, which we would have expected to be announced alongside these two devices, to spearhead the introduction of an entirely new Z4 range. Where is it? Sony's not saying, but we'll be quizzing the company at MWC and will update here when we find out more.
Related: What to expect at Mobile World Congress 2015
Let's go back to what's actually announced. First up is Sony's super tablet, which we spotted through a leak several days ago. The Xperia Z4 Tablet is a 10.1-inch, 2560 x 1600 pixel tablet designed to be the best in class in just about everything, from its display to internals and even battery life. The device sports a Snapdragon 810, 64-bit octa-core processor, powering up its high-resolution display, which Sony claims is the world's brightest tablet display out there. The tablet will also sport 32GB of internal storage, Wi-Fi, and LTE on select models.
For gamers, the Z4 will support playing PS4 games stored on your home console, like the Xperia Z3 before it. Plus you can connect a Dualshock 4 controller to your Z4 for the same gaming experience no matter where you are in the house.
If you're the outdoorsy type, the Xperia Z4 is IP68 rated. This means the device is dust and water resistant and can survive an accidental drop in the pool, kick in the sand, or other mishap. Don't be fooled into thinking it's rugged, however: This tablet probably won't fare well if you drop it onto concrete.
Xperia M4 Aqua
What's also great about the Xperia Z4 is its crazy long 17-hour battery life. Powered by a 6,000-mAh battery, this phone can handle some seriously long trips without hunting for an outlet. With Sony's Stamina mode, you can stretch that last bit of power for essential use when the battery runs low.
Sony brags that the Z4 Tablet will also be the world's thinnest — just 6.1 mm (about a quarter inch) thick and weighing in at 393 grams (about 14 ounces).
Also launching alongside the Xperia Z4 Tablet is the Xperia M4 Aqua, a mid-range smartphone designed for those who want a great camera and a decently priced smartphone. The M4 Aqua will have a 13-megapixel Sony Exmor image sensor with a wide F2.0 aperture and ISO 3200 range, plus 52 different scenes to shoot with, from low-light to selfie mode.
Related: What makes a tablet rugged?
The smartphone also will sport a Qualcomm Snapdragon 615 octa-core processor, 4G LTE connectivity, and a long-lasting, tw0-day battery life with the Ultra Stamina mode, which Sony claims will let your Xperia M4 Aqua last for an entire week when in use.
Now we come to the launch date, which is further down the line than we'd normally expect. If you're ready to get your hands on the powerful Xperia Z4, you'll have to wait until sometime in June for its worldwide launch. The Xperia M4 Aqua, on the other hand, will be out in 80 countries this spring — but not in America.
The lengthy wait between now and the Xperia Z4 Tablet's release certainly gives Sony plenty of time to give the Xperia Z4 smartphone a major release party; it's just a question of when.
Stay with us at Digital Trends for the latest news, information, and more at Mobile World Congress 2015 in Barcelona.