Snapchat is getting a new look because it's 'too hard to use'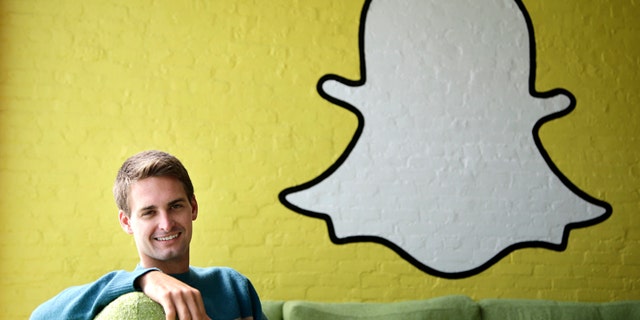 NEWYou can now listen to Fox News articles!
One of the major complaints about Snapchat over the years has been that it's too hard to use. As it struggles to grow its user base, CEO Evan Spiegel says he is finally acknowledging its detractors, and will redesign the app.
During the company's third-quarter earnings call to investors on Tuesday, Spiegel made the bombshell announcement, after detailing feedback that the app has been a tough nut to crack for a number of people.
"One thing that we have heard over the years is that Snapchat is difficult to understand or hard to use, and our team has been working on responding to this feedback," Spiegel said on the call. "As a result, we are currently redesigning our application to make it easier to use."
TEENS STILL HATE FACEBOOK, LOVE INSTAGRAM, SNAPCHAT
Spiegel added that Snap, the parent company of Snapchat, does not yet know what effects the changes will have on its user base.
"We don't yet know how the behavior of our community will change when they begin to use our updated application," he stated. "We're willing to take that risk for what we believe are substantial long-term benefits to our business."
Last quarter, Snapchat added just 4.5 million daily active users to bring its total to 178 million. By comparison, Facebook has 2.07 billion monthly active users and 1.37 billion daily active users. Instagram, which implemented some of Snapchat's most popular features including Stories, recently announced it surpassed 800 million monthly active users.
Spiegel's comments came on a conference call with industry analysts after the company posted the lackluster user-growth numbers and revenue that fell well short of Wall Street expectations. Snap's stock was bludgeoned Wednesday, falling 16 percent to $12.70 in early morning trading. The Venice, California, company went public in March at $17 a share.
Snapchat needs to grow its user base beyond 13 to 34 year olds in the U.S., France the U.K. and Australia, Spiegel said. This, he said, includes Android users, people older than 34 and what he called "rest of world" markets.
Meanwhile, Snap said Wednesday that Chinese internet company Tencent has acquired a 10 percent stake in the company. Tencent runs the WeChat messaging app, as well as online payment platforms and games. Earlier this year, Tencent bought a 5 percent stake in Tesla Inc.
MAN PLEADS GUILTY IN RAPE THAT VICTIM POSTED TO SNAPCHAT
Analysts are wary that the changes may cause some disruption to Snapchat's business, at least in the interim. In a note to investors, Drexel Hamilton analyst Brian White said these changes "may cause some short-term disruption to the business when consummated but we believe a long-term positive for the platform."
Spiegel did not go into detail when the changes would be forthcoming, adding that it would be a "surprise," but did add some context on how the app would look after the changes were implemented.
"As part of the redesign I mentioned earlier, we are going to make it easier to discover the vast quantity of content on our platform that goes undiscovered or unseen every day," Spiegel said. "We think that there is a big opportunity to surface some of this content in a personalized and more relevant way, while still maintaining the exploratory nature of our service."
The Associated Press contributed to this report. Follow Chris Ciaccia on Twitter @Chris_Ciaccia