Silicon Valley history lost: Archive of documents that belonged to HP founders destroyed in wildfire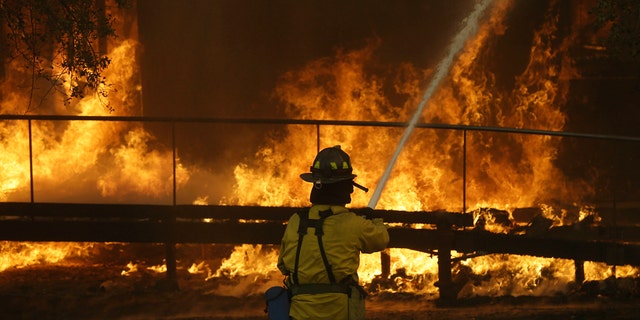 An archive of historic documents that belonged to Hewlett-Packard founders William Hewlett and David Packard has been destroyed in the devastating Tubbs fire in Northern California.
The archive was held by electronics measurement specialist Keysight Technologies on its campus in Santa Rosa, which suffered damage in the fire. "Beginning on the night of Oct. 8, wildfires burned through parts of the city of Santa Rosa and surrounding areas," explained Keysight Technologies, in a statement emailed to Fox News. "The Tubbs fire entered Keysight Technologies' Santa Rosa campus, damaging company buildings and destroying two structures."
The archive, which reportedly consisted of more than 100 boxes of the founders' writings, correspondence, speeches and other items, was housed in one of the two buildings destroyed on the Keysight campus. The Santa Rosa Press Democrat reports that Keysight acquired the archive in 2014 when it split from HP spinoff Agilent Technologies.
APPLE-1 COMPUTER SOLD AT AUCTION FOR $905,000
"We are saddened by the loss of historical documents authored by our visionary founders Bill Hewlett and Dave Packard," Keysight told Fox News. "This is a tremendous loss to Hewlett-Packard, Agilent and Keysight, as well as a loss to all of Silicon Valley."
More than 120 Keysight employees lost their homes in the devastating fire and hundreds were displaced, according to the company.
Keysight, which has received criticism over the destroyed archive, told Fox News that the documents were victims of an unusually destructive wildfire. "Keysight met and exceeded the strictest standards for archival protection, including guidelines set by the United Nations and the Library of Congress," it said. "Adhering to the strictest archival standards could not protect these artifacts from the most damaging fire in state history. "
SUPERCOMPUTER SET TO LAUNCH ON SPACE STATION MISSION
Other parts of the Keysight corporate archive survived the fire. "Many items in the Keysight archives were not affected by the fire because they were situated in other parts of the Santa Rosa facility that sustained only minor damage, housed in other sites around the world, or are digitally preserved," it said.
HP told Fox News that its own archive of historic items is intact. "HP's sites were not impacted and archives remain intact in both physical and digital formats," it said, in a statement. "HP's archives contain hundreds of items related to HP's founders including many examples of speeches, personal correspondence, writings and other materials."
The company uses a facility in Atlanta, Georgia for its corporate archives. "In addition, many other materials from the founders are part of public collections, such as the William Hewlett papers (1907-2010) held by Stanford University," it said.
HP was founded in 1939 by Hewlett and Packard in a car garage in Palo Alto, now regarded as the birthplace of Silicon Valley. The garage is now a private museum and historical landmark.
Follow James Rogers on Twitter @jamesjrogers