Sharpshooters raise $1.2M for military charities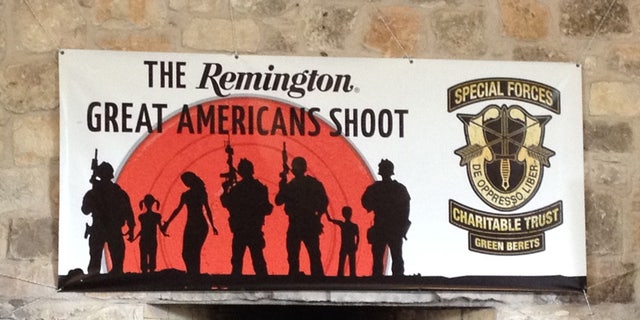 Patriotic Americans from around the country headed to Texas recently for the Remington Great American Shoot, raising nearly $1.2 million for military charities.
The largest charity fundraising shoot ever held in America, the inaugural event was held Sept. 20, 2014 at the Cypress Valley Shooting Preserve just north of Austin.
The event surpassed its goal of $1 million, raising $1.17 million. All of the funds raised go to the Special Forces Charitable Trust and other military-related charities. The Special Operations Care Fund, Military Warriors, So That Others May Live and Gold Star Teens Adventure all received funds raised from the shoot.
This national shoot was sponsored by Remington Arms and pays homage to the men and women who are serving, and who have served, in the U.S. military's special operations.
The Special Forces Charitable Trust provides support to the Special Forces community and their families. The Trust supports the Green Berets in education and motivation, family and command support, and advocacy and heritage.
Texan entrepreneur and philanthropist Mike Reynolds founded the Shoot event. Reynolds said that he created the fundraiser after spending a week with a group of young special operations soldiers. "I was amazed, actually floored, at the training required for these young men in order to be a part of their elite forces," he said, in a statement. "I don't think any of them had less than six deployments, some more."
"I've never met a finer group of young men," he added. "I wanted to be able to say a 'thank you' for what they do to help protect the freedoms of this country that has been so good to me."
The Teams
More than 80 participants and over 1,000 donors were involved in the inaugural shoot.
Olympic gold medalist rower Dan Beery led a team on behalf of Olympian Todd Lodwick who was unable to attend last minute due to injury. New NRA President Jim Porter captained 'The Good Guns' with the motto "good guns, doing good things." 84-year old philanthropist and construction magnate Laura Berry was the captain of 'Lady Laura and The Hot BB's.'
Some 17 teams of five shooters took part in the competition, with each shooter committing to raise or write a check for a minimum of $10,000. Each team also had a "sixth man" shooter – either a veteran or an active duty service member.
The Shoot
Shooters used fundraising site DoJiggy to raise pledges from friends, family, and business associates for each clay pigeon they hit.
Each team chose to fundraise for a different military charity.
There were both individual and team champions with the single shooter that raised the most money in pledges the "winner" of the shoot.
The Special Forces Charitable Trust received the first $500,000 while the remainder was split between the top five fundraising teams.
First place for fundraising went to team 'Top Secret,' followed by 'Lady Laura & The Smoking Hot BB's.' Sara Walker led 'The Quiet Professionals' to fundraising third place followed by Kley Reynolds and 'The Young Guns.' Fifth place went to the Special Forces Charitable Trust Team led by the SFCT President Terry English, a Vietnam Veteran who served as an officer in the U.S. Army Special Forces.
There were plenty of notable accomplishments during the day's shooting, such as 15-year old shooter Megan Harrington, who shot the most clays and won the shoot off.
Captain Ivan Castro, who has continued active duty service in the Special Forces after losing his sight in combat, closed the event with an astonishing demonstration of effectively shooting clay after clay - without sight.
Remington Bounty
Sponsor Remington provided a number of prizes to the competitors, including a 2014 Jeep Rubicon, which went to the top individual fundraiser. The second and third highest fundraisers, respectively, won an M2010 Sniper Weapon System and an R5 RGP combat rifle. Other prizes included
Want to help? For more information on the Remington Great Americans Shoot and to donate, visit this website. Registration to shoot to support American warfighters in 2015 is now open.
Ballet dancer turned defense specialist Allison Barrie has traveled around the world covering the military, terrorism, weapons advancements and life on the front line. You can reach her at wargames@foxnews.com or follow her on Twitter @Allison_Barrie.