Sexy Russian Spy Anna Chapman Hired by Space Bankers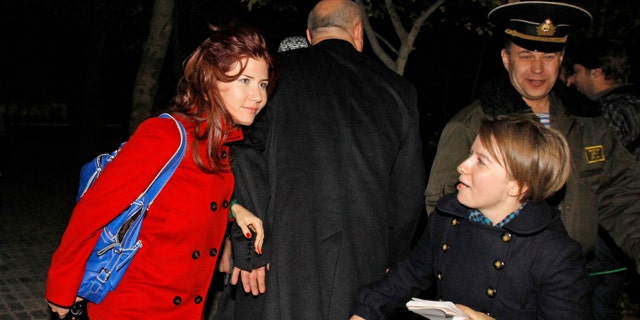 NEWYou can now listen to Fox News articles!
Anna Chapman, the glamorous spy sent back to the cold, just found a new job -- working in IT for a Russian bank.
Chapman, who was spotted waving goodbye to a Russian rocket heading for the space station on Friday, was hired by a Russian bank linked with the country's famed space program to work as an adviser to its president.
A statement issued by FondServisBank was intended to explain Chapman's sudden appearance last week at the remote Baikonur cosmodrome in Kazakhstan where the Russian-American crew launched: The bank works closely with aerospace companies.
"Anna Vasilyevna Chapman does in fact work for FundServiceBank since October 1 as an advisor to the bank's president on issues of investment and innovation," the bank said, noting that it had released the statement following "numerous inquiries" from local and foreign media regarding Chapman's presence at the launch.
It said Chapman would be working on developing the bank's "information technologies" and described her as a "creative and multi-faceted employee who truly cares about Russia's destiny."
The bank also revealed that Chapman was working on a book about "the new possibilities of Internet resources."
With her flaming red hair and penchant for posting sultry photos of herself on social networking sites, Chapman is the most famous of the 10 sleeper spies arrested in U.S. this summer and then sent back to Russia in a spy swap.
Since her arrival back in Moscow she has posed in cocktail dresses for a weekly magazine and appeared at a party at a nightclub but has not given any interviews about her experience.
News agencies contributed to this report.