Samsung unveils iPhone rival, new Galaxy smartphone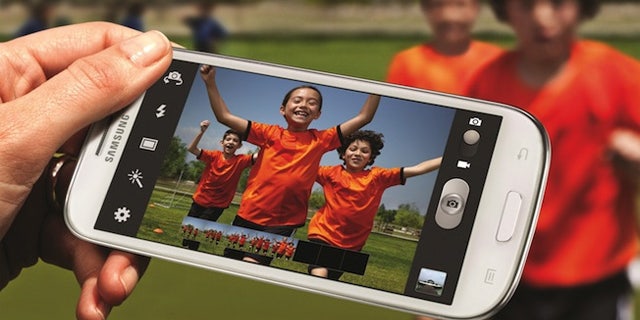 NEWYou can now listen to Fox News articles!
Samsung today unveiled the hotly anticipated next generation Galaxy S smartphone, the company's flagship model and truly worthy iPhone alternative.
"The Samsung Galaxy S III is the best in class smartphone in the world," beamed Samsung Mobile President JK Shin, as he took the stage at Samsung's "Unpacked" launch event in London. The new phone will have twice the touch real estate as the iPhone 4S but is thinner and lighter.
The new Galaxy S sports a 4.8-inch Super AMOLED display, an 8-megapixel camera, and a 2,100mAh battery, all tucked away in a sleek 8.6mm form factor weighing in at just 133g. The phone also comes with "natural interaction," special technology that responds to your eyes, voice and touch.
"With the Galaxy S III, Samsung has maximized the consumer benefits by integrating superior hardware with enhanced smartphone usability," said Shin. "What makes me most proud is that it enables one of the most seamless, natural and human-centric mobile experiences, opening up a new horizon that allows you to live a life extraordinary."
To achieve this, Samsung has developed technology that tracks your eye movement as well as its own Siri-like voice assistant, "S Voice," which understands English (including American and British accents), French, Italian, and Korean.
The 3G HSPA+ phone will launch first in Europe on May 29th with 16GB, 32GB, and 64GB models available with eventual releases in 145 countries. Samsung promises a 4G model sometime in the summer.
"We are anticipating very strong demand for the Galaxy S III," said senior VP Robert Yi, during the company's Q1 earnings call.
Samsung has enjoyed success across a diverse product line of phones, including a collaboration with Google to create the Galaxy Nexus as well as the larger, more niche Note device. But the flagship Galaxy S series remains the company's stalwart performer, winning near unanimous praise from critics and customers alike.
Reviews of last year's Galaxy S II were generally enthusiastic. Engadget gave the device a 9/10, calling it "the best Android smartphone yet" and "possibly the best smartphone, period," while TechRadar gave the S II a perfect 5/5 stars noting that it "set a new bar for smartphones in 2011."
Samsung sold 3 million units worldwide within 55 days. By February 2012, the company had shipped over 20 million units globally, becoming the world's premier mobile phone provider and overtaking Apple and Nokia.
Samsung held a 30.6 percent share of the world's smartphone market, while Apple followed with a 24.1 percent share, according to data released Friday by London-based research firm Strategy Analytics.