Samsung has made a battery so bendy, it'll wrap around your wrist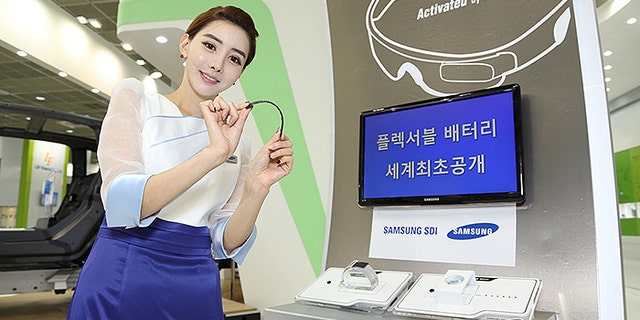 Samsung SDI, the mega-corporation's division dedicated to all things energy and battery related, has shown off a thin, rollable, and bendable battery during the InterBattery 2014 convention in South Korea. It's calling it the world's first truly flexible battery, and claim it's so versatile, it could be rolled around the side of a cup and still operate normally. Or, as is more likely in the future, a wrist. Designed with wearable hardware in mind, the battery is also shown bending into a U shape.
The flexible battery's announcement comes several months after Samsung revealed the curved 210mAh cell which eventually found its way inside the Gear Fit fitness band. At the time, it stated smart bands would eventually take up 25 percent of the wearables market, making them the number one product in the emerging industry.
Related: Samsung's Gear Fit looks great, but ultimately disappoints in our review
By developing a truly flexible battery, Samsung's future wearable products could be more comfortable, and the design more daring. However, while exciting, Samsung's latest flex batteries aren't quite ready to be fitted inside a gadget we can buy. According to the firm, the development stage is complete, but the technology needs time to mature so both safety and reliability can be increased. No time frame outside of the process taking "years" was mentioned.
LG Chem, LG's equivalent to Samsung SDI, has also talked about flexible batteries. This time last year, the firm discussed developing batteries which were so flexible they could be tied up in a knot. Again, the cell wasn't expected to be ready for production for several years. Rather than provide an update on the battery's status at this year's show, LG Chem apparently concentrated on showcasing larger batteries, specifically for electric cars.
Samsung also showed off another unusual battery at the show. Designed for use in wearable devices, it's absolutely tiny. Resembling a large pill, it measures 3.6mm across, and 20mm long, while the capacity is just 10mAh.