Russia's small ships pack plenty of cruise missile heat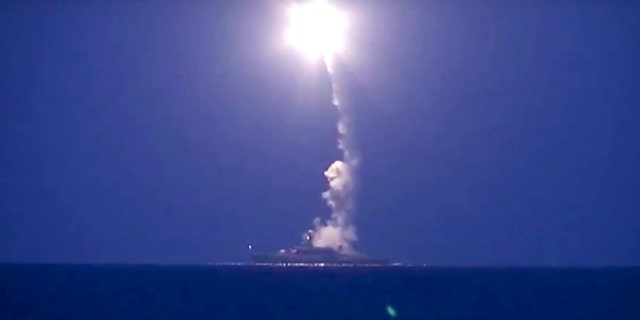 The small naval ships used in Russia's cruise missile attack on Islamic State positions in Syria last week have generated plenty of buzz among defense experts.
"It's unique that they are putting [these missiles] on small ships," Eric Wertheim, author of the Naval Institute Guide to Combat Fleets of the World, told FoxNews.com. "The U.S. needs to be aware that we do not have a monopoly on high-tech weapons."
Russia's Ministry of Defence confirmed that missile ships Dagestan, Grad Sviyazhsk, Uglich, and Veliky Ustyug launched a series of missiles against ISIS infrastructure in Syria from the Caspian Sea last week. "The firing was conducted by high-precision ship missile systems Kalibr NK, the cruise missiles of which engaged all the assigned targets successfully and with high accuracy," said the Ministry, in a Facebook post on Oct. 7. Dagestan served as the flagship of the strike group.
Related: Russia bringing back Cold War mini-subs, report says

The Dagestan, which is more than 328-feet long, has a displacement of about 2,000 tons, according to the Ministry of Defence. The smaller Grad Sviyazhsk, Uglich, and Veliky Ustyug are over 230 feet in length with displacements of 1,000 tons, respectively.
Experts believe that the 26 missiles launched were land-attack versions of Russia's SS-N-27 anti-ship missile, similar to a Tomahawk cruise missile.
Wertheim explained that the smallest ships carrying similar missiles in the U.S. Navy are about 9,000 tons. "The smallest ship in the U.S. Navy to carry a Tomahawk missile would be destroyer size – that's about 10 times the size [of the Russian ships]," he told FoxNews.com.

However, the expert says that firepower of Russia's small missile ships should not be over-estimated. "The small size of the ship does not necessarily make it more or less of a danger," he said. "It uses the very protected waters of the Caspian Sea – you're unlikely to see these making frequent Atlantic crossings."
Related: Lockheed Martin's modular ATHENA laser weapon is headed to production
Wertheim explained that placing sophisticated weapons such as cruise missiles on small vessels reduces the roles they can perform. "It turns your ship into a single-mission vessel - it's not necessarily that other navies couldn't do this, it's just that it's not practical for the U.S. Navy," he said. "The U.S. forces are forward deployed – when you're forward deployed you want a big ship with a lot of range and a lot of multi-mission capability."
Set against a backdrop of ongoing between Washington and Moscow, however, Russia is clearly keen to showcase its latest military technology.
In its Facebook blog post Russia's Ministry of Defence noted that the Dagestan can operate about 2,500 miles from base.
"Russia's military is something very different that it was five years ago, they are making a big effort," said Wertheim. "The big question is whether the Russian economy and industry can continue these advances over the long term."
The Pentagon is closely monitoring Russia's involvement in Syria. Four cruise missiles launched from a Russian warship aimed at targets in Syria missed their target and crashed in Iran Oct. 8, a senior defense official told Fox News last week.
Russia says its military intervention is aimed at helping the Syrian government defeat ISIS, but local activists and U.S. officials say the strikes have also targeted Western-backed rebels.
Earlier this year a news report said that Russia is bringing back a fleet of Cold War-era mini-submarines, a move that could further ramp up tensions with the West. Described as virtually undetectable, the covert subs can lay mines and fire torpedoes. The diesel-electric submarines displace a mere 390 tons when submerged and can carry nine crew and six combat divers, according to the U.S. Naval Institute.
Follow James Rogers on Twitter @jamesjrogers